NOTE: We earn from qualifying purchases made via Amazon Associates and other affiliate programs. Learn more.
---
Nothing delivers a bright & airy feel like beach house design. 
With its casual layering of eclectic furniture pieces and coastal and nautical elements, the beach house style is defined by lots of fun and excitement.
A rustic take, vibrant pastel colors, distressed furniture, and a mix of patterns are the elements you are shooting for with this style.
The right mix of furniture is important for every beach house bedroom, especially when it comes to storage spaces such as dressers.
On this page, we have compiled a handful of splashy and fun beach house dresser ideas to help you pick the right one for your guest room or personal space.  Enjoy!
1. Distressed In White
Check out this beautiful antique-style distressed dresser with ornate handles and a large mirror.
This one is an easy choice for any beach house bedroom.
2. Rustic Blue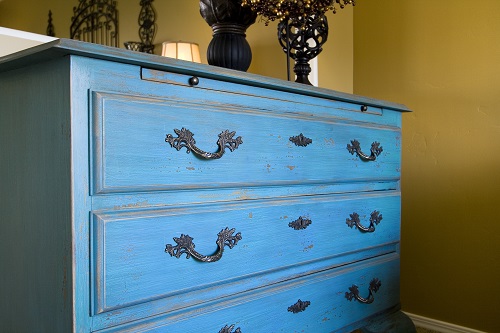 This rustic blue dresser has it all: distressed wood, nautical blue, and lots of big drawers to store your guest room linens in.
3. Cupboard in a Bedroom?
Here's another cool idea that especially works in smaller guest rooms – get a tall cupboard instead of a full dresser.
Just make sure it's got a nice rustic or distressed finish, like this one.
You can enhance it by placing a few decorative elements such as an antique clock or a seashell décor piece.
4. Aqua Blue
This dresser adds a gorgeous, classy coastal look to any beach house bedroom.
Its four drawers and two large cabinets can accommodate the largest set of linens plus an overnight guest's needs.
5. Small And Interesting
Another small but beautiful chest of drawers in green with hand-carved elements and a classic style.
Perfect for a nightstand or small room dresser.
6. French Seaside Charm
This antique European design brings a hint of the Mediterranean seaside into your home.
7. Add Modern Touch
Not exactly a dresser, but in beach houses, you can improvise as much as you want.
We love the woven bamboo flourish and the flexible use of this modern piece.
8. Coastal Design
Coastal living should always be functional and relaxing.
This simple modern 6-drawer dresser in light grey adds unique edge treatments and a cool finish that makes it interesting and functional.
9. White is Right
Want to add a romantic and soothing vibe to your bedroom?
Choose distressed white furniture – like this beautiful yet simple white dresser with six drawers.
10. Don't Forget The Kids…
This kid's dresser would work in any beach house décor with its white dresser and water droplet design.
I hope you these beach house dresser ideas we found for you.
Good luck with decorating your beach house bedroom – and remember to keep things lively, functional – and fun.
---
Affiliate Disclosure
Affiliate Disclosure: I may earn a small commission (at no cost to you) if you purchase a mattress after clicking a referral link or using a coupon code on this site. That said, all content and opinions on this site are my own and are NOT affected by these payments.
This site participates in the Amazon Services LLC Associates Program, an affiliate advertising program designed to provide a means for sites to earn advertising fees by advertising and linking to Amazon.com.
*Amazon and the Amazon logo are trademarks of Amazon.com, Inc, or its affiliates.
---