NOTE: We earn from qualifying purchases made via Amazon Associates and other affiliate programs. Learn more.
---
Everyone loves the warm and inviting feel a farmhouse-styled home provides.
Farmhouse style is all about creating an inviting and relaxing space.
And a farmhouse-style bedroom should be cozy, warm, beautiful, relaxing, and full of charm.
Pillows play an essential part in creating that coziness.
Farmhouse style pillows can be both simple as well as decorative. It depends on your taste.
There are too many options to choose from: subtle patterns, florals, neutral colors like beige or white, pink or blue, striped, checked print, etc.
In this roundup, we'll walk you through ten warm and inviting farmhouse pillow ideas that could give your bedroom a more comfortable and relaxing vibe.
1. Red Plaid Cushion On White Sofa Or Bed
Want to create a farmhouse-style setting? Consider this read plaid pillow on your white bed or sofa!
2. Checked Pillows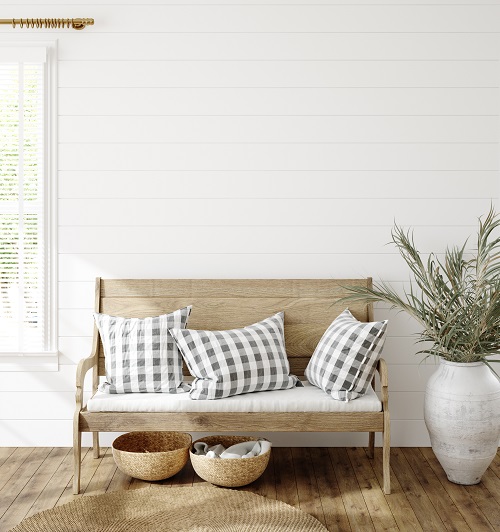 A big vase checked pillows on the couch, and wooden floor all are making an excellent farmhouse setting!
3. Happiness Pillow
This lumber happiness pillow will definitely look great in your farmhouse bedroom.
4. Knitted Pillows
What a fantastic combination-pastel, light grey, and white cushions on the bed with satin bedding style.
5. Colorful Pattern Throw Pillow
Orange and yellow pattern throw pillows are a perfect addition to a farmhouse setting.
You can also keep them on an outdoor patio chair, couch, or any other seating arrangement!
6. Atmosphere Of Comfort
A double bed with a lot of pillows in multiple patterns is what you need for a warm and cozy bedroom!
7. Mix White & Brown
A canopy bed with warm lighting on both sides.
Mix and match brown pillows with white on white bedding. You can pair up pillows of different sizes as well!
8. Blue Hues
Create this beautiful and livable vibe into your bedroom with light blue bedding and pillows against a white decorative wall and a few vases with tulips!
9. Farmhouse Entryway
Design your Farmhouse entryway with a wooden bench with white striped pillows near the white shiplap wall!
10. Farmhouse Living Room
A big plant, sofa, and bench with check print pillows, wooden floor, the frame on white shiplap wall all are creating a fabulous farmhouse setting!
When choosing farmhouse style pillows, its always safe to go with neutral colors such as light off-white, light blue, and rose or pink.
And natural fabrics like cotton, wool, and linen are a must.
If your bedroom is detailed/eclectic, choose simpler solid patterns or cotton pillows in white, beige, and grey.
You can also go with striped pillows or the ones that have been sewed or woven.
If your farmhouse bedroom is on the simpler side, choose pillows that pop – think: bright floral patterns, Dutch blue with linen trim, multicolored madras prints and bold, wide colorful stripes.
---
Affiliate Disclosure
Affiliate Disclosure: I may earn a small commission (at no cost to you) if you purchase a mattress after clicking a referral link or using a coupon code on this site. That said, all content and opinions on this site are my own and are NOT affected by these payments.
This site participates in the Amazon Services LLC Associates Program, an affiliate advertising program designed to provide a means for sites to earn advertising fees by advertising and linking to Amazon.com.
*Amazon and the Amazon logo are trademarks of Amazon.com, Inc, or its affiliates.
---