Zinus Green Tea Memory Foam Mattress Review
Summary
A dirt-cheap Chinese memory foam mattress that is surprisingly comfortable.
Great choice for: Anyone looking for a low-budget memory foam mattress that is comfortable and has a reasonable lifespan (6-7 years).
Avoid if: You are looking for premium quality or luxury mattress with a longer lifespan (8+ years). Also not ideal for those who don't like the feel of memory foam mattresses or find them too warm.
Price:
to
NOTE: We earn from qualifying purchases made via Amazon Associates and other affiliate programs. Learn more.
---
If you want a decent-quality budget foam mattress for the lowest price possible, Zinus has you covered.
All Zinus models – hybrid, foam and innerspring – cost less than $500 with some sizes going for less than $100.
Zinus' Green Tea memory foam mattress is one of their most affordable and most popular mattresses sold on Amazon – with almost 30,000 reviews.
The Zinus Green Tea is way less expensive than just about any memory foam mattress you can buy online – yet it provides a surprisingly good sleeping experience.
That said, there's really nothing special about this Chinese-made foam mattress so don't expect an awesome night's sleep on a long term basis.
But for a dorm, a guest room or kid's bedroom? it'll do just fine.
Read on for our full Zinus Green Tea memory foam mattress review.
---
What's In This Mattress Review?
Use this table of contents to skip to the features you care most about.
To return to this outline, touch ↑.
---
About Zinus
Zinus has been making bedding products for close to two decades now. The Chinese company launched in 1979 but started making mattresses in 2004.
Zinus has expanded its operations to various countries, including the United States though they still do all their manufacturing in China.
The company is best known for its ultra-affordable products. They sell some of the cheapest mattresses in the market.
They also sell foundations, frames, and sofas.
---
Social Impact
Zinus strives to make its products as eco-friendly as possible.
All their foams are CertiPUR-US certified, guaranteeing they don't contain any toxic chemicals that could harm sleepers or the environment.
The company has also developed new types of eco-friendly foams – BioFoam and Eco Foam – that are greener than standard foams.
---
Purchase Process
One of the things we like about Zinus is the wide range of options they provide.
You can pick a twin, full, Queen, King, or Cal King mattress. You can also select a 6", 8", 10" or 12" mattress.
But unless you are on a tight budget, we recommend the 12 inches. It's still cheaper than most online memory foam mattresses.
It'll provide more support, better contouring, and a longer lifespan than the smaller sizes.
The only thing you can't choose is firmness.
The Zinus Green Tea memory foam mattress is only available in a medium-firm feel.
---
Price
We recommend shopping for Zinus on Amazon to get the best price.  Listed below are the current prices on Amazon for the 12" size.
NOTE: Don't try to make sense of prices here – jump onto Amazon and check out all the listings (there are several per model).
| | |
| --- | --- |
| Size | Price on Amazon |
| Twin | |
| Full | |
| Queen | |
| King | |
| CA King | |
100-Night Trial
All Zinus mattresses come with a 100-night trial period.  Returns are free.
---
10-Year Warranty
Each Zinus mattress comes with a 10-year warranty.
The warranty covers sagging deeper than 1.5" and any other kind of material or workmanship-related damage such as split foam or a torn cover.
I highly recommend reading the warranty before you order the mattress (you can read it here). It is stricter than standard mattress warranties.
For example, it requires that the mattress be protected by a waterproof mattress protector.
It also says that the warranty will be void if you use a heating pad or electric blanket with the mattress.
---
Shipping
Shipping is free via FedEx Ground. Once you place an order, it will be processed in 2-3 business days after which it will be dispatched to your location.
Look for a tracking number in your email.
Note: You may be charged a recycling fee if you live in California, Rhode Island or Connecticut.
Currently, Zinus doesn't offer special shipping services such as expedited shipping or specific-date delivery.
---
Delivery and Setup
Zinus provides curbside delivery.
You have to take the mattress inside and set it up yourself. The box the mattress comes in is easy to carry inside and rolling out the mattress takes less than 10 minutes.
Leave the mattress uncovered for several hours to let it puff out and off-gas.
Note that Zinus does not offer white glove delivery, nor will they remove your old mattress or foundation.
---
Foundation & Frame
What type of bed frame/support does Zinus Green Tea require?
You can use any sturdy support, including a frame, slatted base, or box spring. You can even put it on the floor.
Does Zinus work on an adjustable bed?
Yes, it does.
For the best experience with an adjustable bed, Zinus recommends the 8" or 10" mattress size.
---
Care and Cleaning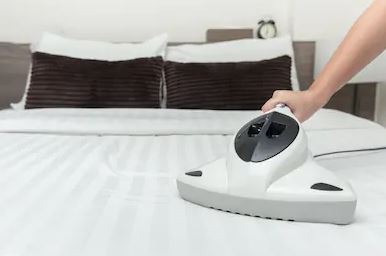 Is a mattress protector needed for Zinus?
Yes, the warranty requires a waterproof mattress pad or protector explicitly.
Another reason you should get a mattress protector is that you cannot remove the cover (even though it has a zipper).
There's fiberglass fire retardant underneath the cover that will affect indoor air quality if you remove the cover.
If the mattress cover gets dirty or stained, spot-clean it with mild detergent and cold water.
Do you need to rotate the Zinus mattress?
Rotate the mattress every few months to prolong its lifespan.
---
Aesthetics and Styling
The styling for the Zinus Green Tea mattress is as simple as it gets.
The entire mattress is a pinkish-whitish hue that blends easily into the bedroom. But the color or style doesn't matter since the mattress will be covered most of the time.
If you want that luxury look of hotel mattresses, definitely pick the 12-inch mattress. The other sizes can be a bit underwhelming in terms of aesthetics.
---
Construction
The name of the Zinus Green Tea memory foam mattress already gives you an idea of what it contains – there are some memory foam and green tea in there.
It is an all-foam mattress with four layers. Here are the layers (This is for the 12-inch mattress. Size and number of layers vary in the 6, 8, and 12-inch sizes).
3" memory foam: Provides instant pressure relief when you lie in the mattress. This layer is responsible for that plush feel customers love in theZinus Green Tea mattress. The soft pressure relief is exceptionally comfortable for side sleepers, people with wide hips and shoulders, and those experiencing back pain.
2" comfort foam: This layer is also relatively soft, providing deep contouring, especially for heavier sleepers. The comfort foam is designed to increase airflow, which helps with cooling.
3.5" high-density foam: This is the transition layer. It distributes your weight evenly across the mattress and prevents you from bottoming out, regardless of your body weight.
3.5" high-density base support foam: The ultra-firm foam in the base provides overall compression support and longevity.
Zinus doesn't specify which layer contains natural green tea extract (could be all the layers), but you can be sure it's in there.
It helps a bit with off-gassing – the smell is not as strong as in other foam mattresses– and keeps the mattress feeling fresh for years.
---
Mattress Cover
All  Zinus mattresses are wrapped in a soft, stretchy Jacquard fabric cover. It feels plush against your skin and is excellent at cooling and moisture-wicking.
It's durable too. It doesn't tear easily.
---
Smell/Off-gassing
Just because it has green tea extract, don't expect the Zinus mattress to smell like a freshly brewed cup of green tea.
It still has that mild new-foam smell you get with most foam mattresses, especially those that come compressed in a box.
But the green tea helps a bit. The smell is not too strong, and it goes away quickly.
Leave the mattress uncovered in a well-ventilated room to off-gas it quicker.
---
Sleeping Experience
Considering the price, you probably don't have high expectations for the mattress. Just a place to sleep on…right?
But you'll be surprised at how comfortable the mattress is. It's better than the mattresses you find in many business hotels.
The memory foam on top is plush and soft while the firmer layers underneath support your weight and create a bit of a bounce.
It's not what you'd expect from a sub $500 mattress.
While it doesn't feel like one of those luxury mattresses with fluffy pillow tops, it super comfortable.
---
Firmness
The Zinus Green Tea mattress feels medium firm for most people.
It may feel slightly softer if you have higher body weight or somewhat firm if you have a lower than average pressure.
But for most sleepers, it hits the sweet spot between not too firm and not too soft.
---
Sinkage
Sinkage is just about what you'd expect from a medium-firm memory foam mattress. It's a bit deeper than a latex or poly foam mattress but not too deep that it makes you feel stuck.
As with most foam mattresses, sinkage is exaggerated at the edges resulting in reduced edge support.
---
Motion Transfer
If your partner gets fidgety at night, turning and tossing for hours, you'll love this mattress.
It absorbs motion very well, ensuring you sleep peacefully no matter how many times your partner wakes up at night.
---
Hot/Cold Issues
The second and third layer of the Zinus mattresses are designed for airflow, so cooling is reasonably good. On most nights, you'll sleep comfortably without waking up hot and sweaty.
However, in summer or if you tend to sleep hot, the mattress can feel a bit warm. If you don't want to get a different mattress, consider buying a cooling topper.
---
Pros and Cons
Pros
Cheap, but good quality.
Comfortable.
Good support.
Sleep cool for most of the year.
Multiple thickness options.
Cons
You cannot remove and wash the mattress cover.
Mild off-gassing when new.
Can get warm in summer.
---
This Mattress is Perfect for You If…
You are looking for a cheap memory foam mattress with a decent lifespan of at least six years.
---
Conclusion
The Zinus Green Tea memory foam mattress remains the best mattress deal we have ever seen online.
It's challenging to find a mattress that provides better value for your money.
---
Where to Buy
We recommend shopping on Amazon for the Green Tea memory foam mattress.
---
Affiliate Disclosure
Affiliate Disclosure: I may earn a small commission (at no cost to you) if you purchase a mattress after clicking a referral link or using a coupon code on this site. That said, all content and opinions on this site are my own and are NOT affected by these payments.
This site participates in the Amazon Services LLC Associates Program, an affiliate advertising program designed to provide a means for sites to earn advertising fees by advertising and linking to Amazon.com.
*Amazon and the Amazon logo are trademarks of Amazon.com, Inc, or its affiliates.
---