NOTE: We earn from qualifying purchases made via Amazon Associates and other affiliate programs. Learn more.
Waking up in a light, bright, and airy bedroom gives that energizing feel and helps you kick start your morning.
This is the reason why nowadays, many people prefer to design their bedroom in white.
Scandinavian bedrooms are minimalistic design spaces that look stunning, elegant, and visually charming.
A Scandi-inspired bedroom in white accented with neutral shades and natural elements offers a restful atmosphere to sleep. And the white color welcomes more natural light into space.
To help you redesign your space into a cozy retreat, we have created this list of ten bright and fresh Scandinavian bedrooms in white:
1.) Wooden Furniture
Light and bright interior with white pillows on a wooden bed, lots of plants, and a round rug!
2.) Accented with Soft Colors
A Scandi-inspired bedroom with a king-size bed with knit beige blanket, a mint retro chair, and a mock-up frame on the wall.
3.) Beige Accents
A cozy bedroom with a comfortable bed with white bedding and a beige duvet, a rattan chair, a mock-up frame on the wall, and a big dried plant.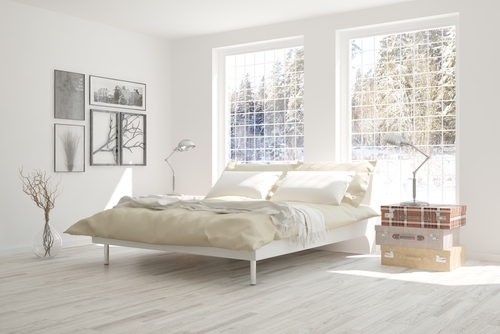 A modern Scandinavian bedroom in white with a sleek bed, frames on the wall, and a dried plant sitting in a glass pot on a white floor.
5.) Wooden Shelves
Wooden shelves with plants over a comfortable wooden double bed in a spacious room with white furniture and walls.
6.) Green Window Landscape
A white bedroom with the green landscape in the window creates a soothing and naturally serene outlook!
7.) Open Door to Baby Room
A white bedroom with an open door to the baby room is a lovely concept to go with!
8.) Subtle Patterns
Pick the bedding set in subtle patterns for a warm and inviting feel for your bedroom setting!
9.) White Mock Up Frames
Well, a Scandinavian bedroom is incomplete without some mock-up frames on the wall! Surely one of the must-haves.
10.) The idea of a Girls' Bedroom
Most girls love pink shades, so adding pink accents in the white bedroom is a great idea!
Hope you got some inspiration from these picks! Decorating your bedroom in Scandinavian style offers lots of versatility, from modern to industrial design, you name it! Make sure to add layers with pillows, rugs, plants, and soft fabrics to add more contrast and value in appeal.
Have fun decorating your Scandinavian bedroom!
---
Affiliate Disclosure
Affiliate Disclosure: I may earn a small commission (at no cost to you) if you purchase a mattress after clicking a referral link or using a coupon code on this site. That said, all content and opinions on this site are my own and are NOT affected by these payments.
This site participates in the Amazon Services LLC Associates Program, an affiliate advertising program designed to provide a means for sites to earn advertising fees by advertising and linking to Amazon.com.
*Amazon and the Amazon logo are trademarks of Amazon.com, Inc, or its affiliates.
---