NOTE: We earn from qualifying purchases made via Amazon Associates and other affiliate programs. Learn more.
For such expensive items, mattresses are stubbornly rigid. Once you make a choice and buy a specific one, you are stuck with it for years.
You might like it at first, but it's impossible to predict how it will feel a couple or so years later. Maybe you need a bit more softness, or the mattress has gotten uncomfortably firm.
At least with a sofa, you can reupholster it when it gets old or no longer feels as comfortable.
With a mattress, either you spend money to buy a new mattress or you buy a mattress pad, which is just a temporary solution. So ultimately, the only option is a new mattress.
If this bothers you as it does me, consider buying a customized mattress instead.
Unlike a regular rigid mattress, a customizable mattress lets you adjust the feel of the mattress to your preferences.
And when the mattress starts showing wear, some customizable mattress companies let you replace just one or two layers rather than buying an entire mattress.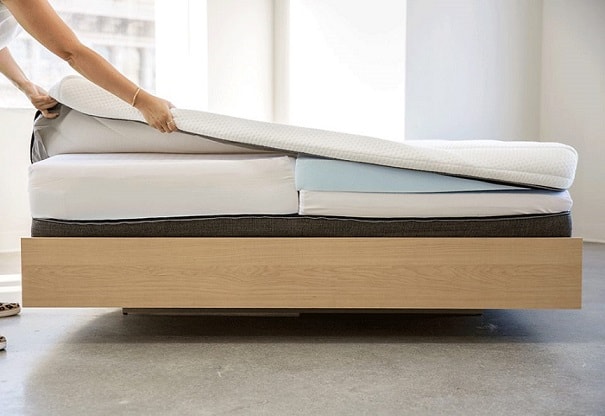 There are several more benefits of customizable mattress beyond these two. I explain the 5 biggest ones below.
If you are looking for good quality and pocket-friendly customizable mattress, read our online customizable mattresses guide for recommendations.
1. Great for Couples With Different Comfort Needs
Shopping for a new mattress is especially challenging for couples.
Rarely do two people have the exact comfort preferences. You might prefer a softer mattress while your partner sleeps better on a firmer mattress.
Or perhaps you are a back sleeper for whom a firmer mattress is best while your partner is a side sleeper, meaning they need the extra pressure relief of a softer mattress.
Regular mattresses don't offer any help. But a customized mattress can help.
Most Queen and King size customizable mattresses have a split design. If the one you want is not split, ask the company if they have a split option available.
This allows you to customize your half of the bed the way you want.
Your side can be firm while your partner's half is soft. Everyone gets what they want, and you both sleep comfortably.
2. No Risk of Buying the Wrong Mattress
Online mattress companies like Casper and Leesa have done a great job making the mattress shopping process less risky.
They provide at least 3 months for you to test your mattress at home return it for free if you don't like it.
But it's still a waste of time to buy a mattress only to find out it's not the right one for you.
Even though most companies offer to pick the mattress from your home, you have to call them, go through the intricacies of making a return, wait for a refund and start the shopping process all over again.
With a customized mattress, you don't have to worry about making the wrong pick. That's because even if you don't like the mattress at first, you can customize it to your liking.
If it feels too firm or too soft, change up the layers or flip it over.
Use the time you'll save to enjoy your new mattress.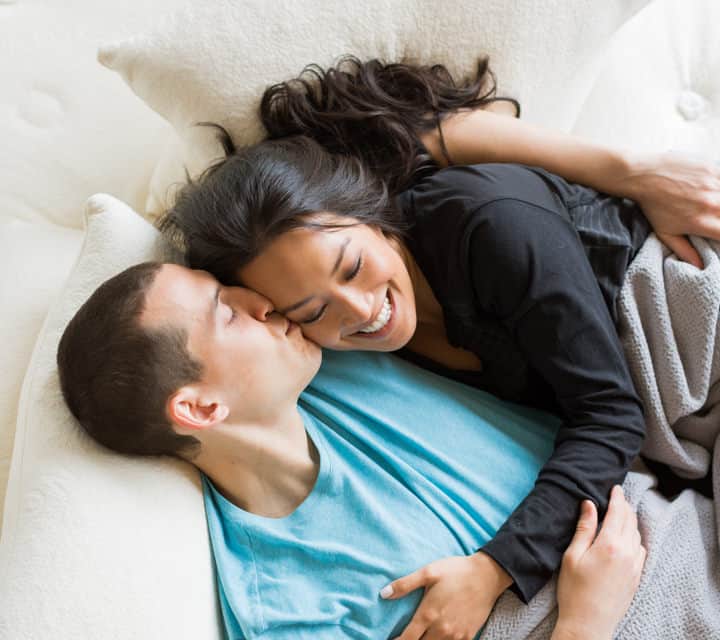 3. A Customizable Mattress Keeps Up With Your Changing Needs
When I was in my 20s, I could sleep comfortably on a rock. With age, however, I prefer a softer mattress that hugs me more and relieves pressure on my shoulders, back, and hips.
I bet your comfort needs and preferences have changed as well and will keep changing.
Perhaps you've got a little heavier and need the extra support of a firm mattress. Maybe you have a back injury or a joint problem and need the pressure relief of a softer mattress.
Even temporary changes like pregnancy can change your comfort needs.
A customizable mattress easily keeps up with your changing needs. You can adjust the feel and comfort of the mattress to suit your current preferences.
If your situation changes, you can again customize the mattress instead of shopping for a new one.
4. The Mattress Lasts Longer
When your customizable mattress starts sagging and feeling a bit too soft, you don't always have to buy a new mattress.
Some companies let you order just one or two layers for way less than the cost of an entire mattress. This adds several more years to your mattress and saves you money.
Even if the manufacturer doesn't explicitly mention such a policy, don't hesitate to call them.
Because most online mattresses manufacture their products and don't work with middlemen, they can easily accommodate your request.
5. Better Sleep, Healthier You
Ultimately, many of the benefits of a customized mattress boil down to this one.
When you have a mattress you can customize to your liking, you'll definitely sleep better. No frequent turns and tosses at night, no aching back in the morning and no waking up feeling tired and unrested.
As you probably already know, sleep is pretty dang important for your health.
---
Affiliate Disclosure
Affiliate Disclosure: I may earn a small commission (at no cost to you) if you purchase a mattress after clicking a referral link or using a coupon code on this site. That said, all content and opinions on this site are my own and are NOT affected by these payments.
This site participates in the Amazon Services LLC Associates Program, an affiliate advertising program designed to provide a means for sites to earn advertising fees by advertising and linking to Amazon.com.
*Amazon and the Amazon logo are trademarks of Amazon.com, Inc, or its affiliates.
---