Affiliate Disclosure: I may earn a small commission (at no cost to you) if you purchase a mattress after clicking a referral link or using a coupon code on this site. That said, all content and opinions on this site are my own and are NOT affected by these payments.
Buying a mattress online isn't as easy as it was just a few years ago.
That's because today there are more than 100 mattress brands that sell direct to your home online.
Finding the right mattress for your weight, partner, sleeping position and comfort preference today requires a lot of research that you probably don't have time for.
To help you save time, my team and I have reviewed more than 50 of the best mattresses sold online.
On this page, I tell you my top 10 favorites and explain exactly why I feel that way.
---
What's In This Mattress Guide
This buying guide is designed to help you choose the right mattress for your needs and budget – in 15 minutes or less.
On this page, I review what I believe are the ten best mattresses sold online based upon my personal reviews of over 50 mattresses and on my research of other verified owner reviews online.
I've gone one step further and selected the top mattress in each of 10 different categories to make your shopping  as painless as possible.
There are 3 sections in this guide, in order:
First, I list my top 10 mattresses – one for each type or need.
Next, I compare them side-by-side in a mobile-friendly table.
Finally, I review each mattress in detail.
So let's dive in and find you that bed!
My Top 10 Mattresses Sold Online
Click a mattress below to learn more about it:
---
Top 10 Mattresses Compared
The table below compares my Top 10 mattresses on a variety of features and options.
Below the table, I review each mattress in some depth to tell you why I love it and what you need to consider before ponying-up the cash.
Every mattress reviewed on this page is sold online, comes with a 100+ night in-home trial, at least 10 years of warranty and free shipping.
I hope this table saves you a ton of time – feel free to ask me questions below if you need anything.
Happy shopping  🙂
How To Use Our Comparison Tables
Touch
to reveal more details about the mattress.
Touch Mattress Name to read my in-depth review of it.
Touch Price to claim the best deal.
Rotate your phone to see more columns.
Mattress
Rating
Price
Description
Our Take
Comfort Choices
Warranty
In-Home Trial
Delivery
Avoid If
Great Choice If
Shop Now
Saatva

4.9
$599-$1399
Luxury innerspring mattress.
A luxury innerspring mattress that compares with the finest retail products.
Firm
Med. Firm
Soft
15 years
120 nights
7-15 days
you don't like the feel of a spring mattress
you're considering a Simmons Beautyrest, Kingsdown Ashley, Sterns & Foster Ashley or Serta iSeries
SaatvaMattress
Plushbeds Botanical Bliss

4.8
$1,099-$2,898
Luxury organic latex mattress
The best-sleeping, highest-quality 100% latex mattress sold online. All-natural materials, lots of options, and a super-long warranty.
Firm,
Med. Firm,
Soft
25 years
100 nights
2 weeks
you're bargain-shopping. Not cheap! Still costs far less than a comparable store-bought brand, though.
you are a no-compromise, environmentally-sensitive shopper. This one has it all.
Plushbeds
Nest Alexander Hybrid


4.8
$899-$1599
Luxury hybrid foam + pocket coil mattress
A super-comfy, cool-sleeping hybrid mattress that's just about perfect for loving couples.
Soft
Medium
Firm
Lifetime
100 nights
7 days
you're bargain shopping
you or you partner are amorous or fidgety; great mattress for sex 😉
NestBedding

Helix

4.7
$600-$1,195
High-quality hybrid mattress. Custom-fit to sleep style & body.
An excellent memory foam mattress that is custom-fit to your unique sleeping habits, body and preferences.
Custom-fit
10 years
100 nights
6-13 days
a cheap foam mattress will do
you want or need a custom-fit mattress; and couples who need different comfort levels
HelixSleep
Layla

4.7
$499-$999
Soft memory foam
An affordable flippable all-foam mattress with great support, excellent cooling and in-home comfort choice. If you love soft foam mattresses, this is one of the best we've tried.
Soft ,Firm
Lifetime
120 nights
2-3 days
You need extra-soft, extra-firm or a split or custom-fit mattress. They only sell one.
Anyone looking for an affordable soft foam mattress that sleeps cool and provides solid support for the back and neck.
Laylasleep.com
Luxi

4.6
$899-$1599
Luxury adjustable foam mattress
A unique 3-in-1 foam mattress that can be adjusted by you to match anyone's comfort level.
Adjustable (soft, medium & firm)
10-Year
1,000 nights
1-5 days
you don't like foam mattresses.
Anyone who isn't sure what comfort level they need right now, couples with different needs, guest rooms.
LuxiSleep
Leesa

4.6
$505 - $1,015
High-quality foam mattress
The best one-size-fits-all memory foam mattress sold online. Sleeps noticeably better than Casper, for the same price.
Medium
10 years
100 nights
7-10 days
you prefer a softer or firmer feel than normal.
you want the best high quality memory foam mattress you can buy, at a bargain price
Leesa
Eight Sleep Jupiter+

4.6
$999-$1,299
Memory foam
A smart mattress with a special cover that warms your bed & monitors your sleep.
Med. Firm
10 years
100 nights
5-7 days
you aren't interested in new sleep technology
you & your partner have different temperature needs
EightSleep
Luxi

4.6
$799-$1299
High-quality foam w/ SBT
A unique foam mattress that can be configured for 3 comfort levels.
Soft
Med
Firm
10 years
1,000 nights
1-5 days
you know what comfort level you need - there are less expensive options
you want maximum choice of comfort, or want to change it later
Amazon
Big Fig

4.5
$1,299-$1,999
High-quality hybrid foam + coils
A durable, super-supportive mattress design for plus-sized sleepers.
Med. Firm
20 years
101 nights
7-14 days
you aren't a plus-sized person
you or your partner weighs >220 lbs & needs better support
BigFig
Ecoterra

4.3
$549-$1,099
Natural latex + spring hybrid mattress
A natural latex hybrid mattress at a surprisingly affordable price.
Med. Firm
Firm
15 years
90-Night
Few days
you prefer an all-foam mattress or are allergic to latex.
you are looking for a natural latex or hybrid mattress & are on a budget
Ecoterrabeds
---
The Qualities of a Great Mattress
In order for a mattress to be considered "great," it first and foremost needs to provide me with the proper support.
For example, the mattress cannot sag under my 130lbs or my husband's 210lbs. It also shouldn't develop a permanent crater in the middle that forces us together.
A great mattress can't be too soft, either – it has to allow for enough movement to let me & my fidgety husband move around through the night.
It can't be too firm either as that will simply be uncomfortable. Like us, most people prefer a medium firm mattress that is neither too soft nor too firm.
Proper edge support is important, too. This ensures that the edges of the mattress keep me planted during the night, and not falling out of bed.
While each person prefers a different comfort level on top, it is always important that there is a strong and firm foundation layer.
This not only ensures that the mattress has enough support for our combined weight but also that it lasts for many years.
Additionally, a great mattress will provide a nice bounce, allowing it to return to its original shape quickly when compressed.
Finally, a great mattress will breathe.
Proper ventilation, whether from ventilated foam, gel-infused foam or pocketed coils, keeps synthetic materials from retaining too much heat, a common issue with memory foam mattresses.
Proper ventilation also prevents the buildup of additional moisture, which traps heat and can feed mildew and other bugs you don't want in your mattress.
Finally, a great mattress doesn't cost too much. I'm always looking for the lowest price within a specific category.
---
Top 10 Mattress Reviews
Best Memory Foam Mattress: Leesa
There are a lot of great memory foam mattresses online. Loom & Leaf has a lot of good reviews and is an excellent choice for those who are looking for a semi-organic memory foam mattress.
Nectar is a good budget choice that delivers a great sleeping experience. Amerisleep, with their five comfort options, is the best option for those looking for a much firmer or softer mattress than usual.
But Leesa is unbeatable when it comes to a high-quality memory foam mattress at a great price. This is definitely out favorite budget foam mattress so far.
Technically, Leesa is not a 100% memory foam mattress – but that's probably what makes it so good.
The top layer of Avena foam complements the core memory foam layer by better supporting your back and creating a latex-like bounce that ensures you don't get bogged down in the mattress.
The result: you get a mattress that balances between firm, springy support and soft body contouring.
The Avena layer also keeps the mattress well-ventilated, an area where memory foam on its own doesn't do too well.
The memory foam underneath contours the mattress to your body, ensuring you get pressure relief at all the right places.
A standard poly foam base layer delivers compression support and keeps the mattress in shape for years.
Even though the Leesa mattress is only available in medium-firm, it should feel comfortable for 80% of people regardless of weight or sleeping position.
Warranty: 10 years (non-prorated)
Trial period: 100 nights
Shipping: Free to all 50 states
---
Best Flippable Mattress: Layla
Online mattress companies have made it much easier to shop for a mattress. But since most of them sell a one-size-fits-all mattress, there is still a risk that you might buy a mattress that's not to your liking.
What if, instead of returning the mattress and starting your search all over again, you could simply flip the mattress to make it firmer or softer?
That's the convenience and flexibility the 2-in-1 Layla mattress provides. One side is firmer and the other is softer.
You just turn it over, cover and all.
They have added ThermoGel to both sides of the cover, ensuring that no matter which side you sleep on, you'll sleep cool.
They've retained all the other features that have made Layla one of the most popular online mattresses.
When you are sleeping on the softer side, a 3" copper and gel infused layer provides pressure relief and cooling.
The combination of copper and gel ensures the memory foam does not retain much heat, a common problem with traditional memory foam mattress. The copper also provides antimicrobial protection.
Layla's cooling efforts don't end there.
Below the gel-copper foam layer is a 2" convoluted foam layer. This layer has grooves that maintain airflow in and out of the mattress. This helps keep the mattress cool and fresh.
Below the ventilation layer is the support core measuring 4.5" thick. It's made from dense foam that provides support no matter which side of the mattress you are sleeping on.
It also absorbs motion, ensuring couples don't disturb each other at night with movements.
When you are sleeping on the firmer side, you'll enjoy the same cool ThermoGel cover that is on the soft side.
Below the cover is a coper-gel infused memory foam layer to provide contouring and cooling. The support core comes after, offering firm support and motion absorption.
Most people will enjoy sleeping on the softer side. But just in case you happen to love a firmer feel, you don't have to return the mattress. Simply flip the mattress and sweet dreams.
Warranty: Lifetime
Trial period: 120 nights
Shipping: Free to contiguous US. $125 per mattress to Alaska and Hawaii. $225 per mattress to Canada.
---
Best Innerspring Mattress: Saatva
If you are looking for a mattress with a traditional feel, get an innerspring mattress.
Modern innerspring mattresses use pocket coils today. They offer the same great bounce and durability as traditional coils but don't transmit motion nearly as much between sleeping partners.
Saatva is one of the best innerspring mattresses we've ever tried.
It offers a luxurious sleeping experience at the price of a budget mattress.
The Queen size goes for $999 while comparable store-bought innerspring mattresses often cost well over $2,000.
The Saatva mattress uses a unique coil design that adds to its support and durability.
It consists of two distinct coil layers on top of each other.
The comfort coil layer is designed for optimal contouring and pressure relief. The pocketed coils move with your body, ensuring your back, hips and shoulders are always well supported.
The other set of coils are in the base layer where they provide overall support and 15+ years of durability.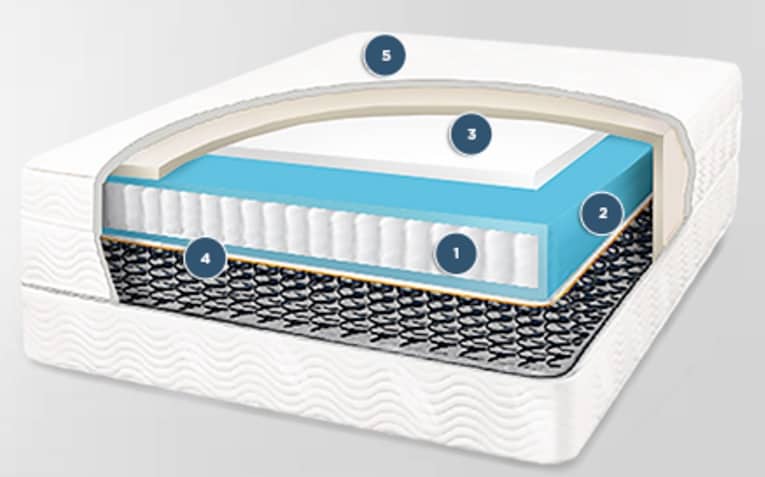 The rest of the mattress is made of memory foam that gives the mattress a plush feeling, an edge support system, and an organic cotton cover.
For an extra-luxurious experience, the Saatva mattress also includes a non-shifting Euro pillow top.
You also get to choose from three firmness options: luxury firm (the most popular), plush soft and firm.
You can also choose between two thickness options, both for the same price: 11.5" and 14.5".
Overall, Saatva provides excellent support, luxury comfort and versatile options – all at a surprisingly low price. And it's made 100% in America – none of that cheap Chinese stuff.
I especially recommend Saatva for couples who'll benefit from the extra support and reduced motion control.
Saatva made my list of the best mattresses for sex; definitely great for couples.
Warranty: 15 years non-prorated (a prorated option is also available)
Trial period: 120 nights
---
A hybrid mattress combines foam and innerspring layers to provide the best of both worlds: the plushness and pressure relief of foam and the support and bounce of pocket coils.
Hybrid mattresses are generally more expensive than foam-only products.
But online, hybrid brands are surprisingly cheap compared to what you would pay in a store.
Some of the best hybrid mattresses include Sapira, the eco-friendly Avocado Green and the top-of-the-line DreamCloud luxury mattress.
But my top recommendation for those who are looking for a good quality hybrid mattress at a great price is the Nest Alexander Signature Hybrid.
This is one of Nest Bedding's most popular mattresses and for good reason. It packs a lot of features designed specifically to improve your sleeping experience.
These include special cooling technology, premium materials and multiple comfort options.
Let's take a quick look at the structure of the mattress.
The cover is one of the most interesting parts of the mattress. It contains phase change materials (PCMs) that tightly regulate the temperature of the mattress.
They ensure that the mattress doesn't get too hot or too cold (read my blog post for more on how PCMs work).
Gel-infused memory foam in the top layer also helps with cooling and provides pressure relief for your back, hips, and shoulders.
The next two layers – TitanChil Endurance Foam and SmartFlow Support Foam – provide compression and lumbar support.
The copper reportedly helps with heat dissipation.
The Aexander hybrid's 8″ of pocketed coils are in the base layer where they provide overall support and contouring. They also enhance ventilation, which ensures no heat is trapped in the mattress.
There are three firmness options: plush, medium (the most popular) and firm.
I think the Alexander Signature Hybrid is one of the best all-around mattresses sold online at a reasonable price. It has a bit of that traditional springy feel but also incorporates a plush experience that makes it one of the best mattresses for side sleepers.
There's also no heating issue at all and longevity is guaranteed.
On top of all this, you get a lifetime warranty.
Warranty: Lifetime (non-prorated)
Trial period: 100 nights
Shipping: Free (Hawaii and Alaska customers pay extra for shipping)
---
You prefer a medium-firm mattress, but your partner likes it firm.
Or maybe you love floating on a firm mattress, but your partner loves sinking into a plush one.
Finding a mattress that meet both of your sleeping preferences is hard… unless you get a custom-fit mattress like Helix.
Before you order their mattress, Helix gives you a chance to answer a sleep quiz for you and your partner. Your answers help them create the perfect mattress for both of you.
The quiz takes into account your comfort needs, your sleeping position, weights and what each of you prefers.
If you both have almost similar comfort preferences, they'll create a blended mattress that you'll both love.
If you have very different preferences, they'll create a split mattress where you each get your own custom half.
If you don't want to take the quiz, you can also browse all 9 Helix variations they currently offer including:
Sunset for side sleepers
Dusk which is their popular medium-firm option
Nightfall, designed for plus size sleepers (very popular) and
Dual Balanced with a split plush/firm design.
All Helix mattresses are technically hybrids. made of Helix Dynamic foam, pocketed micro-coils and poly foam.
To customize each mattress, Helix varies the density of the foam layers and switches different layers around to get the perfect level of firmness from a plush soft to bouncy firm.
With all of these choices, the Helix mattress is surprisingly inexpensive, and you can even get 0% APR financing via Klarna.
Warranty: 10 years (non-prorated)
Trial period: 100 nights
Shipping: Free to all 50 states
---
Best Adjustable Mattress: Luxi
If you are not sure what firmness level you should buy, even a customizable Helix mattress won't be much help.
For people in this situation, I recommend Luxi. It's a single mattress that can be adjusted at home in three ways.
By interchanging the foam layers, you can change the firmness to soft, medium or firm. It only takes a few seconds to unzip the cover, switch out the layers and put the cover back on.
The customization doesn't end there, though. For the Queen and King sizes, the mattresses are split. That means you can customize your own half of the bed exactly the way you want it.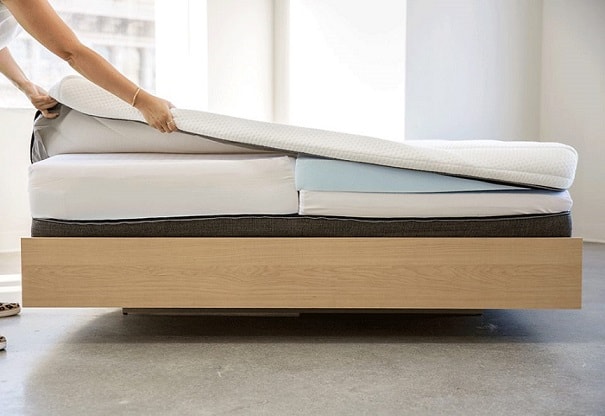 This adjustability is not just beneficial for those who aren't sure what kind of mattress they want; it also comes in handy if your comfort needs a change after some time.
For example, if you get pregnant, develop a back problem or add/lose some weight you can just make the mattress a bit firmer or softer rather than spend money on a new mattress.
The adjustable layers are not the only unique feature of the Luxi mattress. The mattress boasts another innovative feature Luxi calls Shape-Matching Technology.
It consists of a layer with memory foam columns. The columns collapse or stay upright depending on the amount of pressure on them. It's a bit like how Purple's Smart Comfort Grid works.
You get pressure relief and support exactly where you need them most. Under high-pressure areas like the hips, the columns collapse to provide pressure relief. Under low-pressure areas like the back, they stay upright to provide adequate lumbar support.
The columns also promote ventilation, which improves cooling and breathability.
In addition to memory foam, the Luxi mattress also incorporates a layer of latex foam. It makes the mattress more responsive (bouncy) and when used as the top layer, provides a firmer sleeping experience.
The Luxi mattress is a bit pricey compared to other foam mattresses.
But considering the technology and features – and huge flexibility – it's a bargain.
Warranty: 10 years (non-prorated)
Trial period: 100 nights
Shipping: Free to all 50 states and Canada
---
Eight Sleep offers a unique a series of smart mattresses that integrate sleep monitoring and temperature control features to help you sleep better.
Each Eight Sleep mattress includes a sleep tracker that tells you how well you slept using various metrics and a temperature control system that you can use to adjust heat on each side of the bed.
The sleep tracker reports (via a smartphone app) metrics like number of hours slept, how restful your sleep was, heart rate, breathing rate, and sleep cycles.
The company recently added a personalized sleep coach to their app that improves your sleep quality by analyzing your sleep metrics and making customized recommendations.
The temperature control feature is handy for couples with different sleeping temperature preferences. If you like to sleep warm, but your partner prefers sleeping cool, you can set your half of the bed to your ideal temperature.
No more fighting over the thermostat!
Eight Sleep's smart mattresses also come with a smart alarm that wakes you up when you are in the light sleep cycle. This makes it easier for you to wake up. You'll feel fresher and more alert.
Below the technology cover – where all the gadgetry and sensors reside – the mattresses themselves are fairly normal foam designs – but comfy, don't worry.
There are three mattresses in the series: Saturn+, Jupiter+ and Mars+.
The medium-firm Jupiter+ is the ideal option for most people.
If you want an extra-firm mattress, get the Saturn+.
If you want a plush mattress, get the Mars+.
If you are not sure which mattress is right for you, they have a design studio where you can build your perfect mattress. By answering a few questions, the automated wizard will recommend the best mattress for your needs.
You can even specify whether you want a split mattress.
These smart mattresses are surprisingly affordable considering all the tech and smarts they come with.
So if you are looking for a smart and low-cost way to track your sleep and enjoy the perfect sleeping temperature, Jupiter+ or any of the others are great buys.
Warranty: 10 years non-prorated. 1-year separate warranty for the smart cover.
Trial period: 100 nights
Shipping: Free to the contiguous US
---
Organic mattresses are not cheap. Legacy store-bought brands often cost $3,000 or more.
So while the PlushBeds Botanical Bliss is pricier than many other online mattresses, it's FAR cheaper than what you'd be charged in a store.
This is a true organic luxury latex mattress at a bargain price.
Everything in the Botanical Bliss mattress, from the organic cotton cover to the latex foam, is 100% natural. No chemicals or synthetic materials.
They also added natural New Zealand Joma wool below the cover. It acts as a chemical-free fire barrier and also keeps away bacteria, dust mites, and allergens.
The foam layers consist of Talalay latex, which feels soft and is great for pressure relief, and APRICO latex, which provides a firm base for support.
The mattress comes in three size options: 9", 10" and 12". Price increases with mattress thickness.
You also get to choose from three firmness options: soft, medium and medium-firm. They all cost the same.
The medium Botanical Bliss mattress is the best option for most people. It's also one of the best mattresses for back pain. It offers the perfect balance of contouring and support to keep your back well supported and cushioned.
If like me you generally love organic or natural products, this is a great mattress. It is 100% organic and has certifications to prove it (USDA, GOLS, GOTS, and GreenGuard).
Warranty: 25 years (prorated)
Trial period: 100 nights
Shipping: Free to contiguous US (Alaska and Hawaii customers pay extra for freight)
---
Best Budget Latex Mattress: Ecoterra
A latex mattress is typically far more expensive than memory foam.
This is a big downer for those of us who prefer the coolness and bounciness of latex foam but don't have $1,500+ to spend on a good quality latex mattress like PlushBeds or Zenhaven.
But even though you are out of funds, you are not completely out of luck.
Ecoterra sells an eco-friendly (read: almost 100% organic) latex + spring mattress that costs less than $1,000 for a Queen size.
This mattress doesn't boast a lot of bells and whistles.
But it is comfortable and has good support.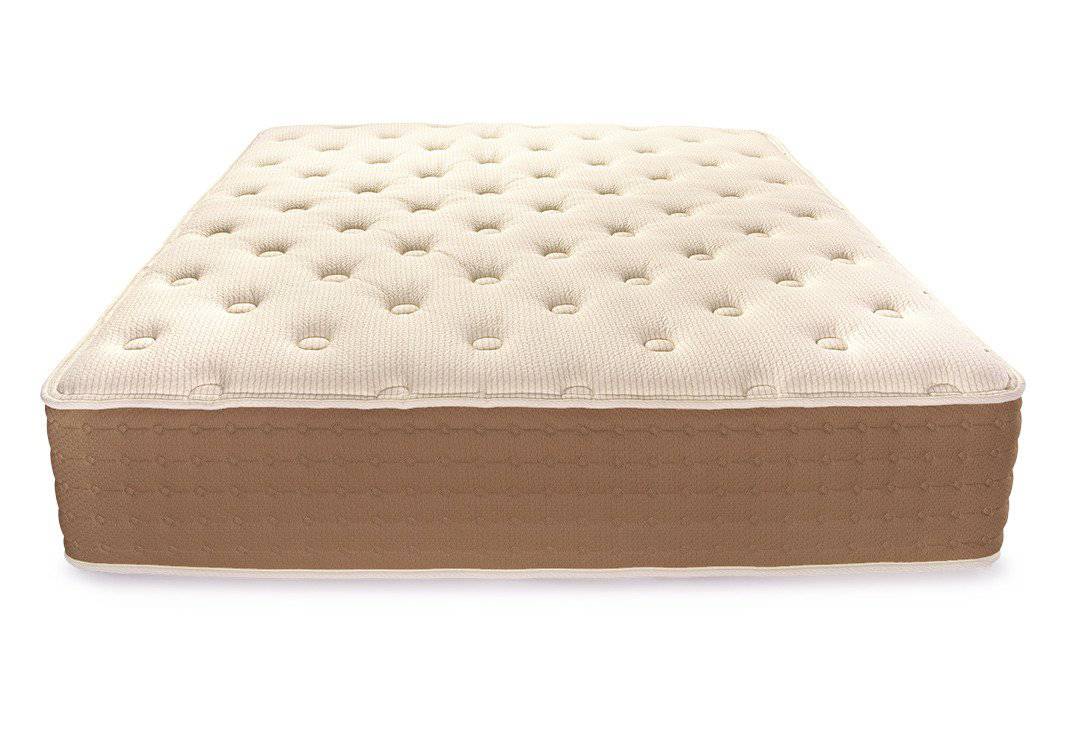 In fact, this mattress only has two layers.
A top layer of 100% natural latex (unheard of in a mattress of this price range) molds to your body and responds quickly to your movements.
Beneath it, a base layer of pocketed coils provide contouring and support and adds to the bounce of the latex foam on top.
The Ecoterra mattress is a healthy 11" thick, which is a lot for this price. This ensures there's enough support even for the heaviest sleepers.
With its naturally-cool latex and ventilation-boosting pocket coils, the Ecoterra mattress has no heating issues at all. The coils also do a great job minimizing motion transfer between couples.
There are two firmness options to choose from: medium and medium firm.
Warranty: 15 years (non-prorated)
Trial period: 90 nights
Shipping: Free
---
Best Mattress For Bigger People: Big Fig
For plus-size sleepers, finding the right mattress can be difficult.
Even those that look like they can support you wear out in just a couple of years.
Instead of buying a new mattress every two years, stop thinking and just get a Big Fig mattress.
It's not the cheapest online mattress, but you are guaranteed that it will last a long time while delivering the best in support and comfort.
The mattress has been designed from the ground up to meet all of your needs. It's sturdier, more durable and keeps its cool.
There are three sections of the mattress: the foam layers, a coil base and a reinforced edge support system.
The foam section consists of 1 layer gel-infused and ventilated latex (for cooling and responsiveness) and three layers of polyfoam (for compression support).
The coil layer consists of up to 1600 heavy duty pocket coils. They provide overall support, ensuring the mattress lasts for more than a decade. They also provide contouring and improve cooling.
The edge support system is there to keep the edges from collapsing when you sit on the bed or lie down near the edge.
The Big Fig mattress comes with a foundation (included in the mattress price) also designed to take a lot of extra weight without any issue.
Big Fig says their foundation can support five times the weight of a normal mattress foundation.
There are no firmness options, but the Big Fig will feel comfortable for 70-80% of plus sized sleepers.
If you don't like it, you can always return it for free.
The mattress is a bit pricey, but they offer a 0% APR 12-month financing offer which allows you to make smaller payments.
Warranty: 20 years (non-prorated)
Trial period: 101 nights
Shipping: Free curbside delivery, $99 white glove delivery, $159 white glove delivery + old mattress and foundation removal.
---
Save Money When You Buy Online
You no longer have to spend thousands of dollars to buy a new mattress.
Thanks to online and bed-in-a-box mattresses, good quality mattresses are cheaper than ever.
You'll save a ton of money and still get a premium mattress.
You also get to choose from a larger variety of mattresses.
Instead of struggling to choose among a few brands in a store with vague features and descriptions, you can select from dozens of online brands that offer many different types of mattresses.
Whether you want a latex mattress, memory foam mattress or a traditional innerspring mattress, it's easy to find an affordable one.
Same goes for organic, eco-friendly and hybrid mattresses.
I hope this Top 10 Mattress Guide has saved you some time shopping and eliminated any confusion.
If you have a question for me, leave it below in the comments.
Sleep well…
---
Save BIG On Your Next Mattress Purchase
Join our mailing list and get my LATEST COUPONS delivered immediately!
Send Me The Coupons
---
Learn More
Compare Mattresses Side-by-Side
---
Affiliate Disclosure
Affiliate Disclosure: I may earn a small commission (at no cost to you) if you purchase a mattress after clicking a referral link or using a coupon code on this site. That said, all content and opinions on this site are my own and are NOT affected by these payments.
This site participates in the Amazon Services LLC Associates Program, an affiliate advertising program designed to provide a means for sites to earn advertising fees by advertising and linking to Amazon.com.
*Amazon and the Amazon logo are trademarks of Amazon.com, Inc, or its affiliates.
---
SHARE THIS PAGE