Tempurpedic Rhapsody Breeze Mattress Review
Summary
The PRObreeze is one of the most comfortable memory foam mattresses that Tempur-Pedic sells. It's also one of the coolest, sleeping about 3 degrees cooler compared to the average memory foam mattress.
Excellent choice for: Anyone looking for a high-quality memory foam mattress that sleeps cool and has a medium comfort feel.
Avoid if: You are a stomach sleeper. The PRObreeze is also not ideal if you prefer sleeping on a responsive/bouncy mattress.
Price: $3,799 – $4,999
NOTE: We earn from qualifying purchases made via Amazon Associates and other affiliate programs. Learn more.
The TEMPUR-breeze series includes some of the most luxurious mattresses that Tempur-Pedic sells. These mattresses, which include the PRObreeze and LUXEbreeze, are engineered specifically for a cooler sleeping experience.
The PRObreeze combines Tempur-Pedic's legendary foam materials with phase change cooling technology to keep you cool and comfortable.
However, this exceptional cooling performance doesn't come cheap. The PRObreeze is one of the most expensive Tempur-Pedic mattresses, and Tempur-Pedic is not that known for its budget mattresses.
What's In This Mattress Review?
In this review, we take apart the Tempur-Pedic PRObreeze mattress and see whether it's worth its price tag.
We look at its construction, its cooling performance, and overall comfort. We'll also compare it to other Tempur-Pedic mattresses.
If you are looking for a cheaper way to enjoy Tempur-Pedic's comfortable foams, see our reviews of the best Tempur-Pedic toppers. They are way cheaper than getting a new Tempur-Pedic mattress.
If you really need a new mattress but are on a budget, the Casper is a cheaper alternative to Tempur-Pedic that can be considered. The Casper mattress is about a quarter the price of the ProBreeze, but it's comfortable and sleeps fairly cool.
Read our comparison of Casper vs. Tempur-Pedic to see how they match up.
---
About Tempur-Pedic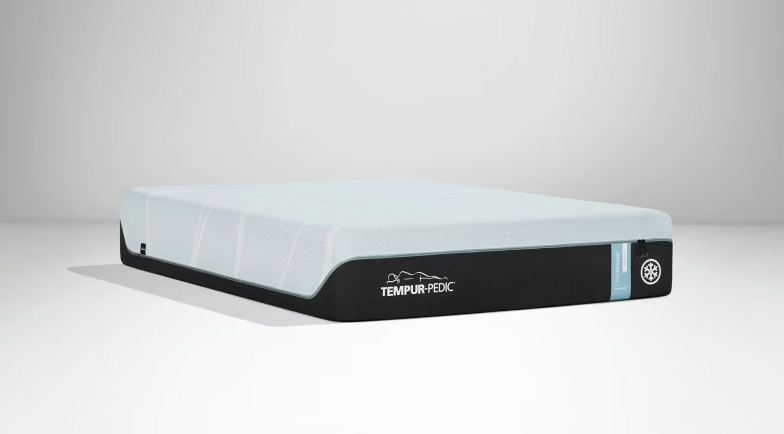 Tempur-Pedic is one of the biggest brands in the bedding industry, best known for its luxury memory foam mattresses.
The company was founded in 1992. Today, Tempur-Pedic is a part of Tempur Sealy International after a 2012 merger with the Sealy Corporation. It's headquartered in Lexington, Kentucky.
---
Social Impact
Over the last several years, Tempur-Pedic has been actively donating mattresses to charities, including Ronald McDonald House Charities.
The company has also taken steps to become more environmentally friendly. Tempur-Pedic mattresses are CertiPUR-US Certified, meaning they do not contain any hazardous substances that can be harmful to you or the environment.
In addition, Tempur-Pedic is also planning to achieve carbon-neutral manufacturing by 2040.
---
Prices
Tempur-Pedic mattresses generally tend to be some of the most expensive in the market, and the PRObreeze is no exception. Here are the prices for different sizes.
For the latest prices and offers, visit Tempur-Pedic's official website.
Twin Long – $3,799
Full – $$
Queen – $4,299
King – $4,999
Split King – $7,598
CA King – $7,598
Split CA King – $7,598
Tempur-Pedic offers to finance if you prefer paying for your mattress in easy installments. Visit their website to prequalify for a Tempur-Pedic credit card.
---
Shipping
Tempur-Pedic offers free shipping as well as free white glove delivery to states in the continental US. Delivery to Alaska, Hawaii, and other remote locations attracts additional charges.
The PRObreeze mattress will be delivered to your home in 7-10 days after ordering, though that could extend to 3-5 weeks if there's exceptionally high demand.
The delivery team will set up the mattress in whatever room you want and even take away your old box spring and mattress if you want.
Note: Certain restrictions may apply for white glove delivery because of the pandemic, depending on your location.
---
Delivery and Unboxing
Because they are made with extra dense foams, Tempur-Pedic mattresses tend to be very heavy. A queen PRObreeze mattress can weigh up to 123lbs.
That's why Tempur-Pedic offers free in-home delivery and setup. They'll bring the mattress inside, unbox it, and roll it out on the bed.
---
Aesthetics/Styling
The PRObreeze mattress has a lovely two-tone cover with a logo and label on the side.
At 12 inches thick, the mattress looks just as luxurious as it feels. If you have a low platform or foundation, the PRObreeze mattress will look great.
---
Technology
As we mentioned, the focus of the TEMPUR-breeze mattresses is cooling, and the PRObreeze uses two techniques to help hot sleepers sleep more comfortably.
The first is the cooling cover. It is highly breathable and is infused with cooling fibers, making it feel cool to the touch.
The second is a phase change material right underneath the cover. It maintains the mattress within a narrow comfortable temperature range.
The first layer of the PRObreeze mattress is also designed for improved cooling performance. It's made with TEMPUR-CM+ Material, which has more airflow compared to the original Tempur material.
---
Cover
The PRObreeze mattress comes with a SmartClimate® Max Dual cover system, a highly breathable and cool-to-the-touch cover only found in the Tempur-Pedic Breeze mattresses.
The cover consists of a zipped outer panel that you can remove and machine wash and an inner stretchy layer that helps with cooling.
---
Mattress Construction
Like most Tempur-Pedic mattresses, the PRObreeze mattress has a 3-layer design: a comfort layer, a transition layer, and a support layer.
2" TEMPUR-CM+™ Comfort Layer
TEMPUR-CM+ is a unique memory foam formulation that's denser, more pressure-relieving, and more breathable compared to regular memory foam.
It molds to your body, relieving pressure on your hips, back, and shoulders. Because the foam has an open-cell construction, it doesn't get hot like most memory foam mattresses.
The phase change layer infused into it also helps keep it cool.
2" TEMPUR® Support Layer
The TEMPUR® support layer is made with a proprietary polyfoam formulation. It provides compression support, ensuring you don't sink too deep into the mattress.
8" Base
All Tempur-Pedic foam mattresses have a high-density polyfoam base that provides overall support and prevents the mattress from sagging over time.
---
Sleeping Experience
Tempur-Pedic mattresses are generally great to sleep on. They use high-quality foams that provide good pressure-point relief and support.
The PRObreeze is an especially great choice for hot sleepers. It's one of the coolest memory foam mattresses you can buy.
Here's a look at specific areas of the Tempur-Pedic PRObreeze sleeping experience.
---
Firmness
The PRObreeze mattress has a medium comfort feel. It balances between being soft enough to hug your back, hips, and shoulders and being firm enough to keep you from sinking too deep into the mattress.
The medium feel is great for side and back sleepers in all weight categories. The dense foams used in the PRObreeze, and the high 12" profile allows it to comfortably support heavier sleepers.
Some light stomach sleepers (under 130lbs) may find the Tempur-Pedic PRObreeze comfortable, but we generally do not recommend it for most stomach sleepers.
The memory foam doesn't provide uniform support from head to toe, causing your midsection to sink lower, which can eventually lead to back pain and back problems.
---
Support
The Tempur-Pedic PRObreeze provides excellent support for back and side sleepers. The base layer keeps you from bottoming out, while the contouring top and transition layers ensure your spine is aligned correctly.
The only area where support is a bit lacking is along the edges. The PRObreeze has better edge support than most foam mattresses, thanks to the high-density foams. But you may still experience a roll-off feeling if you sleep too close to the edge.
---
Hot/Cold Issues
The Tempur-Pedic PRObreeze has one of the best cooling performances of any memory foam mattress.
It combines a breathable cover, phase change material, and breathable memory foam to keep you cool no matter the season.
On average, the Tempur-Pedic PRObreeze sleeps 3 degrees cooler than most memory foam mattresses.
---
Motion Transfer
Another area where the Tempur-Pedic PRObreeze excels is motion transfer, or rather the lack of it.
The dense foams easily absorb any disturbances, ensuring couples don't wake each other up when one of them moves.
---
Sex and Responsiveness
If you love sleeping on a bouncy mattress, the Tempur-Pedic PRObreeze is not for you. Memory foam recovers slowly and has little to no bounce.
This can make it a bit harder to get out of bed or change sleeping positions.
It's also not so great for sex.
If you want to enjoy the cooling and pressure relief benefits of PRObreeze, but with added bounciness, get the PRObreeze medium hybrid. It contains coils, which makes it more responsive.
---
Off-Gassing
The Tempur-PedicPRObreeze has the same 'new foam' smell as the cheaper foam mattresses despite its comparatively higher price tag.
It takes a few hours to a couple of days for the mattress to fully off-gas.
Note that the smell, though unpleasant for some people, is harmless. Tempur-Pedic uses CertiPUR-US Certified foams that don't have any harmful substances like mercury, formaldehyde, and PBDEs.
---
Trial and Returns
Tempur-pedic offers a 90-day in-home trial period for their mattresses. You must sleep on the mattress for 30 nights before you can return it.
Tempur-Pedic will refund your money minus shipping costs.
---
Warranty
All Tempur-Pedic mattresses, including the PRObreeze, are covered by a 10-year limited warranty.
---
Tempur-Pedic PRObreeze Pros and Cons
Pros
Good support and pressure relief.
Excellent cooling performance.
Lasts longer than most memory foam mattresses.
Free shipping and in-home setup.
Cons
Expensive. 

Not suitable for most stomach sleepers.
---
The Tempur-Pedic PRObreeze Is Perfect For You If…
You are shopping for a luxury memory foam mattress and don't mind spending more to get it.
You want a memory foam mattress with a medium feel – not too plush and not too firm.
You want a memory foam mattress that sleeps cool.
---
Conclusion
The Tempur-Pedic PRObreeze is one of the most expensive memory foam mattresses. But we think it's worth it.
It sleeps cool, provides great support (even for heavier folks), cuddles all your pressure points, and is likely to outlast cheaper memory foam mattresses.
---
Where To Buy
---
Other Tempur-Pedic Breeze Mattresses To Consider
PRObreeze medium hybrid  – Same comfort and cooling as the Probreeze, but with a base of spring coils instead of polyfoam. The medium hybrid has a softer feel but still offers good support, thanks to the coils. It's also more responsive and better for sex.
LUXEbreeze – Ideal for those who need even more cooling. The all-foam Tempur-Pedic LUXEbreeze sleeps 8 degrees cooler than an average memory foam mattress. It's available in soft and firm comfort options.
---
Affiliate Disclosure
Affiliate Disclosure: I may earn a small commission (at no cost to you) if you purchase a mattress after clicking a referral link or using a coupon code on this site. That said, all content and opinions on this site are my own and are NOT affected by these payments.
This site participates in the Amazon Services LLC Associates Program, an affiliate advertising program designed to provide a means for sites to earn advertising fees by advertising and linking to Amazon.com.
*Amazon and the Amazon logo are trademarks of Amazon.com, Inc, or its affiliates.
---