NOTE: We earn from qualifying purchases made via Amazon Associates and other affiliate programs. Learn more.
---
About Saatva Mattress Toppers
Saatva makes one of the highest-rated bed-in-a-box mattresses, the Saatva Classic.
Their mattress toppers have similarly high ratings. They include a graphite-infused memory foam topper, a budget foam topper, and a natural latex topper.
Below are our reviews of each Saatva topper.
To learn more about other Saatva products, read our Saatva Classic mattress review and see Saatva vs. Casper mattresses compared.
Saatva also sells an airbed, the Saatva Solaire Mattress.
---
What's In This Mattress Topper Review?
This Saatva Mattress Topper Review is a 10-minute read.
If you'd rather not go through it all, use this table of contents to skip to the features that are most important for you.
---
The Saatva Graphite topper is designed for sleepers who want the pressure-relief of memory foam without its heat.
The memory foam topper stays cool thanks to the graphite infused into it. Graphite draws heat away from your body and dissipates it, leaving you feeling cooler.
The Saatva graphite topper is 3" thick and comes with an organic cotton cover.
---
The Saatva foam topper is for sleepers who want to upgrade their mattress on the cheap. It consists of 1.5" of high-density polyfoam that provides just the right balance of firm support and soft contouring.
The Saatva foam topper comes with an organic cotton cover.
---
The Saatva latex topper is ideal for sleepers who don't like the soft, sometimes mushy feel of memory foam. If you prefer a more responsive feel, the Saatva latex topper is perfect. It's also great for sleepers who prefer natural bedding.
The 1.5" Saatva latex topper is made with 100% natural latex wrapped in an organic cotton cover. The only downside – it's pricey.
---
Saatva Mattress Topper Comparison
| | | |
| --- | --- | --- |
| Saatva Graphite | Saatva Foam | Saatva Latex |
| Graphite-infused memory foam | High-density polyfoam | Natural Talalay latex |
| 3" | 1.5" | 1.5" |
| Organic cotton cover | Organic cotton cover | Organic cotton cover |
| Medium-soft | Medium | Medium |
| 45-day returns and 1-year warranty | 45-day returns and 1-year warranty | 45-day returns and 1-year warranty |
| Price (Queen): $275 | Price (Queen): $195 | Price (Queen): $375 |
---
Saatva Mattress Toppers Review 
Construction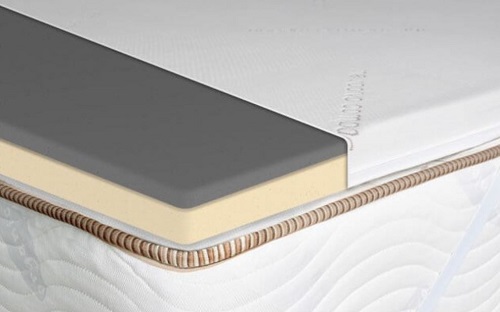 Construction varies significantly from topper to topper. Each topper uses different materials.
Saatva Graphite is a memory foam topper and is 3" thick. It has the classic plushness and hug of memory foam, making it a good choice for firm mattresses.
The topper is infused with graphite to help with cooling. The organic cotton cover also helps you stay cool and sweat-free.
Saatva Foam is a polyfoam topper and is 1.5" thick. It's made with high-density polyfoam, giving it a firm and supportive feel.
The organic cotton cover provides cooling and moisture-wicking.
The 1.5" thick Saatva Latex topper is the only all-natural topper from Saatva. It's made with natural Talalay latex and has an organic cotton cover.
Firmness
The graphite memory foam topper is the softest option. It has a medium-soft feel The 3" memory foam construction gives it a deeper hug compared to the other Saatva toppers.
Side sleepers will appreciate the body contouring the graphite memory foam topper offers, which relieves pressure on the shoulder and hip.
The graphite topper is also a great choice if you have a firm or extra-firm mattress that you want to soften.
The Saatva foam topper has a medium feel, making it ideal for back sleepers. Because it is thinner (just 1.5"), it doesn't sink as deep as the graphite topper. So you still get adequate support from your mattress.
To get the best out of the Saatva foam topper, pair it with a firm mattress.
The Saatva latex topper also has a medium-feel. Talalay latex has a plusher, more body-contouring feel compared to Dunlop latex.
The latex topper is great for back and stomach sleepers who want a soft but supportive sleeping surface. With a 1.5" profile, the latex topper provides enough support to keep your spine properly aligned.
Comfort & Sleeping Experience
If you want plush and soft, order the Saatva Graphite mattress topper. It provides a deep hug, which is great for side sleepers and heavier back sleepers.
Normally, a soft memory foam topper would be a problem because of overheating. But the Saatva topper manages to stay cool thanks to the heat-absorbing graphite infused into it. The breathable organic cotton cover helps a bunch, too.
Another area where the Saatva graphite topper excels is in reducing motion transfer. The soft foam absorbs disturbance, ensuring you sleep through your partner's tosses and turns.
If you like the pressure relief of foam but are worried the graphite topper will be too soft, get the Saatva foam topper.
It's made with polyfoam rather than memory foam, so you don't get the same plush body hug. But it still provides enough softness to relieve pressure from your back, hip, and other pressure points. And because it's thin, you still enjoy support from your mattress.
The Saatva foam topper sleeps cool. Polyfoam doesn't trap as much heat as memory foam, and the organic cover helps dissipate excess body heat.
If you hate the mushy feel of foam but still want a pressure-relieving topper, get the Saatva latex.
Saatva Latex hugs your body enough to relieve pressure points but has a bouncy feel that ensures you don't feel stuck in the bed.
Being a natural latex topper, Saatva latex has no heating issues. Natural latex has excellent breathability that keeps it cool. The organic cotton cover provides further cooling and moisture control.
Prices
Here are the latest Saatva topper prices. Note that Saatva offers financing through Klarna. If you qualify, you can split your payment over several months. Visit Saatva's website for more details.
Returns and Warranty
Saatva offers a 45-day return period for all their toppers. If you decide to keep the topper, it'll be covered by a 1-year warranty.
The warranty is much shorter than we expected for the toppers of this price and quality. Comparable toppers from other brands have a 5-10 year warranty.
Care and Cleaning
All three Saatva toppers come with removable and washable organic cotton covers. The covers make it easy to keep your topper clean.
Saatva Toppers Pros and Cons
Pros
High-quality construction.
Toppers have straps to secure them to the mattress.
All toppers have a removable and washable cover.
All toppers have higher than average cooling performance.
Cons
Short warranty.
Saatva toppers cost more than average.
---
Verdict
The best thing about Saatva toppers is the different options you have. The graphite topper is great for side sleepers, the foam topper is for back sleepers, and the latex topper is perfect for stomach sleepers and anyone who sleeps hot.
---
See My Favorite Products of 2021!
Select a list >
Mattresses
Toppers & Pads
Cooling/Heating
Pillows
Sheets
Touch a tab above to reveal my top picks for that category.
---
Learn More
Compare Mattresses Side-by-Side
---
Affiliate Disclosure
Affiliate Disclosure: I may earn a small commission (at no cost to you) if you purchase a mattress after clicking a referral link or using a coupon code on this site. That said, all content and opinions on this site are my own and are NOT affected by these payments.
This site participates in the Amazon Services LLC Associates Program, an affiliate advertising program designed to provide a means for sites to earn advertising fees by advertising and linking to Amazon.com.
*Amazon and the Amazon logo are trademarks of Amazon.com, Inc, or its affiliates.
---