NOTE: We earn from qualifying purchases made via Amazon Associates and other affiliate programs. Learn more.
---
I had a difficult time comparing Leesa vs. Saatva Classic. They are very different mattresses in terms of design, feel and construction – but they are also among the best mattress values in their class.
Saatva Classic is one of the highest-rated mattresses sold online. It is a hybrid innerspring mattress, combining a euro pillow top, memory foam and two different coil layers to provide a great sleeping experience.
Leesa is also highly-rated and popular among online mattress shoppers. Compared with Saatva, the Leesa mattress is a simpler three-layer memory foam mattress. That said, Leesa uses a special type of foam that sets it apart from most of its competitors.
Price-wise, the two mattresses are very close.
So which one should you choose?
---
What's In This Comparison
In this detailed mattress comparison, we will compare Leesa vs. Saatva Classic on comfort, construction, support, cooling, warranty and, of course, price.
My goal here is to give you enough details to make your own decision.
If you want to learn more about each mattress, read my 10-minute reviews of the Saatva Classic and the Leesa mattress.
---
Leesa vs Saatva Classic: Which One Should You Buy?
Here's my bottom line on which one you should buy, based upon your preferences and budget – keep reading this page, to learn more:
I gave the Leesa mattress an overall rating of 4.6 out of 5.0.
Buy a Leesa if:
You prefer the cradling feel that memory foam provides.
You want to save money.
You want the best budget foam mattress sold online.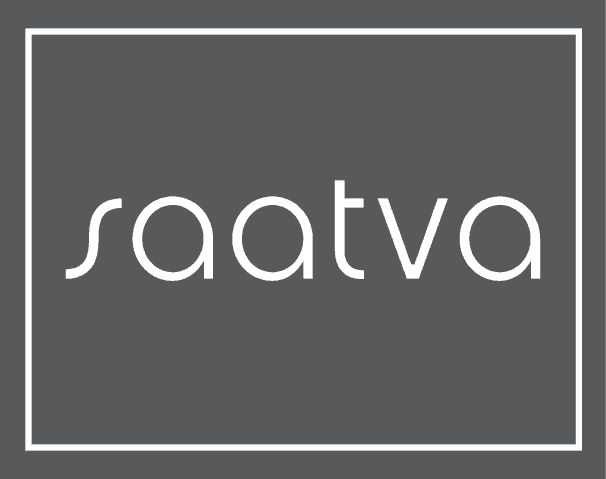 I gave the Saatva mattress an overall rating of 4.9 out of 5.0.
Buy a Saatva if:
You want a luxury, pillow-topped innerspring mattress… for thousands less than in-store competitors.
You need a softer or firmer mattress (Leesa only offers medium-firm).
You prefer a bouncier feel.
---
Mattress Construction
Saatva
The Saatva Classic mattress consists of four layers plus an edge support system. Two of the layers are filled with steel coils, with one layer for contouring and the other for support and durability. Here are each of the layers explained:
Euro pillow top – You know those plushy luxury hotel mattresses you love? That's how the Saatva mattress feels, like thanks to its euro pillow top. The pillow top has a soft padding that creates a nice pressure-relieving hug when you lie on the mattress. The soft organic cotton cover on top makes the sleeping experience feel even more luxurious.
1-inch of memory foam + polyfoam – this may seem like it's too thin but remember there is a pillow top on top. A thick layer of memory foam would make the mattress too soft and swampy. That would compromise support. The 1-inch layer perfectly complements the support and pressure-relieving ability of the pillow top.
4 inches of pocketed coils – The Saatva mattress may be solid, but it is in no way rigid. It adapts to your needs and moves along with you as you roll and turn on the mattress. The individually pocketed coils can contour around your curves and spread your weight evenly on the mattress. This ensures you don't wake up with a sore back or aching muscles.
7 inches of Foundation layer – an extra thick foundation layer consisting of extra-durable tempered steel coils, this layer ensures your mattress will keep its form and shape for years.
Edge support system – To further shore up support, Saatva uses an edge support system.
All these layers come to 11.5 inches. But if you need a thicker mattress, Saatva also offers a 14.5-inch mattress with the same materials and at the same price as the 11.5-inch option.
Leesa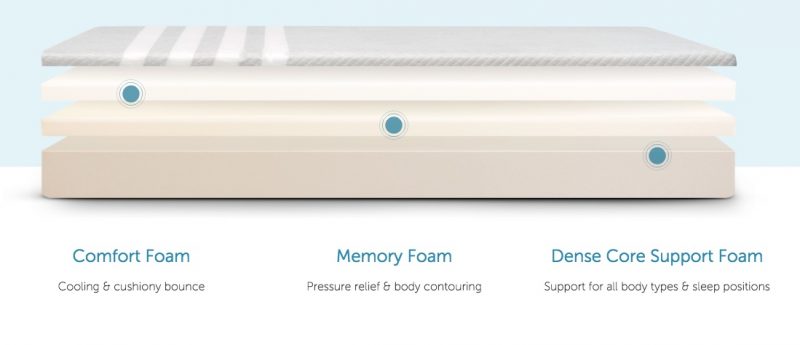 Leesa's genius is its simplicity. It has three layers, together measuring 10 inches thick:
2 inches of LSA200 foam – This is the most important layer of the Leesa mattress. It consists of a proprietary type of foam resembling latex foam, but also shares some of the pressure-relieving ability of memory foam. The LSA200 foam layer provides support, cooling and motion control.
2 inches of memory foam – The memory foam layer improves the overall comfort of Leesa's mattress and providing some contouring and more support.
6 inches of foundational foam – Leesa uses traditional poly foam to provide foundational support. This layer prevents the mattress from sinking too deep (compression support) and ensures the mattress lasts long without losing its support.
---
Comfort and Firmness
Saatva
Saatva tries to cater to all kinds of sleeping preferences and needs not with a one-fits-all universal mattress but by having three different comfort levels.
Plush soft – this is the softest of the three and has the most sinkage. Buy this one if you love sinking into a soft mattress. I also recommend it for side sleepers who need more contouring around their hips and shoulders. The firmness level for the plush soft is around 3/10 with 10 being the firmest point of the scale.
Luxury firm – this is a medium-firm mattress that is ideal for most people. If you are not sure what comfort level is best, buy this one. It is soft enough to create a pressure-relieving hug and firm enough that it provides good support for back, side and stomach sleepers. Its comfort level is around 5-6/10
Firm – this is the firmest one. It is ideal for stomach sleepers and those with a heavier body. If you love floating on the mattress, you'll also love it. It comes in at around 7-8/10 on the firmness scale.
Leesa
When it comes to firmness, Leesa takes the one-fits-all approach.
They make one mattress with a medium-firm comfort level (5-6/10). The top layer of LSA200 foam creates a fairly firm feel when you first sleep on the mattress. But after some time, you will start feeling the softer memory foam layer underneath.
After a day or two, the mattress does a great job balancing between firm and soft.  It is firm enough to align your back and hold your weight properly, but also soft enough that you won't wake up with sore shoulders or back.
---
Sleeping Experience
Saatva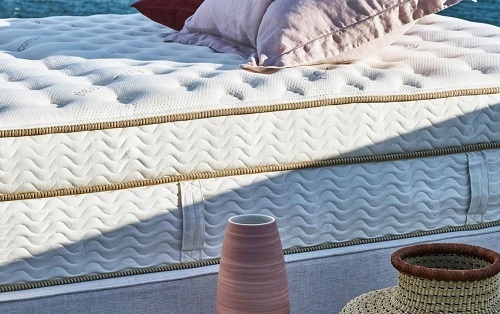 Saatva provides a luxurious sleeping experience. It's no surprise that it costs a bit more than the Leesa.
But what is even more surprising is that it doesn't cost at least $2,000.
The pillow top and memory foam layer create a plush layer that cradles your body and relieves pressure on your muscles and joints. The pocketed coil layer provides contouring, ensuring that no matter which side you sleep on, the mattress feels comfortable.
Be careful to choose the right comfort level, though. Otherwise, your sleeping experience is going to suck.
Regarding temperature control, the organic cotton cover on top maintains a cool, fresh and breathable surface. The pocketed coil layer and tempered coil base go further by providing free air flow within the mattress, which takes away excess heat, moisture, and trapped odors. It's better than Leesa in this regard.
As you would expect with an innerspring mattress, Saatva is quite bouncy but without causing too much disturbance for your sleeping partner. The individually wrapped coils don't transfer motion.
Leesa
Leesa provides a great sleeping experience, especially if you like the feel of memory foam.
I wouldn't describe it as luxurious, but it's better than the most all-foam mattress, especially Casper. While some customers have reported experiencing an uncomfortable firmness on the first night, the mattress quickly adapts to your body and feels much more comfortable in a couple of days.
The top LSA200 foam layer has a latex-like cooling ability. It does not trap heat or odors like many memory foam products do, meaning your mattress will stay cool and fresh smelling. Putting memory foam as the second layer also helps in keeping temperatures down.
Because of the top layer, the Leesa mattress feels slightly bouncy, though not as bouncy as the Saatva, for sure.  Motion transfer is minimal.
---
Warranty and Returns
Saatva
Saatva gives you more than enough time to try out your new mattress. You have 120 days to get used to it and decide whether you want to keep it or return it.
If you decide to return it, contact Saatva, and they will arrange a free pickup from your home. You will get a full refund minus any delivery fee you paid.
Note that you can also request an exchange if you had ordered the wrong size or comfort level.
As for the warranty, Saatva promises to guarantee the quality of the mattress for 15 years. There are two types of coverage, both extending for 15 years.
The first is a standard warranty where Saatva caters for all repair or replacement costs except for years 3 to 15 where the customer pays for just the shipping.
The second type of coverage is prorated meaning you have to pay a certain percentage of the original cost to get a new replacement. But you can keep your old mattress.
See the full warranty terms and conditions on Saatva's official website and decide which type of coverage you want.
Read Saatva's warranty & return policy to learn more.
Leesa
Leesa gives you a slightly shorter 100 days to test their mattress. They recommend trying it out for at least 30 days before making a return decision. If you decide to return it, they will pick it up for free. There are no penalties or restocking charges.
Returned mattresses are either donated to charity or recycled depending on the laws in your location.
Their warranty covers the standard 10-year period. It is not prorated, meaning Leesa covers all of the costs of repairing or replacing the mattress. Better than Saatva.
Read Leesa's warranty & return policy to learn more.
---
Shipping and Delivery Options
Saatva
Unlike most online mattress companies, Saatva charges a $99 shipping fee for customers. However, this fee is not just for shipping. They also set the mattress up for you. So you don't have to worry about how you are going to get the mattress inside or unpack it.
You can also have them take away your old mattress, if you want.
Leesa
Leesa also ships to all 50 states but does not charge for shipping.
Unlike Saatva however, they don't offer any help with setup. You are responsible for getting the mattress inside and unpacking it.
Each mattress is made to order, so delivery takes around 4 to 10 business days depending on your location.
When it ships through UPS, you will be able to track its arrival.
You can even make arrangements with UPS if you have any special delivery request such as specific-day delivery.
---
Price
As I mentioned, Saatva is the pricier of the two. This is not a surprise, considering it's a hybrid innerspring mattress with a pillow top and a tempered steel base.
Both companies offer financing options, so you can arrange to pay in easy monthly installments if you want (subject to credit approval).
Listed below are the latest discounted prices for Saatva and Leesa – but make sure you check both sites for the latest deals (click any link below to see):
---
Latest Coupons & Discounts
Leesa: SleepDelivered visitors Save Up To $700 Now + 2 Pillows Leesa mattress – just click to claim it.
Saatva: SleepDelivered visitors Save Up To $600 Now
---
Saatva Classic Is The Right Mattress For You If:
You want a luxury, pillow-topped innerspring mattress… for thousands less than in-store competitors.
You need a softer or firmer mattress (Leesa only offers medium-firm).
You prefer a bouncier feel.
---
Leesa Is The Right Mattress For You If:
You prefer the cradling feel that memory foam provides.
You want to save a little more money.
You want the best foam mattress sold online today.
---
More Leesa Mattress Comparisons On This Site
---
Affiliate Disclosure
Affiliate Disclosure: I may earn a small commission (at no cost to you) if you purchase a mattress after clicking a referral link or using a coupon code on this site. That said, all content and opinions on this site are my own and are NOT affected by these payments.
This site participates in the Amazon Services LLC Associates Program, an affiliate advertising program designed to provide a means for sites to earn advertising fees by advertising and linking to Amazon.com.
*Amazon and the Amazon logo are trademarks of Amazon.com, Inc, or its affiliates.
---