NOTE: We earn from qualifying purchases made via Amazon Associates and other affiliate programs. Learn more.
---
Comparing Saatva Classic vs. Casper is a like comparing apples and oranges.
After all, Saatva is a foam-innerspring hybrid, and Casper is a foam mattress.
On the other hand, these two do share a lot in common with each other:
both played an early, pivotal role in revolutionizing the traditional mattress industry
both are great-sleeping mattresses delivered to your home, with 100+ nights to try it out
both continue to sell fast, with thousands of happy customer reviews explaining why
both cost about the same.
Casper was one of the earliest companies to sell a high quality, single-fit, low-priced foam mattress using the direct-to-home model. 
Today, Casper is a large business with multiple products and a presence in many countries. They are known for their creative marketing, including a recent stunt where they setup an eclipse-watching camp in Casper, Wyoming, equipped with Casper mattresses and bedding.
Saatva is also one of the first online mattress innovators. Their marketing is decidedly lower-key than Casper, but the quiet truth is that Saatva sells one of the best innerspring mattresses we've ever tested. In fact, we score it higher than all other mattresses we've reviewed.
So, which mattress is best for you?
---
What's In This Comparison
In this detailed comparison, we will compare the latest Casper and Saatva mattresses on a variety of factors including comfort, construction, support, cooling, warranty and of course, price.
My objective is to give you enough detail to make your own decision.
That said… if you just want a quick recommendation, then this is the mattress I prefer.
For more details on each mattress, read my updated Casper Original review and my Saatva Classic review.
---
Casper vs. Saatva Classic: Which One Should You Buy?
I gave the Casper mattress an overall rating of 4.5 out of 5.0.
Buy the Casper if:
You prefer a cradling, memory foam feel.
You're happy with a medium-firm bed.
You want to save a little cash.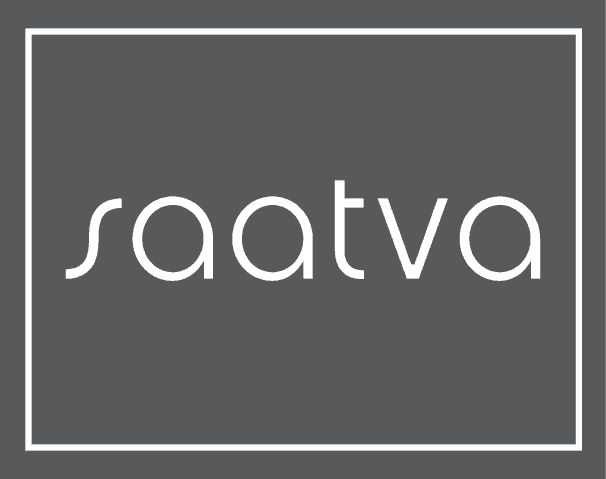 I gave the Saatva mattress an overall rating of  4.9 out of 5.0 (the highest score on this site).
Buy the Saatva if:
You want the luxury feeling that only a pillow-top innerspring mattress can deliver.
You need a softer or firmer comfort level – they offer 3 to choose from.
You plan to have a lot of sex. An innerspring bounce makes all the difference 😉
Save Up To 15% Now
Keep reading to learn more about these differences.
---
Price
Casper and Saatva are both high-quality mattresses sold for 30-50% less than you'd pay in a store for comparable quality.
Saatva costs slightly more than Casper, but not by much – especially considering that the Saatva mattress includes a pillow top, an edge support system and two different coil systems.
Here are the latest discounted prices for both:
Casper offers the option of monthly payments via Affirm (depending on your credit).
Saatva offers monthly payments through PayPal Credit (depending on your credit).
---
Coupons
Save Up To 25% Now On Casper Mattress
For more deals check out Casper.com and Saatva.com, where you will find the latest prices and discounts.
---
Mattress Construction
Casper



Casper consists of three all-foam layers with a total thickness of 11 inches. The most consequential are the top layer which is made from a proprietary type of poly foam designed to be cooler and more responsive than normal foam. Casper calls it Airscape foam. Here is the full structure from top to bottom.
Airscape perforated foam – Keeps the surface of the mattress cool and provides instant pressure relief.
Zoned support memory foam – Provides targeted support and pressure relief using three zones with variable firmness levels.
Polyfoam base – A high-density layer of polyfoam provides overall support and ensures longevity.
Saatva Classic
Saatva is markely different than Casper when it comes to technology and construction.
The Saatva mattress is built using layers of foam, individually wrapped coils and a tempered coil base.  Here is the top-to-bottom arrangement:
Euro pillow top (comfort layer) – this top layer, covered with an organic cotton cover, provides additional padding for comfort. It creates a plush, really luxurious feeling that guarantees nothing but the deepest of sleep. The pillow top is designed in a way that it doesn't shift or deform over time.
1 inch of memory foam + polyfoam (comfort & support layer)– to ensure maximum pressure relief and support, Saatva includes a thin layer of memory foam and polyfoam just under the pillow top. This makes the mattress especially comfortable for people with back or joint issues.
4 inches of individually-wrapped coils (support layer) – This is the most important layer of the mattress. It allows the mattress to seamlessly adapt to each person's sleeping position and body type. In other words, the coils move with you, contouring along your body to prevent any pressure points and provide natural body alignment.
7 inches of steel coils (foundation layer) – most mattresses use poly foam for the base layer. But Saatva uses far-better tempered steel coils that give the mattress extra durability.
Edge support system – Saatva's edge support system ensures that the sides hold up just as well as the center of the mattress. Casper doesn't have this.
Comparing Casper vs. Saatva on construction, Saatva takes the prize.  Saatva's mattress combines the best of foam and springs to provide noticeably better support and comfort.
---
Comfort and Firmness
Casper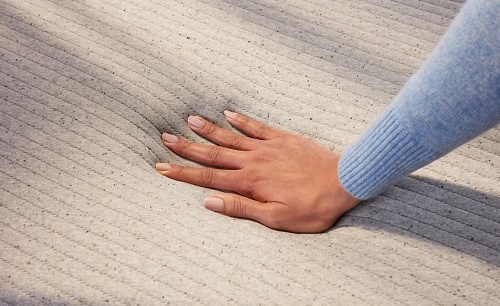 Casper is a medium-firm mattress. There are no other comfort choices available.
The Casper mattress is soft enough to create a comforting hug when you sleep on it, but not too soft that you will sink in.
Surprisingly the Casper feels a bit bouncy despite the lack of inner coils or latex foam. This is thanks to their proprietary foam top layer, which is designed for added responsiveness.  But not as bouncy as Saatva.
Saatva
Saatva provides three comfort levels: Plush Soft, Luxury Firm and Firm.
The Plush Soft is the softest of the three with a firmness rating of around 3/10 (10 being extremely firm). It's ideal for those who really like to be held in place by their mattress. I recommend it for side sleepers who want to stay in place and need deeper contouring to prevent pressure points at the hips and shoulders.
The Luxury Firm is the most popular comfort level. It has a medium level of firmness (5-6.5/10) and is ideal for all kinds of sleepers. It is neither too soft nor too firm.
The Saatva Firm is the firmest of the three, with a firmness rating of around 8/10. It's pretty firm. If you prefer free movement at night or sleep primarily on your back, then I recommend this one.
---
Sleeping Experience
Casper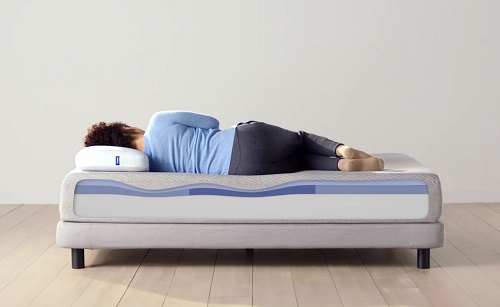 Casper's sleeping experience is good, but it's definitely not 'luxurious'.
It feels very supportive and comfortable. The top layer of responsive foam provides excellent back support, while the second layer of memory foam relieves pressure and creates a comfortable hug around your body.
Regarding temperature control, the open-cell top layer does a great job getting rid of excess heat from the mattress. By maintaining a good level of air circulation, it also ensures that your mattress does not develop any stale odors.
Casper's 100% polyester cover is soft and breathable, which aids in keeping the mattress cool.
To know more, check out our in-depth Casper wave review.
Saatva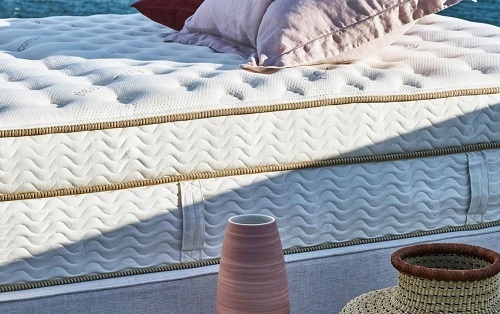 Saatva truly is a luxury mattress, despite what number you see on the price tag.
It is designed like a luxury mattress and feels exactly like one.
The pillow top makes a big difference in comfort, compared with most other online mattresses like Casper. When you lie on it, the top envelops you in a soft, gentle hug. The lumbar support foam layer contours to your body, which helps to reduce pressure points.
As with most innerspring mattresses, Saatva's first coil layer boosts overall support, better than Casper.
It also gives the mattress a higher level of responsiveness (bounciness) compared with Casper. For this reason, I recommend the Saatva over the Casper, if you are looking for a good mattress for sex.
The coils also play an important role in maintaining air circulation, which prevents excess heat, moisture and bad odors from getting trapped inside the mattress.
---
Warranty and Returns
Casper
Casper gives you 100 days to test their mattress in your home and decide if you like it. If it's not the right fit, you can make a hassle-free return and get a full refund. The returned mattress is donated to charity or recycled.
As for the warranty, Casper offers a pretty standard 10-year warranty. This covers manufacturing defects and any structural damage as covered in the warranty statement. Improper use of the mattress, such as using the wrong foundation, will void the warranty.
If you decide to return the mattress, Casper promises to cover all repair or replacement costs.
However, transport and handling costs will be split between you and the company. Casper will pay for transporting the mattress to their facility while you will pay for shipping the mattress back to your home.
Make sure you read the full Casper warranty before making a purchase.
Saatva
Saatva offers a slightly longer 120-day return period starting from the day the mattress is delivered. If you decide to return it, they will pick it up from your home free of charge and give you a full refund excluding of course the earlier shipping fee.
Saatva has one of the clearest and most friendly warranties among online mattress brands. They have two kinds of coverage options.
The first is a standard 15-year non-prorated warranty. Under this coverage, Saatva will cover all repair or replacement costs related to any damage as stipulated in the warranty terms and conditions. During the first two years, you pay nothing. During years 3 to 15, you pay a $99 shipping fee each way.
The second type of coverage is what they call Fair Replacement Option – a form of prorated warranty. It's meant to make it easier for customers to request a new mattress without any hassles.
Under the Fair Replacement Option, you are also covered for 15 years. But over time, you pay an increasing percentage of the original cost of the mattress should you decide to replace it. But you get to keep your old mattress. Saatva just delivers a new one.
During the first two years, Saatva will replace the mattress at no cost to you except a $99 shipping fee. From years 3 to 5, you pay 25% of the original cost. And from years 6 to 10, you pay 50% and in years 11 to 15 you pay 75%.
Saatva's only requires that the mattress is used on the right foundation, that the original buyer owns it and that it be free from intentional damage or abuse.
---
Shipping and Delivery Options
Casper
Every Casper mattress is made on order, so you have to allow a few days for manufacturing before delivery can start. Delivery takes between 2 and 7 business days, depending on your location and number of orders that Casper is processing.
Casper ships their mattresses to all 50 states in the US – including Alaska and Hawaii. But they offer free shipping only to the 48 continental states.
Casper is also available in other countries, including UK, Canada, Germany, Austria, and Switzerland. So if you are reading this from either of these countries, you can order a mattress on Casper's official website.
In the US, Casper uses standard UPS delivery to ship mattresses. In selected cities, they also offer white glove delivery setup. You will find out whether you qualify for it and whether there any additional costs, during check out.
Saatva
Saatva ships to continental US, but charges a flat $99 shipping fee. This may seem high compared to the zero-cost shipping offered by most companies, but it includes in-home delivery and set up.
Saatva will deliver and set your mattress up for you, which is handy if you live alone or can't get someone to help. You can opt to have the old mattress taken away although that costs an extra $39.
The delivery period is 7 to 15 business days.
---
Casper Is The Right Mattress For You If: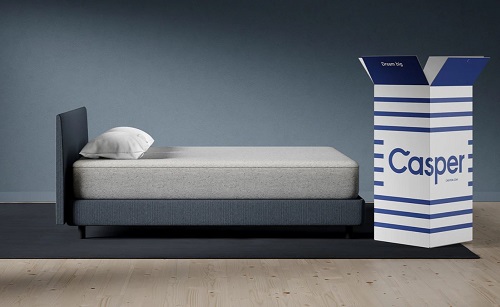 You prefer a cradling, memory foam feel.
You're happy with a medium-firm bed (they only offer 1 choice).
You want to save a bit of cash.
---
Saatva Is The Right Mattress For You If:
You want the luxury feeling that only a pillow-top innerspring mattress can deliver.
You need a softer or firmer comfort level – they offer 3 to choose from.
You plan to have a lot of sex. An innerspring bounce makes all the difference 😉
---
More Casper Mattress Comparisons:
---
Affiliate Disclosure
Affiliate Disclosure: I may earn a small commission (at no cost to you) if you purchase a mattress after clicking a referral link or using a coupon code on this site. That said, all content and opinions on this site are my own and are NOT affected by these payments.
This site participates in the Amazon Services LLC Associates Program, an affiliate advertising program designed to provide a means for sites to earn advertising fees by advertising and linking to Amazon.com.
*Amazon and the Amazon logo are trademarks of Amazon.com, Inc, or its affiliates.
---