Last Updated on
SleepDelivered.com is supported by our readers. When you buy through links on this page we may earn a commission. Learn more.
Casper is one of the first companies to launch a bed-in-a-box mattress in 2013.
Today, the Casper Original Foam mattress is one of the most popular foam mattresses sold online. In addition, Casper also sells a luxury foam mattress, the Casper Wave, and a budget mattress called the Casper Essential.
Tempur-Pedic, on the other hand, is a legacy mattress company that has been around for decades. The company started in 1992 and acquired Sealy Corporation in 2012. Tempur-Pedic is known for its range of luxury (and pricey) mattresses.
So how do these two rockstar mattress brands compare?
Which one should you buy?
In this comparison, I'll cover how these two mattress lines differ in half a dozen ways – so you can make your own decision.
---
What's In This Comparison
In this in-depth comparison, I am going to compare the Casper Original Foam and Tempur-Pedic mattresses side to side and compare them on essential areas such as construction, sleeping experience and cost.
This comparison is a 10-minute read.
Use the table of contents to jump to specific sections that you are most interested in.
Casper vs. Tempur-Pedic: Which One Should You Buy?  
Here's my bottom-line on each mattress.
I rated Casper 4.5 / 5
Buy Casper If:
You prefer a cradling, memory foam feel.
You're happy with a single-comfort medium-firm feel.
You want to save money.
I rated Tempur-Pedic 4.4 / 5
Buy Tempur-Pedic If:
You don't mind paying more for brand security
You want comfort options beyond medium-firm.
---
How Do Casper and Tempur-Pedic Compare?
Similarities
One of the first things you'll notice when you visit Tempur-Pedic's and Casper's website is that they both sell many mattresses.
Granted, Casper only sells three while Tempur-Pedic sells more than a dozen.
Both companies also focus mostly on all-foam mattresses.
Tempur-Pedic offers a few hybrid mattresses consisting of foam and pocket coils, but most of their mattresses are foam-only.
Casper's three mattresses are all-foam, but offer a $200 Hybrid upgrade if you want to add a coil layer.
Both companies have free shipping policies though they differ in specifics.
But as long as you live in the continental US, you can have a Tempur-Pedic or Casper mattress delivered to your home free of charge.
The terms of sale are very similar for the two companies.
When you buy a Casper mattress, you'll have 100 nights to test it at home. If you like the mattress, the warranty is ten years long.
If you order a Tempur-Pedic mattress, the trial period is 90 days. Beyond that, you are covered with a 10-year warranty.
In both cases, returns are entirely free.
Key Differences
One of the biggest differences between these two brands is the price.
Casper is an affordable mattress while Tempur-Pedic's luxury mattresses are known for their high price tags.
Only the Casper Wave mattress gets close to Tempur-Pedic's cheapest mattresses.
There are other smaller differences between Casper and Tempur-Pedic. They mostly have to do with things like shipping & delivery and return policy. We'll discuss all of them in our in-depth comparison below.
Financing Options  
Tempur-Pedic offers to finance through a Tempur-Pedic Credit Card issued by Wells Fargo. Visit their website to pre-qualify.
If you qualify, you'll get a repayment period of up to 60 months at 0% APR.
Casper offers financing options through Affirm.
Coupons
Click here to save $100 on the Casper mattress – enter code SLEEPDELIVERED when ordering.
Specifications
Mattress

Casper Original Foam


Tempur-Pedic
Our Rating
4.5
4.4
Price
$495-$1,195 w/ code SLEEPDELIVERED
Comfort Choices
Med. Firm
Soft, Medium or Firm
Construction
Memory foam +
Proprietary foam.
Hybrid foam +
Advanced pressure
relief material +
Pocket coil layers
Heat Transfer
Excellent
Excellent
Motion Transfer
Low
Low
Sinkage
Moderate
Moderate
Off-Gassing?
Yes
Yes
Trial Period
100 nights
90 days
Warranty
10 years
non-prorated
10 years
Eco-friendliness
CertiPUR-US foam
CertiPUR-US foam
Delivery
7-14 days
7-10 business days.
Customer Service
Excellent
Excellent
Best Deal
---
Mattress Construction
Casper
The Casper Original Foam mattress is made of four layers of foam. It underwent a recent redesign – it used to have three layers.
The first layer uses latex-like open cell foam for lumbar support, cooling, and responsiveness.
The second layer is high-density memory foam. As you settle into the mattress, this layer provides deep contouring around your pressure points.
The third layer is the newest addition. It uses a zoned variable-support foam design that consists of softer foam under the shoulder area for pressure relief and firmer foam around the core area to boost support.
At the bottom of the Casper Original is a high-density base layer that provides deep compression support and years-long durability.
The Casper Wave is also a foam mattress, although it has a more sophisticated design compared with the original Casper.
The Wave mattress uses five layers: proprietary soft Flo foam for instant pressure relief, latex foam for support and responsiveness, memory foam for deep contouring, a resilient foam layer with a polymer network and a contoured base layer.
The last two layers are the most interesting. The polymer network in the resilient foam layer distributes your weight evenly, ensuring that you get proper support and spinal alignment no matter your sleeping position. The base layer has a wave-like contoured design that mirrors your body's own contours, which greatly improves spinal alignment and body contouring.
The Casper Essential is the cheapest & simplest mattress of the three.
It also uses a simple 4-layer foam design: a soft comfort layer made from poly foam, a support/contouring layer of memory foam and a high-density base support layer.  But it doesn't provide the zoned-support layer of the Casper Original.
All three models offer a new Hybrid layer upgrade for approximately $200, that adds a layer of individually wrapped coils at the third or fourth layer and increased edge support.
To know more, check out our in-depth Casper wave review, Casper hybrid mattress review, and Casper essential mattress review.
Tempur-Pedic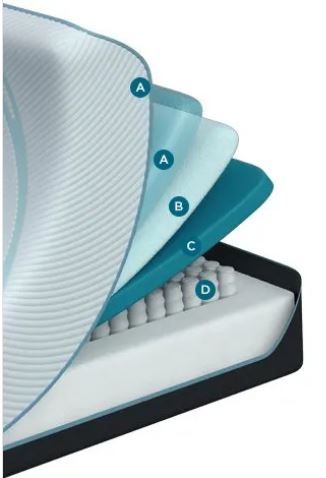 Tempur-Pedic sells 13 mattresses.  Some are all memory foam while others are hybrids with foam and pocket coil layers.
The hybrid versions feel more bouncy and offer better support for heavier sleepers.
Tempur-Pedic uses unique materials and technologies in different mattresses to enhance comfort. Here are the most notable ones.
TEMPUR-Breeze– This is a cooling system consisting of a breathable cover, PureCool™ technology, and TEMPUR-Climate™ material.
TEMPUR-ES– A special material used in some mattresses to create a plush feel while also dissipating heat away from the mattress.
TEMPUR-APR– A newly advanced pressure relief (APR) material that is used in the 2018 TEMPUR-ProAdapt mattress series.
SmartClimate® Dual Cover System– A unique cover consisting of two layers. The outer one uses cool-to-the-touch fabric while the inner layer provides luxury comfort and added breathability.
---
Comfort and Firmness
Casper
There's only one comfort option for each Casper mattress model.
The Casper Original is medium firm. It hits the perfect sweet spot that most people love – not too soft and not too firm. It's designed to be a one-size-fits-all mattress.
The more expensive Casper Wave has a luxurious medium-soft feel. This is because of the Flo foam on top. It instantly hugs your body, giving the mattress a nice plush feel. But it doesn't feel swampy at all. The latex layer below keeps you from sinking too far and gives the mattress some bounce.
The budget Casper Essential falls on the firmer end of the scale. It feels slightly firmer than the original Casper.
Tempur-Pedic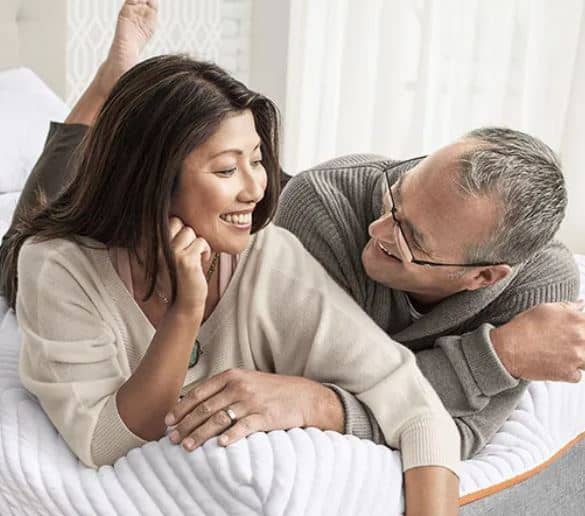 Tempur-Pedic provides all types of comfort options. Whether you want firm, soft or something in between, they have it.
Some Tempur-Pedic mattresses are available in a single firmness level such as soft, medium or firm.
The TEMPUR-Contour™ Elite is available in Firm only; the Ultra-luxurious GrandBed is available in the medium while the TEMPUR-Cloud Supreme is available in soft.
Others like the new TEMPUR-ProAdapt are available in all three firmness options.
---
Sleeping Experience
Casper
The Casper Original mattress feels comfortable for most people.
It doesn't feel too firm or too soft. It may feel a bit firm at first because of the top latex-like layer, but after some time, you'll start to feel the softer memory foam underneath.
The mattress also has a decent bounce, though not as much as the Casper Wave.
The Casper Wave sleeps like a luxurious mattress. The top soft foam is so plush that it feels like you are sleeping on a pillow top.
As you settle into the mattress, the top layer gives way to the firmer latex layer below. You get a perfectly balanced feel – soft and plush yet still firm and bouncy.
Casper Wave is great for all sleeping positions, though side sleepers will appreciate it most.
The Casper Essential feels firmer than the other two mattresses. I recommend it for back and stomach sleepers.
All Casper mattresses sleep cool. But if you are sensitive to heat, get the Casper Wave. It is the coolest one thanks to the latex foam layer.
Tempur-Pedic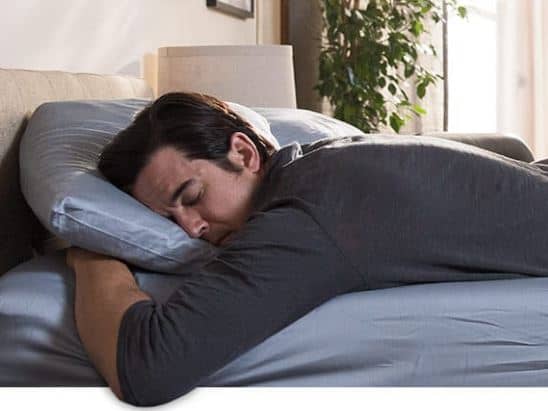 Your Tempur-Pedic sleeping experience will depend on the kind of mattress you buy.
Most of their mattresses have a signature luxury feel. The cover feels soft, the mattress has a comfortable plush feel, and you get great support.
If you prefer the classic feel of memory foam mattresses, they have several all-foam models consisting of memory foam and poly foam.
If you love the springy feel of pocket coil mattresses, buy one of their hybrid models.
---
Warranty and Returns
Casper
Casper gives customers 100 nights to test the mattress at home with a guarantee of free returns if they don't like it.
If you keep the mattress, the warranty is ten years long.
Tempur-Pedic
Tempur-Pedic offers a 90-day trial period as long as you buy directly from them either on their website or from a Tempur-Pedic store.
But they ask that you sleep on the mattress for at least 30 days before initiating a return.
Returns are free, but you may be asked to pay the return shipping fee if you got free shipping when you bought the mattress.
As for the warranty, it is a standard ten years for all the mattresses.
---
Shipping and Delivery
Casper
Casper offers free shipping to customers in all 50 states.
They can also help you set up your mattress and take away the old one for a small fee.
If you buy the Casper Wave, you may be eligible for a free mattress set up depending on your Zip Code.
Tempur-Pedic

Tempur-Pedic offers free white glove delivery within the contiguous United States. Alaska and Hawaii customers pay $600 extra for freight.
The mattress will be delivered in 7-10 business days.
They will set it up for you and even take away the old mattress and foundation if you want.
---
Foundation and Frame
Casper  
Casper works with all kinds of solid foundations.
All Casper mattresses can be used with an adjustable base. But Casper recommends leaving it flat when not in use to avoid straining the mattress too much.
Tempur-Pedic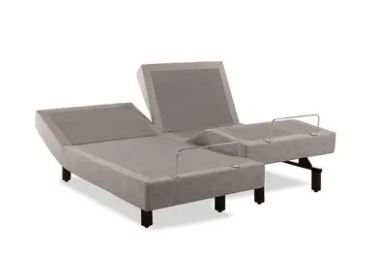 Tempur-Pedic recommends against using a traditional box spring. Their mattresses work best with a solid foundation.
They also don't recommend using a slatted platform or foundation.
Use a metal frame or solid platform bed with adequate center support.
To make sure you don't void the warranty, consider buying Tempur-Pedic's own foundation.
---
Care and Cleaning
Casper
Casper recommends spot cleaning or hand washing the cover. Don't put it in the washing machine as it may shrink.
After cleaning, you should only air-dry it. Do not put it in the drier.
They recommend using a mattress protector to prevent stains and liquid damage.
Tempur-Pedic
Tempur-Pedic uses different types of covers in different mattresses. So check the cleaning instructions for your mattress before you clean it.
Some can be machine washed while others should only be spot cleaned.
---
Where to Buy
More Casper Mattress Comparisons:
---
Save BIG On Your Next Mattress Purchase
Join our mailing list and get my LATEST COUPONS delivered immediately!
Send Me The Coupons
---
Learn More
Compare Mattresses Side-by-Side
---
Affiliate Disclosure
Affiliate Disclosure: I may earn a small commission (at no cost to you) if you purchase a mattress after clicking a referral link or using a coupon code on this site. That said, all content and opinions on this site are my own and are NOT affected by these payments.
This site participates in the Amazon Services LLC Associates Program, an affiliate advertising program designed to provide a means for sites to earn advertising fees by advertising and linking to Amazon.com.
*Amazon and the Amazon logo are trademarks of Amazon.com, Inc, or its affiliates.
---