Allswell Mattress Review
Summary
The Allswell Luxe Classic memory foam mattress with a really soft, plush top and a luxurious design. Too bad it sleeps a bit hot.
Great Choice for:  Those looking for a softer foam mattress that looks really nice.
Avoid if: You hate a warm foam mattress – you'll need a cooling pad with this one.
Price: $345-$745
Affiliate Disclosure: I may earn a small commission (at no cost to you) if you purchase a mattress after clicking a referral link or using a coupon code on this site. That said, all content and opinions on this site are my own and are NOT affected by these payments.
---
Allswell Home is one of the newest mattresses to hit the market. It's made by the Walmart subsidiary, Allswell Home.
They have two mattresses; a softer one and a firmer one. I got a chance to test their Allswell Luxe Classic mattress which is the weaker version. I liked it…for the most part. But it's definitely not the best foam mattress we've reviewed.
Read on for my take on this mattress.
If you are are looking for another kind of mattress or just want more options beyond Allswell, see our top online mattress recommendations.
What's In This Mattress Review?
My review of the Allswell mattress is roughly a 10-minute read. If you don't have that much time, use this table of contents to jump to those features you care most about.↑ Table of Contents
---
About Allswell Home
The whole mattress-in-a-box shopping model is growing like crazy. Over 50 brands now sell affordable mattresses direct to consumers online.
But it's not just startups – legacy brands are creating subsidiaries specifically to sell mattress online.
One of these is Walmart. Earlier this year, Walmart announced the launch of Allswell Home, describing it as a design-centric home brand.
The Allswell catalog includes the Luxe Classic mattress, pillows, sheets and various other bedding essentials.  We saw the announcement and reached out to Allswell to try out one of their mattresses before the general release, and they were happy to oblige.
↑ Table of Contents
---
Social Impact
The Allswell mattress is made with CertiPur-US certified foams and consists mostly of natural ingredients including plant-based oils. This is not good and healthy for customers, and it is good for the environment.
Allswell hasn't announced any designated charities or social causes, yet.
↑ Table of Contents
---
Purchase Process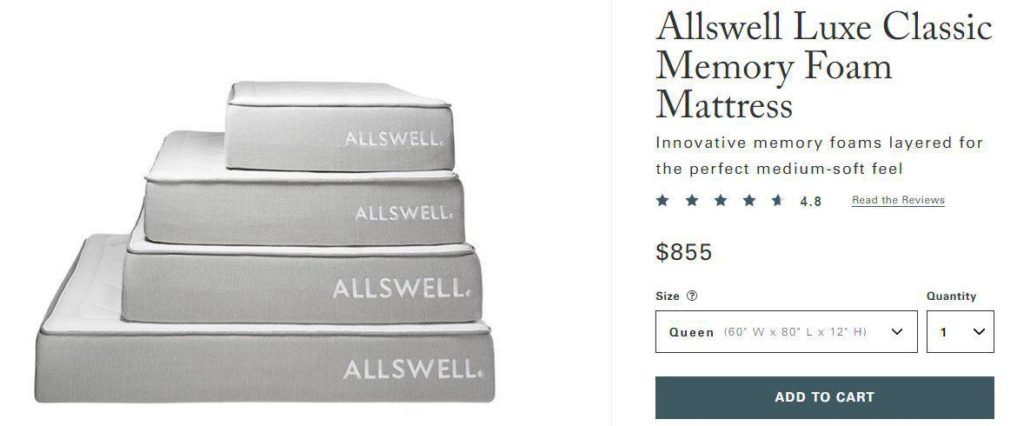 You can only buy the mattress on Allswell Home's official website. You won't find the mattress anywhere else, not even on Walmart's website or their physical stores.
Before you buy, it's a good idea to go through the fine print. We've highlighted their warranty and return policy further below.
Once you are ready to place an order go to the main product page for the Allswell Luxe Classic. Here, you just need to select the size and number of mattresses you'd like to buy.
There are only four sizes available: twin, full, queen and king size (they call it Supreme Queen).
You can pay with any credit/debit card – or check whether you qualify for instant financing via Affirm.
If you want Allswell to set up the mattress for you, make sure you select White Glove delivery during checkout.
They also offer a free mattress removal service – provided you waive the 100-day return period.
↑ Table of Contents
---
Price
Listed below is the price list for the Allswell Luxe Classic.  As you can see, their prices are among the lowest anywhere.
Visit their official website to see the latest prices, offers and discounts
Financing
Low-interest financing is available via Affirm, subject to credit approval.
↑ Table of Contents
---
100-night Trial
Similar to many other online mattresses, Allswell gives customers 100 nights to try out the mattress. The company recommends waiting at least three weeks before initiating a return. This is to give your body time to acclimate to the new mattress.
If you still don't like it after that, call customer support to arrange a return. The mattress will be picked up at your home free of charge. There are no penalties or restocking fees.
After 10-14 business days, you'll get your full refund.
Note: If you opt to have your mattress taken away you will not be eligible for the 100-night trial.
↑ Table of Contents
---
10-Year Warranty
The Allswell mattress comes with a standard 10-year warranty. It is non-prorated. If you claim within the warranty period, then Allswell will decide whether to repair or replace the mattress.
Unlike most competing brands like Casper and Leesa, you are responsible for the shipping costs incurred when sending your mattress back for repair or replacement.
---
Shipping
Shipping for the Allswell mattress is completely free – even for customers in Alaska and Hawaii.
After paying for your mattress, it takes 1-2 days to process your order.
You'll receive a tracking number via email when the mattress ships.
It then takes 2-7 business days to ship the mattress to your location.
Note: There is an extra recycling fee charged for mattresses shipped to California, Rhode Island and Connecticut.
Contact customer support if you have any special shipping requests such as expedited shipping.
↑ Table of Contents
---
Delivery and Setup
There is an optional white glove delivery service available when you buy the Allswell mattress.
There is also a free mattress removal service, though it requires that you waive the 100-night return.
But you can easily set this mattress up yourself. It takes about an hour for it to decompress enough to comfortably sleep on it. But it could take as long as two days before it inflates fully.
The only (minor) problem is that there are no carrying handles on the sides of this mattress, which makes it a little more challenging if you want to move it to another bed or room in the future.
↑ Table of Contents
---
Foundation & Frame
What type of bed frame/support does Allswell require?
You can use any frame, as long as it's sturdy and in a good condition. This includes slats and box springs.
Does Allswell work on an adjustable bed?
Yes, it does.
↑ Table of Contents
---
Care and Cleaning
Is a mattress protector needed for Allswell?
No,. but I recommend one. It will protect your mattress from stains and keep it cleaner. If you buy a mattress protector, make sure it's breathable.
Do you need to rotate the Allswell mattress?
No, not necessary. But if you notice excessive wear on one side (happens if you sleep alone or you have a significant weight difference with your partner), rotate it every few months to even out the wearing.
↑ Table of Contents
---
Aesthetics and Styling
Allswell focuses a lot on the design of their products, and their mattress is no exception. It's designed to look modern and luxurious, and it does.
The top looks luxuriously soft and has beautiful diamond patterns.
The top surface is white while the sides are a soft shade of brown.
A large Allswell logo adorns one of the shorter sides at the foot of the mattress.
Overall, the Allswell Luxe has a very nice, upscale look that sets it apart from other mattresses in the same price category.
---
Construction
The Allswell Luxe Classic is an all-foam mattress measuring 12 inches thick.
On its website, Allswell does not say how many layers it has or what's in each layer.  They just say that the mattress consists of innovative memory foam foams.
But if you open up the mattress, you'll find a standard 3-layer foam design: a comfort layer, a transitional/support layer, and a foundation layer.
The soft top layer is the main comfort zone. It's designed to provide a soft plush feeling that contours around your body.
The second layer is made of transitional foam. It mostly provides support. It's firmer than the top layer to prevent excess sinkage.
The base layer, which takes up most of the height, provides overall support and ensures mattress longevity.
There's nothing particularly noteworthy about the Allswell's construction.  It doesn't, for example, incorporate gel-infused foam or open cell foam that are common in other high-quality foam mattresses.
↑ Table of Contents
---
Mattress Cover
I don't know what fabric they have used in the cover (the company doesn't specify) but it's one of the softest I have encountered in a mattress.
It has a silkiness to it that feels very luxurious. The quilted fabric feels cool to the touch but, as I'll explain shortly, it's not enough to keep the mattress cool at night.
Note: This cover is not removable. If it gets stained, you should spot clean it with mild detergent and cold water. This is why I strongly recommend using a mattress protector or cover with this mattress.
↑ Table of Contents
---
Smell/Off-gassing
OK, so maybe this was because I tested a pre-release product, but the first issue I encountered with the Allswell mattress was the smell.
Most non-organic foam mattresses tend to have a 'new foam' smell that fades away quickly.
But for some reason, this mattress had a particularly strong odor that lingered in our house for many days. I've not seen any other customer complaints about this issue, so it could just be that the mattress I tested was from an early batch (I tested it before it went on sale).
In any case, the off-gassing is not a major issue. Most mattresses these days make an effort of using safe ingredients in their products. Allswell is CertiPur-US certified, so no harmful or toxic VOCs.
The smell did eventually dissipate after a week.
If you experience a strong odor, then do I like we did – leave the mattress to air in a well-ventilated room (or the garage) for a day or two before sleeping on it.
↑ Table of Contents
---
Sleeping Experience
I loved the feel of this mattress. The mattress has a plushness I'd normally expect from $2,000 mattresses.
It's especially comfortable if you are a side sleeper because of the deeper-than-normal contouring around your hips and shoulders.
While it is soft and pliable, the mattress still retains enough firmness that I could sleep comfortably on my back.
It keeps the spine well aligned and adequately supports the lower back. Your butt, where there is more pressure, sinks a little bit into the mattress ensuring your whole body retains a comfortable, natural position.
I also found that I could still move freely around the bed. Getting up from the mattress also wasn't a problem.
The only complaint I have is the tendency of this mattress to sleep a bit warm at night. Probably due to the lack of any cooling technology in the foams they used.
↑ Table of Contents
---
Firmness
This is a medium-firm mattress though I found it leans more on the softer side. It's great for side and back sleepers, but I wouldn't recommend it for heavier sleepers who need a firmer mattress keep their body properly aligned, and the excess sinkage will compromise support.
↑ Table of Contents
---
Sinkage
Sinkage is a bit more than I'm used to seeing in medium-firm foam mattresses. This is because the Allswell mattress has a plusher top.
But it's plenty good for most people. It provides the right amount of contouring without cratering.
I do wish they had added an edge support system, though. As it is now, the edges of the mattress tend to sink a bit too far when you sit or lie on edge.
↑ Table of Contents
---
Motion Transfer
Foam mattresses are excellent at inhibiting motion transfer between partners, and the Allswell is no different. There is virtually no disturbance at the other end of the mattress when you turn or shift.
Couples can sleep peacefully without constantly shaking each other awake.
---
Hot/Cold Issues
For me, the Allswell mattress felt too warm at night.
Compared with most other foam mattresses, I found it retained more of my body heat – to the point where you may feel uncomfortable, like I did.
The cover itself is cool to the touch, but it doesn't really overcome the heat-retention in the memory foam layers below.
The heating issue is not a surprise, I guess, considering that Allswell did not use any cooling technology in the foam.
Keep in mind that if you buy this mattress, the cover is non-removable and white so you WILL probably want a mattress cover. So buy one with a cooling pad, and you'll be all set.
↑ Table of Contents
---
Pros and Cons
Pros
• Affordable
• Plush and comfortable
• One of the softest mattress covers
• Looks great
Cons
• Significant off-gassing
• Sleeps a bit hot
↑ Table of Contents
---
This Mattress is Perfect For You If…
• You are looking for a softer foam mattress that looks really nice.
↑ Table of Contents
---
Conclusion
Overall, I have to say that Nectar, Casper and Leesa represent better values for your money than Allswell.
But it you like your foam mattress a bit softer and plushier, then buy a cooling pad and enjoy.  This mattress sleeps great.
---
Where to Buy
Visit the official website to buy the Allswell Luxe Classic mattress.
↑ Table of Contents
---
Save BIG On Your Next Mattress Purchase
Join our mailing list and get my LATEST COUPONS delivered immediately!
Send Me The Coupons
---
Learn More
Compare Mattresses Side-by-Side
---
Affiliate Disclosure
Affiliate Disclosure: I may earn a small commission (at no cost to you) if you purchase a mattress after clicking a referral link or using a coupon code on this site. That said, all content and opinions on this site are my own and are NOT affected by these payments.
This site participates in the Amazon Services LLC Associates Program, an affiliate advertising program designed to provide a means for sites to earn advertising fees by advertising and linking to Amazon.com.
*Amazon and the Amazon logo are trademarks of Amazon.com, Inc, or its affiliates.
---
SHARE THIS PAGE