NOTE: We earn from qualifying purchases made via Amazon Associates and other affiliate programs. Learn more.
 Amerisleep has been selling mattresses online for more than ten years now. They sell five memory foam mattresses ranging from firm to soft. 
Leesa is one of the most popular online mattresses. It is a single-comfort-level all-foam mattress with a 10-year warranty and a 100-night trial period. 
Both mattresses are very popular and enjoy positive feedback from users.  So it can be difficult to choose the right one.
---
What's In This Comparison?
In this 10-minute comparison, we'll compare Leesa vs. Amerisleep mattresses on construction, sleeping experience, price and other features to help you decide which one is best for your needs and budget.
Use this table of contents to jump to specific feature comparisons.
If neither of these mattresses meet your needs, then check out our comprehensive list of the best online mattresses selling today.
---
Amerisleep vs. Leesa: Which One Should You Buy?
Here is my bottom line on each mattress:
[one_half]
I gave Amerisleep an overall rating of 4.5 out of 5.0.
BUY AMERISLEEP  IF:
You need a specific comfort level
You prefer a softer mattress
You and your partner need different comfort levels
[/one_half] [one_half_last]
I gave Leesa an overall rating of 4.6 out of 5.0.
BUY THE LEESA IF:
You are OK with a medium-firm feel.
You share your bed with a fidgety partner.
You want to spend $100s less.
[/one_half_last]
---
How Do Amerisleep and Leesa Compare?
Similarities
Amerisleep and Leesa are both all-foam mattresses. They differ in construction, but neither contains innersprings or coils.
Both companies offer 100 nights to try out the mattress and do not charge for returns.
Key Differences
These two mattresses are more different than they are similar.
Comfort choice: Leesa comes in just one comfort level – medium firm, whereas Amerisleep sells five different comfort levels at 5 different price points.
Construction: Leesa uses a simple 3-layer foam design consisting of a latex-like foam, memory foam and a polyfoam base. Amerisleep's design is more complicated and varies from one comfort level to the other. For example, they use a Bio-Pur foam in all comfort options and an Active Flex layer only in their softest, most expensive mattress.
Sleeping experience:  Amerisleep is more luxurious for sure. So it's no surprise that it is more expensive than Leesa.
Financing: Unfortunately, Amerisleep doesn't offer financing options or coupons. In contrast, Leesa works with Affirm and PayPal Credit to offer an easy installment payment option.
Price
Listed below are the prices for both mattresses.
Right now, SleepDelivered visitors will Save $200 on any Leesa.
For Amerisleep, we recommend checking their website for the best deals.
Size
Leesa 
Amerisleep Model – prices at time of publishing.
AS1
AS2
AS3
AS4
AS5
Twin
$749
$649
$749
$849
$1049
$1,449
Twin XL
$799
$699
$799
$899
$1099
$1,499
Full
$999
$849
$949
$1,049
$1249
$1,649
Queen
$1099
$899
$999
$1,099
$1299
$1,699
King
$1,399
$1199
$1,299
$1,399
$1599
$1,999
CA King
$1,399
$1199
$1,299
$1,399
$1599
$1,999
Split King
n/a
$1,398
$1,598
$1,798
$2198
$2,998
Price note: Leesa offers two types of mattress covers. The above prices are for the classic cover. Mattresses with the ArtLifting cover cost $50 more.
Financing Options
Leesa provides two financing options: Affirm and PayPal Credit (credit approval required).
Amerisleep offers no financing options to my knowledge.
Coupons & Discounts
Memorial Day Sale | Save $450 Use AS450 ON AMERISLEEP USE CODE: AS300
Click here to Save Up To $700 Now + 2 Pillows On Leesa Mattress
Specifications
Mattress

Amerisleep



Leesa

Rating
4.5
4.6
Price w/ Discount
$649-$2,998
$749-$1,399
Comfort Choices
Soft
Med. Soft
Med. Firm
Firm
Extra Firm
Medium
Construction
Bio-Pur memory foam
Latex + memory foam
Heat Transfer
Excellent
Good
Motion Transfer
Low
Low-Medium
Sinkage
Minimal
Moderate
Off-Gassing?
Yes
Yes
Trial Period
100 nights
100 nights
Warranty
20 years
10 years
Eco-friendliness
CertiPUR-US foam
GreenGuard
Bio-Pur foam
CertiPUR-US foam
Delivery
5-10 days
7-10 days
Customer Service
Good
Good
---
Mattress Construction
Amerisleep
Each of the five Amerisleep mattresses is constructed differently. They use different types of foam in each to provide the right level of firmness while maintaining adequate lumbar and body support.
Here are the different foam layers and comfort levels they are used in:
Bio-Pur foam (in all the mattresses) – Most mattresses use petroleum-based foam. Bio-Pur foam substitutes some of the petroleum-based components for plant-based ones. Its plush softness provides pressure relief while the open-cell design keeps the mattress cool.
Active Flex layer (in AS5) – AS5 is the softest of all Amerisleep's mattresses. It ensures the mattress doesn't sink in too far and give you a 'stuck in a swamp' feeling.
Affinity layer (in AS2, AS3, AS4, AS5) – This is a transition layer between the comfort and support sections of the mattress. It provides even weight distribution and keeps your back properly aligned. Only the firmest comfort level, the AS1, doesn't have an affinity layer.
SMT layer (in AS2, AS3, AS4, AS5) – SMT stands for Surface Modification Technology. The SMT layer has a series of small textured channels that improve airflow and pressure relief.
Bio-core base (in all the mattresses) – This is the base layer. It holds up your weight, keeps the mattress from sagging and ensures your spine is aligned naturally whatever your sleeping position.
Covering the foam layers is a unique cover made from Celliant. This fabric contains 13 thermoreactive minerals that react to heat. As your body produces heat, the Celliant cover absorbs it and changes it to infrared light. This ensures that at all times, regardless of the season, you are sleeping cool and cozy.
Leesa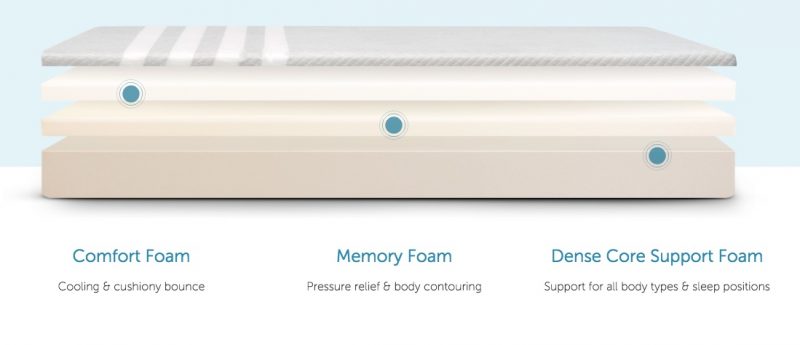 Leesa's construction is simpler but no less effective at providing support, pressure relief and cooling.
Topmost Comfort Layer: 2" LSA200 foam –LSA200 foam has many of the characteristics of latex foam. It feels firmer and hence more supportive than memory foam and is better at cooling. It is also more responsive.
Support Layer: 2" memory foam –This is the comfort layer. It contours around your body to relieve pressure on your shoulders, hips, and butt. And because it is hidden away under the LSA200 foam, you won't feel hot at all.
Foundation Layer: 6" high-density poly foam. It provides extra compression support especially for couples and heavier sleepers.
As for the cover, it gets its soft and stretchy texture from a blend of polyester and lycra (Poly-lycra). It's not as advanced as Amerisleep's cover but feels just as cool and luxurious.
---
Comfort and Firmness
Amerisleep
All 5 Amerisleep comfort levels have a certain plush feel to them. This is mostly due to the Bio-Pur foam on top which 'hugs' your body. But the actual firmness will depend on which mattress you pick.
The mattresses start at AS1, the firmest, to AS5, the softest. Here are their firmness description and rating (with ten being the firmest).
AS1 – firm (7.5/10)
AS2 – medium firm (6.5/10)
AS3 – medium (5.5/10)
AS4 – medium soft (4/10)
AS5 – soft (3.5/10)
The AS3 is the ideal comfort level for most people, so it's no wonder that it is also the most popular pick among the five. It's great for the side, back and combo sleepers. It's also the best for those with back and joint problems.
If you prefer a mattress that sinks a bit more, try the medium soft AS4 or the soft AS5. Some side sleepers might also prefer the extra softness of these comfort levels.
If you'd rather a more 'floaty' feeling, try the medium firm AS2 or the firm AS1. They might also be more comfortable for some back and stomach sleepers and those with a bigger body figure.
Don't worry that you'll choose the wrong comfort level and be stuck with it. Amerisleep allows exchanges within their 100-night trial period (after at least 30 nights). The only time you cannot make an exchange is if you bought the wrong mattress size.
Leesa
Leesa opts for simple. Just one mattress, medium firm and perfect for most people. It's the equivalent of Amerisleep's AS2medium firm mattress.
As with Amerisleep, you don't have to worry about getting stuck with an uncomfortable mattress when you buy Leesa. They give you 100 nights to try it out and if you don't like it, give it back. No questions asked.
---
Sleeping Experience
Amerisleep
As I mentioned, all Amerisleep mattresses have a signature luxurious feel that you can't get with Leesa.How soft or firm the mattress feels will depend on the firmness level you select.
But all mattresses have good support, even the softer ones. They are designed in such a way that you can sink in a bit more without cratering or bending your spine into an unnatural position.That's why AS5, the softest pick, has an Active Flex layer that is not in any of the other comfort options.
Cooling is excellent thanks to the heat-absorbing and infrared-radiating Celliant cover. The open-cell foam also does a great job keeping the mattress fresh and cool.
There is very little motion transfer, edge support is great and any smell you might experience after unboxing quickly fades away.
Leesa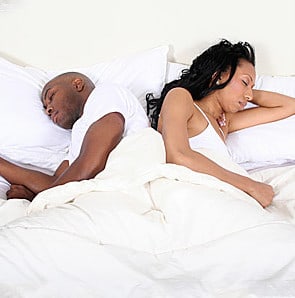 Leesa feels a bit firmer than you might expect from an all-foam mattress. Some customers say they felt uncomfortable on the first night.
However, the Leesa feel softens up within a couple of nights. This is because of the latex-like LSA200 foam layer at the top.
It's a very comfortable mattress with just the right amount of sinkage for contouring and good back support.
I love the bouncy feel, too – which couples will appreciate.
There are no serious heat issues, edge support is OK, and motion control is nonexistent during normal bed movements.
There may be a bit of smell when you open the mattress, but it goes away quickly.
---
Warranty and Returns
Amerisleep
Amerisleep's return policy gives you 100 nights to try out the mattress. You have to sleep on it for at least 30 nights before making a return.
Returns are free. You can either get a full refund or request an exchange with another comfort level.
Note that returns for wrong mattress sizes are not allowed. So be careful when checking out. Double check that you have picked the size you wanted.
When you request a return, Amerisleep will arrange a pickup from your home and donate the mattress or get it recycled.
If you keep the mattress, the warranty is 20 years long. It provides full coverage in the first half. In the second decade, you pay 50% of the original purchase fee plus shipping costs to get a new mattress.
Leesa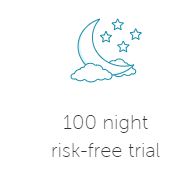 Leesa has a similar trial period: 30 nights minimum before making a return, 100 nights max to return the mattress.
Returns are free for customers in the continental USA while those in Alaska and Hawaii have to pay a $100 return fee.
The warranty runs for ten years and is non-prorated. But the customer pays for any shipping and handling costs incurred in the event of a claim.
---
Shipping and Delivery
Amerisleep
Shipping is free for customers in the contiguous United States. For Alaska and Hawaii customers, a shipping fee will be added at checkout.
Amerisleep ships via FedEx. The mattress will be delivered in 2-5 days depending on your location. It may take longer for far-flung areas.
Amerisleep does not provide White Glove delivery. Since the mattress is heavy, have someone around to help you carry the mattress inside and set it up. Or you can use a local handyman service to help you with the setup.
Leesa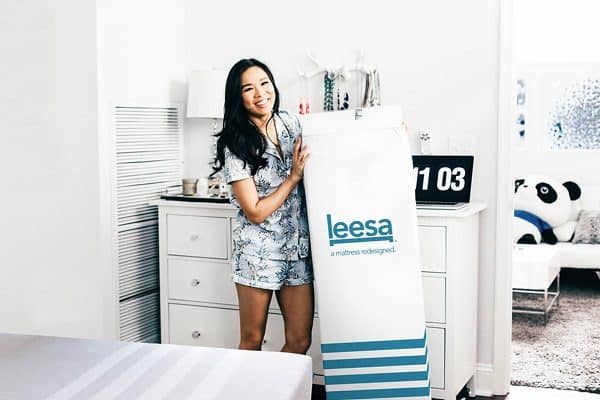 Leesa is one of the few online mattress companies that ship to all US states.They do not charge for shipping at all.
Delivery is done via UPS Ground. The mattress will arrive in 5-10 days. This is longer than Amerisleep because each mattress is made to order.
Leesa does not offer White Glove delivery, so it's up to you to set up the new mattress. But it's quite easy to unbox and roll it out.
---
Foundation and Frame
Amerisleep
The Amerisleep can be used on any sturdy foundation or frame. You can even place it on the floor.
If you use a box spring, they recommend adding a 3/4" moisture resistant plywood on top.
Leesa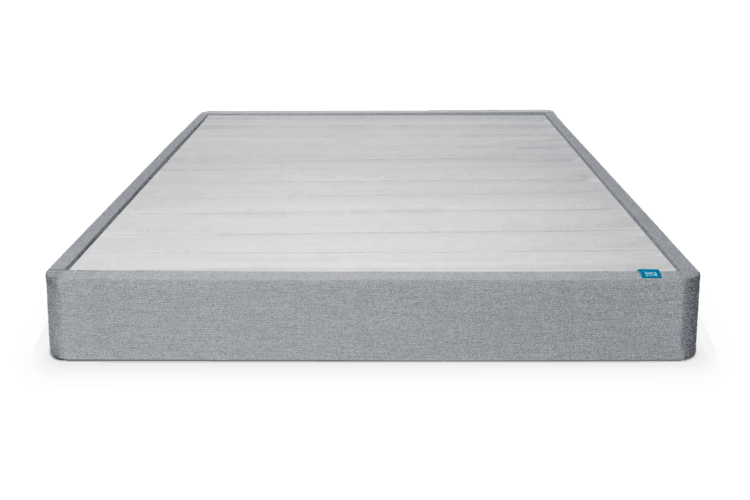 Leesa works with a solid base (platform, box foundation or sturdy box spring) or a slatted base with the slats a maximum of 3 inches apart.
---
Care and Cleaning
Amerisleep
You can remove and wash the Amerisleep mattress cover. But it's best to use a mattress protector to avoid stains and foam damage from accidental spills and fluids.
It's not necessary to rotate or flip the mattress.
Leesa
Leesa asks that you don't remove the cover. To clean stains, just spot clean with cold water and mild detergent. Even better, use a mattress protector.
It's up to you to d0ecide whether to rotate the mattress every few months. If you notice uneven wear on one side, it's a good idea to rotate it. But you cannot flip the mattress.
---
Where To Get The Best Deal
---
More Amerisleep Mattress Comparisons
More Leesa Mattress Comparisons
---
Affiliate Disclosure
Affiliate Disclosure: I may earn a small commission (at no cost to you) if you purchase a mattress after clicking a referral link or using a coupon code on this site. That said, all content and opinions on this site are my own and are NOT affected by these payments.
This site participates in the Amazon Services LLC Associates Program, an affiliate advertising program designed to provide a means for sites to earn advertising fees by advertising and linking to Amazon.com.
*Amazon and the Amazon logo are trademarks of Amazon.com, Inc, or its affiliates.
---