NOTE: We earn from qualifying purchases made via Amazon Associates and other affiliate programs. Learn more.
Helix is a customizable hybrid mattress that comes with a 100-night sleep trial and a 10-year non-prorated warranty.
Purple started on Kickstarter and had become one of the most popular online mattresses. It uses a unique material to provide customized comfort for every person.
---
What's In This Comparison?
Helix and Purple are both unique mattresses. Helix is customizable while Purple uses a special kind of foam that reacts uniquely to each sleeper's needs. But how do they measure up when it comes to sleeping experience?
In this comparison, we are going to see how these mattresses compare against each other in various areas.
Use this table of contents to go to those features you care most about or keep reading for the full comparison.
For more mattress options beyond Helix and Purple, read our best mattress buying guide. 
---
Helix vs. Purple: Which One Should You Buy?
Here is my take on Helix and Purple.
[one_half]
I gave Helix an overall rating of 4.7 out of 5.0.
BUY THE HELIX IF:
You prefer a medium firmer, foam mattress feels.
You want to buy a premium memory foam + coil mattress
You sleep on your stomach and back.
[/one_half] [one_half_last]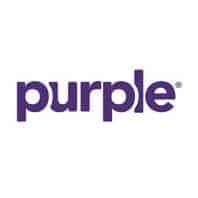 I gave Purple an overall rating of 4.7 out of 5.0.
BUY THE PURPLE IF:
You are open to a unique feel (that I love!)
You don't mind spending a bit more.
You want a softer, more comfortable top.
[/one_half_last]
---
How Do Helix and Purple Compare?
Similarities
Both mattresses cost just about the same. Helix starts at $600 for the twin size while Purple starts at $799 for the twin size. The most popular size, Queen, costs $995 for Helix and $1399 for Purple.
Both are high-quality, affordable mattresses. Even better, you can get financing with either purchase if you prefer spacing out your payments.
They both offer the same 100-night trial period and the 10-year warranty.
Key Differences
The biggest difference between the two mattresses is their construction. Helix is a hybrid mattress; it contains both foam and coils. Purple, on the other hand, is an all-foam mattress.
Helix offers a customizing option. When you visit their official site to order a mattress, you have to answer a short quiz first. Algorithms will then recommend the best mattress based on your answers.
For couples, you can either get a blended mattress, where both your preferences are used to create a balanced mattress or a split mattress where everyone has their side.
Purple has no such option. Instead, it uses a special foam with grids that respond uniquely to every sleeper.
Another difference is in their shipping. Helix offers free shipping to all 50 US states and only charges for shipping to Canada. Purple offers free shipping just within the continental US. So if you are buying from Alaska or Hawaii, you already know which mattress you are going to pick.
Price
Financing: Helix works with Klarna to provide financing while Purple provides third-party financing through Affirm.
Coupons: Save 20% + 2 Free Pillows* when you buy the Helix mattress. Note that the promo code doesn't apply if you opt for financing. Visit Purple's official site to see their latest deals and discounts.
Save $800 Now Purple Mattress
Specifications
| Mattress | Helix | Purple |
| --- | --- | --- |
| Rating | 4.7 | 4.7 |
| Price | $649 - $1,449 | $699-$1,898 |
| Comfort Choices | Custom-fit | Soft+Firm Combination |
| Construction | Proprietary foam + pocketed coils | Hyper-Elastic Polymer top + polyester foam base |
| Heat Transfer | Good | Excellent |
| Motion Transfer | Low | Low |
| Sinkage | Minimal | Moderate |
| Off-Gassing? | Yes | Yes |
| Trial Period | 100 nights | 100 nights |
| Warranty | 10 years | 10 years |
| Eco-friendliness | CertiPUR-US foam | CertiPUR-US foam |
| Delivery | 6-13 days | 7-14 days |
| Customer Service | Excellent | Excellent |
| | | |
---
Mattress Construction
Helix
Helix is one of the few customizable online mattresses. The construction of your mattress will depend on your needs and preferences.
So when you go to buy a mattress on helixsleep.com, they'll ask you to fill out a sleep quiz. Automated algorithms then use your answers to recommend the ideal mattress for you.
The quiz is not just for individuals; you can also fill it out as a couple, and you'll get a recommendation that suits you both.
Couples can either get a blended mattress (for couples with roughly similar sleeping styles and preferences) or a split mattress (for couples with very different sleeping needs).
If for instance, you are a side sleeper while your partner is a stomach sleeper, the algorithms may recommend a split mattress. Your side will be softer with more contouring while your partner's side may be firmer.
If you are both combined sleepers(all positions) and you are heat-sensitive, you'll get a blended medium-firm mattress with layers arranged to improve airflow and cooling.
But whichever kind of mattress you end up with, they are all made from the same materials. What changes is the arrangement and density of different layers? Here are three layers used.
Helix Dynamic Foam –This is a proprietary foam made by Helix. It responds instantly to your body weight and sleeping position to provide the right amount of support and contouring. It is also excellent for cooling.
Pocketed Microcoils – A layer of pocketed coils improves support, airflow, contouring and motion control. It also makes the mattress pleasantly bouncy (a bonus for couples).
Polyfoam –This is most likely the base layer used in all Helix mattresses. But they vary the density to suit different needs. They might make it firmer if you and your partner's combined weight is on the higher side or softer if you sleep alone or need a softer mattress.
Purple
Purple is as unique as Helix. They have a special kind of foam that reacts specifically to your weight, physique and sleeping position. In a way, it also provides custom comfort. Here are the three layers.
2" Hyper-elastic Polymer – This is the unique foam I'm talking about. It has a grid-like structure. When you lie down on the mattress, the grid walls can either collapse or stay upright. They might collapse under areas like your hips and shoulders because of higher pressure and stay upright under your back or stomach. This provides perfect contouring, support and pressure relief.
3.5" polyfoam – This layer provides more support by distributing your weight evenly and preventing you from sinking in too much.
4" polyfoam base–The base layer.
---
Comfort and Firmness
Helix
How firm or soft your Helix mattress is will depend on how you answered the sleep quiz. Helix designs each mattress to fit each customer's specific needs and preferences.
If you say you are a back or stomach sleeper, you'll get a medium firm mattress. If you answer that you have broad shoulders and hips, they'll design a slightly softer mattress with enhanced contouring and pressure relief.
For couples with different preferences and comfort needs, Helix designs a split mattress with varying firmness on each side. Your partner, who sleeps on his side, may get a softer side while you, a combination sleeper (you sleep in all positions), get a medium firm side.
Purple
Because of its special grid design, the Purple mattress feels different for different people. A side sleeper or heavier person will experience a softer surface. This is because the grid walls collapse under the increased pressure.
A stomach or back sleeper will experience a firmer surface because the grid walls don't give in. There is less pressure pressing down on the mattress.
But generally, the purple mattress is medium firm with most people saying it learns more on the firmer end.
It's comfortable for most people except those who prefer a soft mattress to whom I recommend the Helix mattress. When answering the quiz, Helix allows you to specify a soft mattress.
---
Sleeping Experience
Helix
As long as you fill out the quiz properly, Helix will send you a comfortable mattress.
The pocketed micro coilsensue there is enough support, especially for your lumbar area. These coils also allow free airflow within the mattress, which helps dissipate heat and moisture. This keeps the mattress cool through the night.
The Helix Dynamic Foam used in the top layer is great for contouring. It hugs your body, providing pressure relief around your hips, but and shoulders.
The mattress feels bouncy thanks to the inner coils which also help shore up edge support. Both of these are great for couples.
Overall this is one of the best hybrid mattresses you can sleep on for less than $1,000.
Purple
Purple responds to your specific sleeping position and physique to provide a great sleeping experience. If you sleep on your side, it contours more to prevent pressure points. If you are a back sleeper, it provides more support to ensure your spine stays naturally aligned.
Most customers say the Purple mattress feels perfect like it understands them.
The grids in the Hyper-elastic Polymer layer are not just good for support; they also ensure you sleep cool. They provide space for air to flow out of the mattress, carrying excess heat and moisture with it.
Edge support is great, and the mattress has enough bounce for those amorous moments.
---
Warranty and Returns
Helix
Helix offers a 100-night trial period. During this period you can return your mattress for free if you don't like it. But you need to sleep on it for at least 30 nights before making a return.
You can also request a size exchange if you ordered the wrong size. But you cannot request a different design or comfort level.
The warranty runs for ten years and is non-prorated. In the event of a claim, you are responsible for shipping costs though Helix will reimburse you for up to $100 if they determine there is a defect.
Purple
Purple's trial period also runs for 100 nights with a requirement to allow a 30-night break in period before initiating a return.
Returns are completely free, and the mattress is sent to a charity or recycling facility.
The warranty is also ten years long and non-prorated.
---
Shipping and Delivery
Helix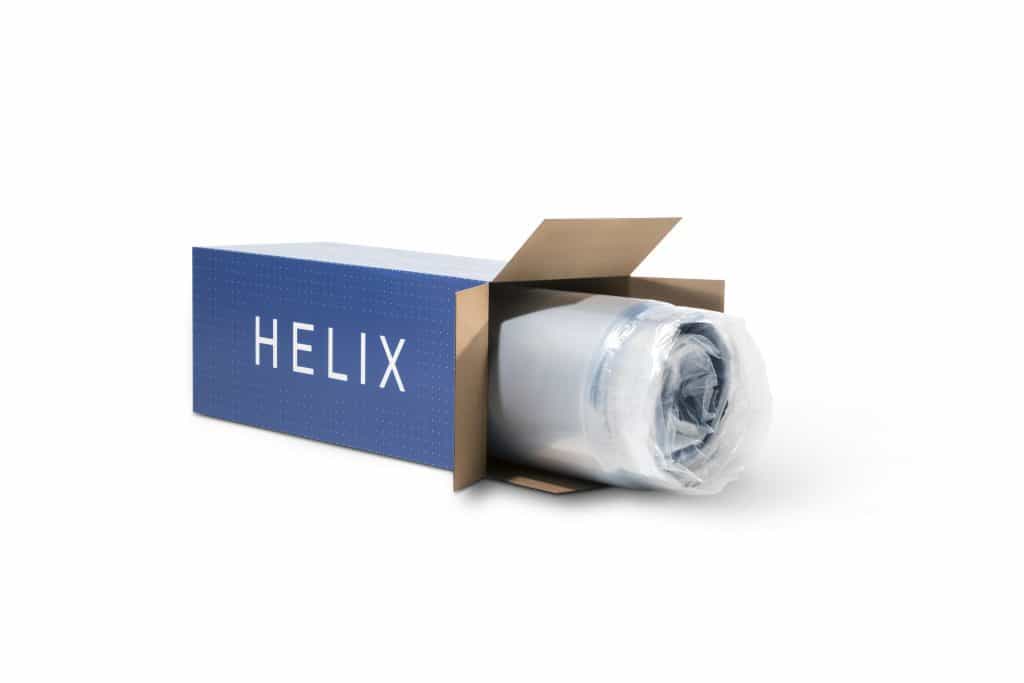 The Helix mattress is shipped in a compact box via UPS Ground. All US customers, including those in Alaska and Hawaii, get free shipping. Helix only charges for shipping to Canada (C$150).
The mattress will arrive in 6-10 days depending on your location. There is no white glove delivery so get ready to set up the mattress yourself. But it's easy to unbox and roll out. The only place you might need help is carrying it inside the house.
Purple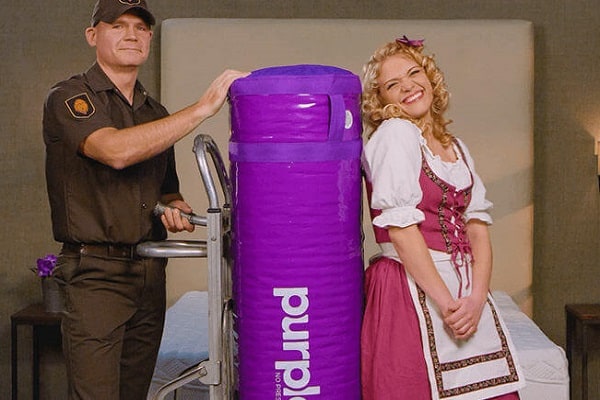 Purple also has free shipping but only to the continental US. For Alaska, Hawaii, and Canada, shipping charges will be added at checkout.
Purple has no white glove delivery services.
---
Foundation and Frame
Helix
Helix can be used with any sturdy frame or foundation. If you don't have a foundation, you can add one during checkout. The Helix foundation costs $275 while a frame costs$175.
Purple
Purple can be placed on a slatted platform (3 inches max between slats), adjustable base or solid platform. You can also put it on the floor but beware moisture which can cause mold.
---
Care and Cleaning
Helix
Though the Helix mattress has a removable cover, do not remove it or try to machine wash it. Instead, use a mattress protector to protect it from stains and tears. If you don't have a mattress protector, only spot clean it to remove stains.
There is no need to rotate the mattress.
Purple
Purple's cover is also removable but does not wash it. Spot cleaning should get rid of most stains. For better protection, get a mattress protector. Both Helix and Purple sell mattress protectors that you can easily add to your order at checkout.
The Purple mattress doesn't need to be rotated every few months.
---
Where To Buy
More Purple Mattress Comparisons:
More Helix Mattress Comparisons:
---
Affiliate Disclosure
Affiliate Disclosure: I may earn a small commission (at no cost to you) if you purchase a mattress after clicking a referral link or using a coupon code on this site. That said, all content and opinions on this site are my own and are NOT affected by these payments.
This site participates in the Amazon Services LLC Associates Program, an affiliate advertising program designed to provide a means for sites to earn advertising fees by advertising and linking to Amazon.com.
*Amazon and the Amazon logo are trademarks of Amazon.com, Inc, or its affiliates.
---