NOTE: We earn from qualifying purchases made via Amazon Associates and other affiliate programs. Learn more.
Purple is a one-size-fits-all mattress that uses a special buckling polymer layer that adjusts itself to provide the right level of support and comfort for almost any kind of sleeper. We still sleep on our Purple in the master bedroom – we love ours!
Tuft & Needle is one of the least expensive foam mattresses sold online. It is also one of the highest-rated, with thousands of 5-star reviews on Amazon, Google and their official website. 
So how do these two rockstar beds compare?
Which one should you buy?
In this comparison, I'll cover how these two mattresses differ in half a dozen ways – so you can make your own decision.
---
What's In This Mattress Comparison
This is an in-depth comparison of the Purple original mattress and the Tuft & Needle mattress.
Note: this is about the original Purple mattress, not the hybrid Purple 2-3-4 mattress (click links to read my review of either).
This comparison is a 10-minute read.
Use this table of contents to skip to sections you want to learn more about.
Tuft & Needle vs Purple: Which One Should You Buy?
Here's my bottom line on each mattress.
[one_half]
I rated Purple a 4.7/5.
Buy the Purple if:
You or your partner move around at night
You are open to their unique firm+soft feel (that we love)
You don't mind spending a little more
[/one_half] [one_half_last]
I rated Tuft & Needle a 4.5 /5.
Buy the Tuff & Needle if:
You like a little more bounce in your mattress.
You sleep on your stomach.
[/one_half_last]
---
How Do Purple and Tuft & Needle Compare?
Similarities
The Purple original and Tuft & Needle are both technically foam mattresses. Neither uses pocketed coils or springs.
In all other areas of construction, however, they are very different – including the type of foams used, construction and technology.  I go into more detail about that, below.
Purple and T&N are also about the same thickness: Purple is 9.5" thick and Tuft & Needle is 10 inches.
Warranty and returns policies are very similar – both provide a 100-night in-home trial, free returns and a 10-year non-prorated warranty.
Both companies also offer free shipping within the continental US and charge extra freight to Alaska and Hawaii.
In terms of pricing, however, Purple is more expensive. Both companies offer financing through Affirm.
Key Differences
These two mattresses are constructed very differently – and feel quite different.
Purple incorporates three layers consisting of poly foam plus a special material called Hyper-Elastic Polymer which is where the Purple mattress gets its 'magic' from. I'll explain more about that in the next section.
Tuft & Needle has just two layers all made from poly foam. It's a very simple budget mattress design – but it works.
Comfort wise, both mattresses fall in the medium-firm range. But their sleeping experiences are quite different.
Tuft and Needle definitely feels firmer than the Purple. It has more of a 'laying on the mattress' feel.
Purple, on the other hand, molds to your body more while still feeling firm and supportive. This is because of the special polymer crate layer on top.
Another major difference between these two mattresses is price.
Purple is the more expensive mattress, with a Queen size costing around $1,000.
Tuft & Needle is one of the least expensive online mattresses, with a Queen size costing less than $600.
If you are looking for an ultra-budget mattress that sleeps comfortably and is guaranteed to last long, you know which one to get.
Price
Financing Options
Both companies provide easy financing through Affirm. Visit their websites to read the terms and conditions and to see if you qualify.
Specifications
Mattress

Purple



Tuff & Needle

Rating
4.7
4.5
Price
$699-$1,898
 - on Amazon
Comfort Choices
Soft+Firm Combination
Medium firm
Construction
Hyper-Elastic Polymer top + polyester foam base
Latex-like polyfoam
Heat Transfer
Excellent
Good
Motion Transfer
Low
Medium
Sinkage
Moderate
Minimal
Off-Gassing?
Yes
Yes
Trial Period
100 nights
100 nights
Warranty
10 years
10 years
non-prorated
Eco-friendliness
CertiPUR-US certified foam
CertiPUR-US foam
Delivery
7-14 days
1-5 days
Customer Service
Excellent
Good
---
Mattress Construction
Purple
When the Purple mattress was unveiled in 2015, it was an extremely unique product.
It still is.
What makes it unique is the top layer which consists of a material called Hyper-Elastic Polymer.
When you lay down on it, the polymer initially has a latex feel – responsive, a bit on the firm side and cool to the touch.
But after you place your whole body down, the feel changes substantially. That's because the Hyper-Elastic Polymer comfort layer on top is actually a series of columns shaped into a grid-like pattern called a Smart Comfort Grid.
The columns buckle or stay upright, depending on how much pressure each part of your body is placed on them.
Under high-pressure points like the shoulders and hips, the columns collapse and contour around your body. This provides pressure relief.
Under low-pressure areas like your core and lower body, the columns stay upright and boost support.
In this way, the Purple original mattress customizes the sleeping experience to each person's body weight and sleeping position.  It works phenomenally well, too – my husband and I have very different body weights and sleeping habits and we both love ours.
Below the Polymer layer there are two more layers of foam in varying densities that boost contouring, provide deep compression support and hold the mattress structure together.
The Purple mattress cover is made of three materials: polyester, viscose, and lycra, which makes the fabric tear-resistant, soft and stretchy. It also makes it breathable and moisture-wicking.
Tuft & Needle
Tuft & Needle uses a much simpler construction that consists of just two layers – the main comfort layer and a support layer.
Both layers are made of poly foam.
The first layer is a proprietary type of poly foam the company calls T & N Adaptive Foam. It is more responsive and offers more support than traditional foam. It is also infused with cooling gel and graphite to boost heat dissipation and keep the mattress cool.
The extra-thick 7" base provides compression support and holds the mattress together.
The soft cover is a blend of polyester and a special material called micro polyamide.
I'm sure you already know about polyester. It makes the cover stronger and more resistant to piling and tearing.
The one you've probably never heard about is micro polyamide.
This is a common alternative to cotton in clothing. It wicks moisture better than cotton and is also more breathable.
---
Comfort and Firmness
Both mattresses fall on the firmer side of the medium range (around 6.5/10 where 10 is very firm).
If you are looking for an extra-soft or extra-firm mattress, then neither of these beds are for you. They only offer a single firmness option.
Purple Comfort Level
Purple doesn't have the plush instant-relief feel you get with memory foam mattresses.
This is because the top Hyper-Elastic Polymer layer is naturally firmer than memory foam. It feels more like latex foam.
Average-weight sleepers describe the Purple mattress as slightly firm, and we agree.
Heavier sleepers, however, say the mattress feels slightly soft. This is no doubt because of the way the buckling columns react to the added pressure.
Side sleepers are also more likely to describe the mattress as being a softer – while back, and stomach sleepers say it feels firmer.
The exact level of firmness you experience will depend on your weight and sleeping position.
Tuft & Needle Comfort Level
Most sleepers describe Tuft & Needle as being a fairly firm sleeping surface. The adaptive foam used in the top layer has a latex-like firmness and rigidity.
We agree – I wouldn't recommend this if you sleep on your side and are extra-heavy.
That said, over time the poly foam will soften conform more to your body.
Stomach and back sleepers will love Tuft & Needle's 'on the mattress' feel. Heavier back sleepers will also enjoy the extra support offered by the thick support layer.
But side sleepers are better off with the Purple mattress. Despite being somewhat firm, it contours better to your hips and shoulders, eliminating pressure points.
---
Sleeping Experience
Purple Sleeping Experience
The Smart Comfort Grid quickly adapts to your body weight and sleeping position.
You get a nice no-pressure hug but still get the support you need from the other two layers beneath.
Despite having a latex-like layer on top, the Purple mattress is not that responsive. It's not as bad as memory foam mattresses, but it's nowhere near a latex or spring mattress either.
It is a fairly good mattress for sex because of the way you can "dig in" where you'd like to and the excellent all-over body support, but doesn't expect any serious bounce.
In terms of cooling, the Purple mattress does a better job. The top layer doesn't retain heat, and the breathable cover helps dissipate excess heat and perspiration.
If you live in a hot area or you are extra-sensitive to heat, the Purple mattress is the better choice between these two mattresses.
Motion transfer in the Purple is low, but not as low as T&N.
Edge support is not good, however – the same as with most foam mattresses.
Tuft & Needle Sleeping Experience
The Tuft & Needle mattress feels fairly firm in the first few days. Some customers end up having to use a pad to soften it up.
The foam softens up with time. So sleep on it 4 weeks before you make your decision.
Over time, the Tuft and Needle mattress settles into its slightly firm, medium-firm comfort level with a good mix of comfort and support.
The top foam layer is a bit more responsive than traditional foam, but doesn't expect a springy sleeping experience.
Motion transfer is almost non-existent which is great for fidgety partners. But edge support is poor. It's actually worse compared to the Purple mattress.
So beware sleeping too close to the edge or sitting on it too much as it could reduce the mattress' lifespan.
Cooling is good but not the best. Most people won't feel uncomfortably warm – the cooling gel and micro polyamide do a good job dissipating excess body heat.
But during warmer months, this mattress might sleep a bit warm. You'll feel it mostly if you live in a very hot area or you are sensitive to even small increases in temperature.
---
Warranty and Returns
Purple  
From the day you receive your Purple mattress, you have 100 nights to evaluate it at home and decide whether you want to keep it.
Returns are completely free.
If you keep it, the warranty is ten years long.
Tuft & Needle
T & N has basically the same terms. You get 100 nights to test the mattress, and if you like it, the mattress will be covered for ten years with a non-prorated policy.
---
Shipping and Delivery
Purple Shipping & Delivery Options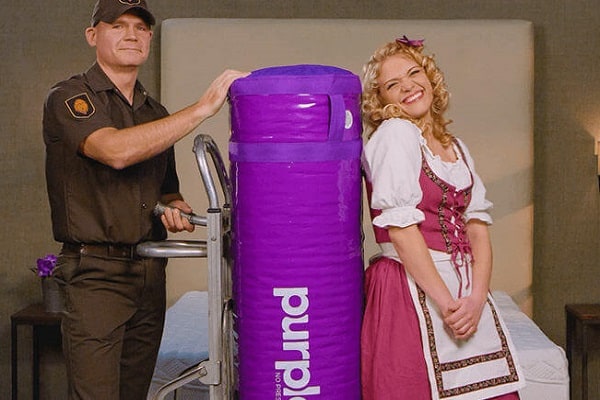 Shipping is free but only if you live in the contiguous United States. If you are ordering from Alaska or Hawaii, shipping fees will be applied at checkout.
The mattress comes rolled up in a vinyl tube.
It will only be delivered to the nearest entrance then it's up to you to take it inside and set it up, which should take no more than 20 minutes.
Tuft & Needle Shipping & Delivery Options
Shipping is free but only within the continental US. Alaska and Hawaii shoppers pay extra for shipping.
Delivery takes 3-10 business days on average, but they do offer same-day shipping in certain Zip Codes. It will cost you $50 per mattress.
Tuft & Needle is delivered in a compact box the size of a small fridge. It's super easy to set up.
---
Foundation and Frame
Purple Foundation Requirements
The Purple mattress is quite heavy so make sure you only use a sturdy foundation that is in good shape.
If your budget allows, order a new foundation when you buy the mattress. Purple sells an adjustable base as well as a platform base that go perfectly with their mattress.
If you use a box spring, place a piece of plywood on it to boost support.
Tuft & Needle Foundation Requirements
Tuft & Needle works with any foundation as long as it is sturdy and completely flat. This can be a box spring, slatted frame, adjustable base or a platform.
You can even place it on the floor but remember to air it out occasionally to prevent mildew.
---
Care and Cleaning
Purple Mattress Care & Cleaning
While the Purple mattress cover is removable, do not attempt to put it in the washer. That will ruin it permanently.
You should only spot clean with cold water and mild detergent to remove stains.
Tuft & Needle Mattress Care & Cleaning
The Tuft & Needle mattress cover has a zipper, but you can't actually unzip it. The zipper is clipped to prevent the mattress cover from being removed.
T & N says the zipper is to help technicians put the cover onto the mattress.
The cover should never be removed. You should only spot clean it with cold water and mild detergent.
---
Where to Get The Best Deal
More Tuft and Needle Mattress Comparisons:
More Purple Mattress Comparisons:
---
Affiliate Disclosure
Affiliate Disclosure: I may earn a small commission (at no cost to you) if you purchase a mattress after clicking a referral link or using a coupon code on this site. That said, all content and opinions on this site are my own and are NOT affected by these payments.
This site participates in the Amazon Services LLC Associates Program, an affiliate advertising program designed to provide a means for sites to earn advertising fees by advertising and linking to Amazon.com.
*Amazon and the Amazon logo are trademarks of Amazon.com, Inc, or its affiliates.
---