NOTE: We earn from qualifying purchases made via Amazon Associates and other affiliate programs. Learn more.
---
Interested in knowing how the Nectar mattress and the Casper Original mattress compare?
You've come to the right place!
Nectar is a memory foam mattress that has become popular because of its affordable price range, a generous 1-year in-home trial, and an even more generous lifetime warranty.
Casper is one of the earliest and best known bed-in-a-box brands. This all-foam mattress remains one of the most popular mattresses sold online today and has recently been updated to provide contoured foam support in its construction.
From my own experience and many other customer reviews, both mattresses sleep great. They are comfortable, supportive, and sleep cool.
But each has a specific feel suitable for different types of sleepers.
So how do Nectar and Casper differ?  Which one should you buy?
Let's find out!
---
What's In This Comparison?
This page is an in-depth comparison of the Nectar original all-foam mattress vs. Casper's original foam mattress.
We also briefly compare the other mattresses made by these two popular manufacturers.
If you want to learn more about each mattress, read my in-depth review of Nectar and my review of Casper Original.
If you don't want either of these, then Purple & Leesa are two other great foam options for about the same price (click to see how they compare).
---
Nectar Mattress vs. Casper Quick Summary
| Mattress | Construction | Feel | Summary | Our Rating |
| --- | --- | --- | --- | --- |
| Nectar | Memory foam and high-density poly foam | Medium-firm | Nectar is a 12" memory foam mattress with a medium-firm feel. It's offered at a lower price point than Casper. | 4.6 |
| Casper | Poly foam and memory foam | Medium | The Casper Original mattress is 11" thick with four layers of foam and a softer feel. | 4.5 |
You are a back or stomach sleeper weighing under 230 pounds.
You love the body-hugging feel of an all-memory foam bed.
You want a lifetime warranty.
You want to save a few more bucks.
You prefer a softer feel.
You tend to sleep hot.
You are a side sleeper.
You share a bed with a partner.
Keep reading to learn about how Casper and Nectar differ in important areas including comfort, firmness, and temperature control.
---
Best for:
Anyone looking for good-quality, affordable memory foam mattress.
Most types of sleepers but especially back and stomach sleepers.
Hot sleepers who want a cool memory foam mattress.
Folks who want a no-pressure in home trial period (Nectar offer 365 days).
Nectar Materials and Construction
The original Nectar mattress is a 12" thick 4-layer mattress. 
The first layer is a soft quilted cover. The cover contains moisture-wicking and cooling technology to help you sleep cooler.
The second layer is plush gel-infused memory foam. It provides deep contouring, and the gel helps draw heat away from your body to keep you cool.
The third transition layer is made with high-density polyfoam. It provides compression support and spinal alignment.
A 7″ foam base provides overall support and keeps the mattress in shape for years.
Nectar Mattress Firmness and Feel
Nectar has a classic memory foam feel.
It hugs your body and molds itself around pressure points including your hips, back, and shoulders.
But it's not all softness and plushness.
The firm transition layer and thick base provide plenty of pushback and support. This keeps you from sinking too deep and keeps your spine aligned.
The combination of the soft memory foam layer and the firmer support layers create a medium-firm feel.
We primarily recommend the Nectar mattress for stomach and back sleepers. They'll appreciate the solid firmer feel of the mattress.
For side sleepers, we recommend the Casper mattress instead. It's softer.
Being an all-foam mattress, Nectar is not the best choice for heavier sleepers over 230 lbs. Look for a hybrid mattress instead.
But for light and average weight sleepers, Nectar provides excellent support and spinal alignment.
The only area where support is a bit lacking is along the edges, which is common with all foam mattresses.
The memory foam recovers fully when you wake up but not fast enough to make it springy. This not only makes the mattress less than ideal for sex, but it also makes it harder to change sleeping positions.
That said, the Nectar mattress does not feel nearly as mushy as cheap memory foam mattresses. The transition support layer provides a surprising bit of bounce.
Nectar Mattress Temperature Control
For most types of sleepers, the Nectar mattress is temperature-neutral.
That is, it stays within a comfortable temperature range most of the time.
The cooling cover and the gel-infused memory foam do a good job keeping the mattress comfortably cool for most people including many hot sleepers.
However, they may not be enough if you sleep unusually hot or live in a hot climate. In that case, the Casper mattress is a cooler choice.
If you still prefer the Nectar mattress, consider buying a cooling mattress topper.
Nectar Mattress Motion Transfer
Motion transfer is a non-issue with the Nectar mattress. The dense foams easily absorb motion, ensuring your restless partner doesn't wake you up.
---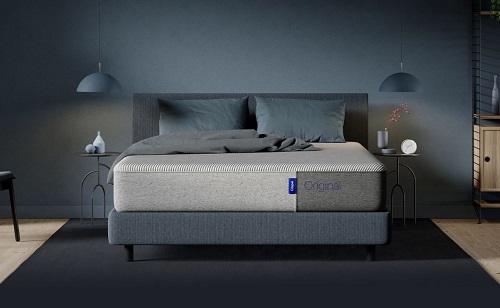 Best for:
Most types of sleepers but especially back and side sleepers.
Couples sharing a bed.
Folks who prefer sinking into a softer mattress.
Casper Mattress Materials and Construction



The Casper original is an 11" thick 3-layer all-foam mattress.
It contains memory foam but only in one layer. So, it lacks the all-memory foam feel of the Nectar mattress.
The first layer consists of a very soft open-cell poly foam. Casper calls it Airscape foam, alluding to its breathability. It has better airflow than memory foam, which helps keep the mattress cool.
The second memory foam layer uses a different design from the other layers. It's divided into three sections along the length of the mattress with each section having a different level of firmness
This zoned design provides optimal spinal alignment and extra contouring support under the hips and shoulders.
Whereas the thick high-density poly foam base provides overall support and stability.
The three foam layers are wrapped in a breathable polyester cover.
Casper Mattress Firmness and Feel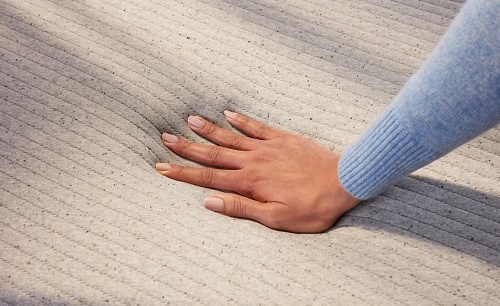 The Casper mattress has a noticeably, softer feel compared to Nectar.
We rate it as a medium-feel mattress.
The mattress contours more closely to your body with slightly more sinkage than the Nectar mattress. The deeper hug makes it a great choice for most side sleepers.
Light and average weight back and stomach sleepers will also find the Casper mattress to be adequately supported.
However, similar to Nectar, we don't recommend Casper for overweight sleepers (>230 lbs). It's not firm enough to keep you from bottoming out.
Heavier sleepers generally sleep more comfortably on a hybrid or a firm foam mattress.
Don't expect much springiness in the Casper mattress.
If you want a more responsive mattress, Casper also sells a hybrid version of this mattress with responsive pocket coils.
Like Nectar, Casper's edge support is not the most robust. This is an issue for couples who sleep near the edges.
But as long as you choose a Queen or King size, the fair edge support is not a problem.
Casper Mattress Temperature Control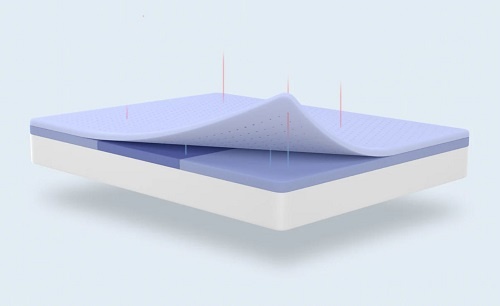 When it comes to cooling, the Casper mattress has the edge over the Nectar, mostly thanks to the open-cell foam in the top layer.
It helps that memory foam is in the second layer, where it traps less heat.
So, if you are a hot sleeper or have night sweats, we think you'll find the Casper mattress to be more comfortable.
Casper Mattress Motion Transfer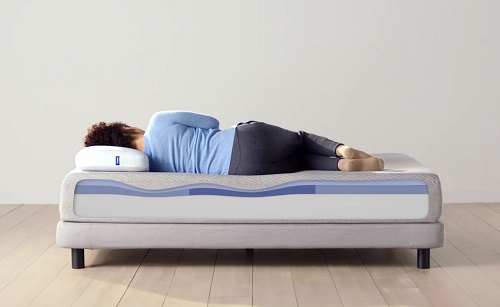 The Casper mattress has minimal motion transfer.
The foam layers absorb any disturbance from your partner, allowing you to keep sleeping no matter how much they toss and turn.
---
Nectar vs. Casper Verdict
It can be frustrating to choose between these two mattresses since they are so similar.
They are both all-foam mattresses; they both offer good support and pressure relief, and both meet the needs of most sleepers.
But you may also have noticed key differences that may have swayed your decision one way or another.
Here's our bottom line.
If your main concern is budget, the Nectar original foam mattress is the best choice.
Nectar is also the best option if you are looking for a memory foam mattress with good support and a moderate hug.
If you love memory foam mattresses but don't want one that sinks too much, we suggest you go with Nectar.
On the other hand, Casper is the best choice if you want a softer foam mattress.
If you love to sink into a mattress that hugs your body, you are going to love the Casper mattress.
Both Nectar and Casper are good choices if you sleep hot, but the Casper original has a slight edge in cooling performance.
Shipping & Delivery, Returns, and Warranty
Important as construction and feel are, they are not the only things to consider when comparing mattresses.
Also, check the fine print regarding shipping, returns, and warranty.
Here's what you get with each mattress:
Nectar
Shipping: Free shipping within the contiguous United States. Shipping to Alaska and Hawaii costs $150 per mattress.
Delivery: Free curbside delivery. It includes in-home delivery and setup as well as old mattress removal. Optional white glove delivery is available for $149.
Trial period and Returns: You can return the Nectar mattress during its return period, which start from 30 days after delivery up to 365 days after it is delivered. That's right, a full year to test your mattress at home. Returns are free.
Warranty: The Nectar mattress comes with a lifetime non-prorated warranty.
Casper
Shipping: Free shipping within the contiguous United States. Shipping to Alaska and Hawaii costs extra.
Delivery: Free curbside delivery. White glove delivery is available in all states except Alaska and Hawaii. It costs $149 and includes an in-home mattress setup and old mattress removal.
Trial period and Returns: 100-night in-home trial period with free returns.
Warranty: The Casper mattress comes with a 10-year non-prorated warranty.
As you may have noticed, the two mattresses have fairly similar terms except when it comes to the trial period and warranty.
Nectar is much more generous.
Other Nectar Mattresses
In addition to the original Nectar mattress, Nectar sells two other mattresses: Nectar Premier and Nectar Premier Copper.
Nectar Premier
Nectar Premier is very similar to the Nectar mattress in terms of construction. It has the same three layers of foam: gel memory foam, a transition foam layer and a thick foam base.
The main difference is that the Premier uses phase change material to deliver even better cooling. For extra-hot sleepers, the Nectar Premier is a great choice.
Also, the Nectar Premier comes with a free free Google Nest Hub smart display with built-in sleep tracking.
Nectar Premier Copper
The Nectar Premier Copper is the best Nectar mattress for bigger-bodied and plus-size folks weighing over 230lbs.
It's thicker than the other Nectar mattresses, thus provides deeper contouring and better support.
The top memory foam layer is thicker for added pressure-point relief, and the base is also 2″ thicker (9″) for improved support and durability.
The Nectar Premier Copper also features more cooling materials, including gel memory foam, phase change material, and copper fibers in the cover.
Other Casper Mattresses
Casper has greatly expanded its catalog in the last few years. Currently, Casper sells three primary models and five individual mattresses.
Casper Hybrid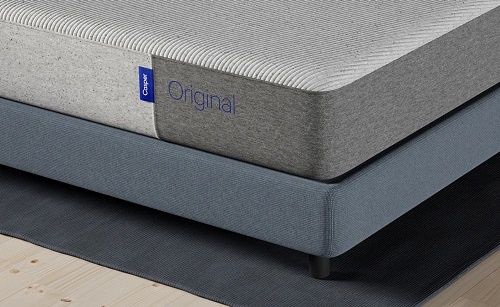 We've already discussed the Casper Original mattress in the comparison above. But that's the all-foam version.
You can also order a hybrid version of the Casper original if you want a more supportive and responsive bed.
The hybrid mattress sleeps slightly cooler, too.
The hybrid mattress has the same design as the all-foam mattress except for the zoned support layer.
Below that, the hybrid version uses pocketed coils instead of a high-density foam base.
The pocketed coils provide deeper body contouring, more airflow for cooling, and deeper compression support for heavier sleepers.
Note that the Casper hybrid is more expensive than the all-foam version.
The Casper Wave Hybrid is Casper's luxury offering.
It consists of five layers including two zoned foam layers and a coil base.
Because of its thicker comfort layers, the Casper Wave Hybrid feels plusher than the Casper Original mattress.
It also sleeps cooler and offers better deep support for heavier sleepers.
The Casper Wave Hybrid is ideal for folks who prefer a mattress with a deep hug as well as side sleepers.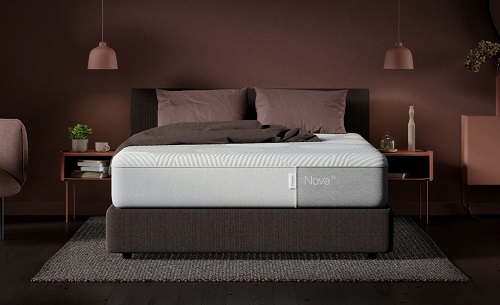 Casper Nova is the newest addition to Casper's lineup. It is also a hybrid mattress though it's slightly cheaper than the Casper Wave hybrid.
The Nova hybrid mattress has four layers consisting of plush Airscape foam, two zoned foam layers and a spring base.
Casper Nova is great for those who want a luxury hybrid mattress at a bargain price.
More Nectar Mattress Comparisons:
---
More Casper Mattress Comparisons:
---
Affiliate Disclosure
Affiliate Disclosure: I may earn a small commission (at no cost to you) if you purchase a mattress after clicking a referral link or using a coupon code on this site. That said, all content and opinions on this site are my own and are NOT affected by these payments.
This site participates in the Amazon Services LLC Associates Program, an affiliate advertising program designed to provide a means for sites to earn advertising fees by advertising and linking to Amazon.com.
*Amazon and the Amazon logo are trademarks of Amazon.com, Inc, or its affiliates.
---