NOTE: We earn from qualifying purchases made via Amazon Associates and other affiliate programs. Learn more.
What's In This Comparison
In this detailed comparison, I will compare the Casper and Helix mattresses on a variety of factors including comfort, order process, construction, support, cooling, warranty and of course, price.
My goal in this comparison is to give you the detail you need to make your own decision.3
That said… if you want a quick pick, then this is the mattress I prefer.
For more details about each mattress, read my Helix mattress review and my Casper review.
---
Helix vs Casper: Which One Should You Buy?
There are many differences between Casper and Helix products. For example, Helix mattresses incorporate pocketed coils as the support system in all of their mattresses, whereas the original Casper mattress, Casper Wave, and Casper Essential are 100% foam products. Casper also only comes in one comfort level, medium-firm.  In contrast, Helix offers a wide range of models, thicknesses and comfort choices for their customers. Price-wise, both of these excellent products cost about the same.
So which mattress should you buy?
I gave the Helix mattress an overall rating of 4.7 out of 5.0.
Buy the Helix if:
You want a mattress that addresses your specific comfort needs, body style and sleeping preferences.
You need a split mattress (for couples)
You need a softer or firmer comfort level than normal (Casper only offers one: medium-firm)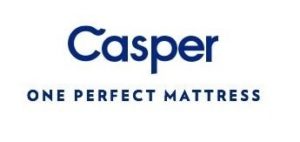 I gave the Casper mattress an overall rating of 4.5 out of 5.0.
Buy the Casper if:
You prefer a firmer mattress.
You don't mind spending a little more.
---
Mattress Construction
Helix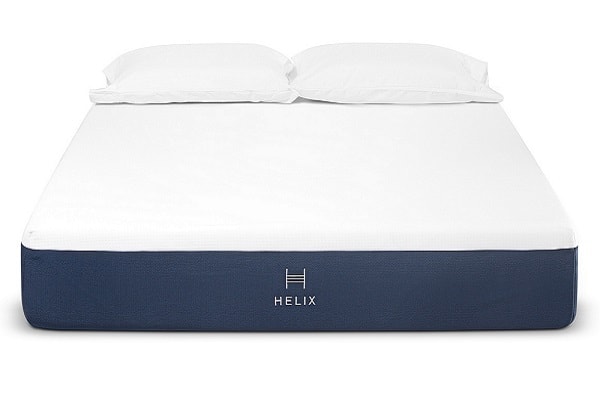 Helix sells six hybrid mattresses with varying materials in each mattress. Take the sleep quiz to get the best recommendation for your needs.
Even though each mattress is slightly different in construction, they all share certain materials.
Here are the materials you will find inside Helix mattresses:
Helix Dynamic foam – This is a special type of foam designed to take on the best properties of both memory foam and latex foam. It comfortably contours to your body but at the same time has a nice bounce to it. All six mattresses contain Helix Dynamic foam.
Gel memory foam – Helix mattresses designed for side sleepers (Sunset, Midnight and Twilight) all contain a gel memory foam comfort layer. The memory foam hugs your shoulders and hips, preventing uncomfortable pressure at these points.
Transitional foam layer – this layer adds to the mattress' support and comfort. It is especially important in deep compression support. In other words, it prevents the mattress from sinking in too much regardless of the weight or sleeping position of the user. Helix mattresses designed for back and stomach sleepers (Moonlight, Dusk and Dawn) all contain a polyfoam transition layer.
Pocketed coils – Individually wrapped coils improve the mattress' ability to contour to your body and respond effectively to your body weight and sleeping position. Because the coils are not connected, each moves individually based on the amount of pressure on it. This eliminates pressure points, ensuring you don't wake up with a sore back or shoulders. All Helix mattresses contain an 8″ layer of pocketed coils.
High-density foam base– All six Helix mattresses have a 1″ high-density foam base that provides overall support and stability.
As for the cover, all Helix mattresses have a 100% polyester cover that's soft and breathable.
Note: If you want a more luxurious mattress, each of these mattresses has a Luxe upgrade. The Helix Luxe mattresses are thicker, come with a plush pillow top and have a zoned pocket coil layer. They also cost more, obviously.
Casper
Casper uses a much simpler, one-size-fits-all design. The Casper is an all-foam mattress with an overall thickness of 11 inches, compared to Helix's 12-inch thickness.
Here are the four layers that make up the Casper mattress:
Airscape™ foam – the first layer consists of breathable open cell foam, what Casper calls Airscape™ foam. It conforms to your body while also ensuring you stay cool.
Zoned support memory foam – the second layer is memory foam, but not ordinary memory foam. It has variable firmness zones with a softer area under shoulders for pressure relief and a firmer zone under the lower back for spinal alignment.
High-density base – a HD polyfoam base provides deep compression support to keep the mattress from sagging.
In addition, Casper offers a Hybrid upgrade that adds a layer of individually-wrapped innerspring coils plus firmer edge support.
---
Comfort and Firmness
Helix
Helix groups their mattresses into three categories: soft feel, medium feel and firm feel. Each category has two mattresses, one designed for side sleepers and the other for back & stomach sleepers.
This makes it easy to choose the exact mattress you want.
You can answer the sleep quiz to get a recommendation or check out the categories and select the one that fits your sleeping position an firmness preference.
Whether you prefer an extra-firm, an extra-soft or a balanced feel mattress that's somewhere in between, Helix has it.
Casper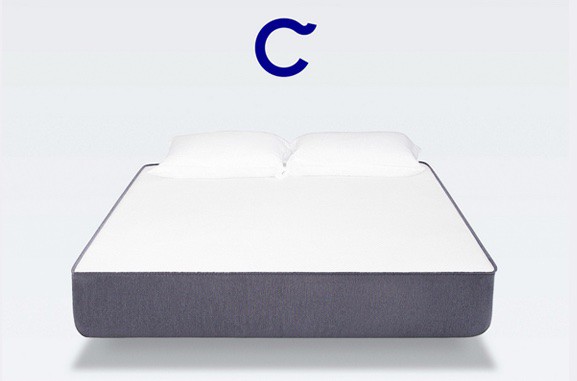 Casper opted for a 1-firmness-fits-all mattress that meets the needs and preferences of as many people as possible. So they made a medium firm mattress that is neither too soft that it sinks too much nor too firm that it feels like sleeping on a rock.
Comparing Casper vs. Helix on the issue of comfort and firmness, Helix is the better choice for most people.
While Casper has a product that meets the needs of 80 percent of sleepers, Helix covers EVERYONE. Their ability to customize each mattress to create a unique sleeping experience makes Helix a one of a kind mattress. That said, you need to take the time to complete the quiz accurately.
To know more, check out our in-depth Casper wave review, Casper hybrid mattress review, and Casper element mattress review.
---
Sleeping Experience
Helix
A bespoke sleeping experience. That's what the Helix mattress provides.
Most Helix owners online talk about how it changed their sleeping experience. Some no longer woke up with sore muscles, others can finally sleep through the night, and many didn't realize just how bad their old mattress was.
A custom-fit Helix mattress can address needs in different ways.
For those who are heat-sensitive, the pocketed coils inside the Helix greatly boost air flow, ensuring that there is no trapped heat making your night sweaty and uncomfortable. The thin polyester cover also improves breathability.
For those who have back problems, Helix uses responsive Dynamic Foam, memory foam and the coil layer to ensure that the mattress contours around your back and aligns it in a natural position.
Casper
Casper may not feel as luxurious as Helix, but it does provide a great sleeping experience.
The open-cell foam layer at the top creates a responsive and cool surface while the memory foam underneath feels quite plush.
Comparing Helix sleep vs. Casper on cooling, I'd say the Helix wins.
But Casper still sleeps cool, thanks to the aerated foam at the top and the fact that they have tucked memory foam away from the surface.
You won't need a gel topper with either mattress.
---
Warranty and Returns
Helix
Helix provides a standard 10-year warranty for their mattress. The warranty is non-prorated, meaning that Helix will cover all the costs arising from repair or replacement of the mattress over the period of 10 years.
You may be responsible for shipping costs, however; unless the mattress is found to have a manufacturing or workmanship defect, in which case you will be refunded shipping costs up to $100.
Note that a repaired or replaced mattress does not get a new warranty, but rather continues the same coverage as the original mattress. The only exception is if you get an upgraded mattress. It will come with a new warranty.
As for returns, Helix provides 100 days for testing your mattress for comfort and fit. If it is not the right mattress for you (give it at least 30 days before you make a decision), you can request a return. Helix will pick up the mattress and give you a full refund.
If you are returning the mattress because you ordered the wrong size, you can request an exchange with a different-sized mattress. But you cannot exchange it with a differently configured mattress.
Returned mattresses are either donated to charity or recycled depending on state and local laws.
Casper
Casper also has a 100-day in-home trial. If you don't like the mattress after at least 30 days of sleeping on it, you can make a return and get a full refund.
As for the warranty, Casper has a similar 10-year warranty as Helix. Most warranty details are also similar to those spelled out by Helix – only covers manufacturing defects, warranty void if the mattress the is misused, and the only original purchaser is covered.
There is, however, a slight difference when it comes to deciding who is going to pay for shipping should you decide to claim your warranty. Helix requires customer the to cover it but with the promise that they will be refunded if the defect was Helix's fault. Casper splits return shipping costs with customers.
The company pays for shipping to their facility, and the customer pays for delivery to their home.
---
Shipping and Delivery Options
Helix
The Helix mattress is shipped in a compact box via UPS ground.
All shipments are delivered free of charge as long as you are in the United States (all 50 states). For those ordering from Canada, Helix applies a $250 shipping fee and customs tax at checkout.
Because each mattress is designed according to customers' needs, it takes some time before shipping begins. Overall the manufacturing and delivery take around 6 to 10 business days.
Helix does not provide special delivery or shipping options. For additional services such as specific date delivery, you'll have to make arrangements with UPS yourself.
Casper
Casper is also manufactured to order, which means you have to allow a few days before actual shipping begins.
The mattress will get to you in around 2 to 7 business days depending on some orders being processed and your location.
In certain cities, they can deliver on the same day and help with setup. But in most areas, there is no expedited shipping or white glove delivery provided.
Casper ships to all 50 states as well as Canada. Shipping is free except to Alaska, Hawaii and certain parts of Canada.
---
Price
Helix and Casper cost roughly the same. with Casper being slightly more expensive.
It's surprising to me that Helix doesn't cost a LOT more, considering the level of customization it offers.
Here are the list prices for each mattress:
You can add a Helix Foundation for between $200 and $375 and a mattress protector for between $75 and $99 depending on your chosen mattress size.
Helix provides interest-free financing through Klarna (credit permitting) where you get to make six easy monthly payments rather than a single bulk one.
Casper offers the option of easy monthly payments through Affirm (credit permitting).
---
Coupons
Save 20% + 2 Free Pillows on the Helix mattress.
---
Helix Is The Right Mattress For You If:
You want a mattress that addresses your specific comfort needs, body style and sleeping preferences.
You need a split mattress (for couples)
You need a softer or firmer comfort level than normal (Casper only offers one: medium-firm)
Save 20% + 2 Free Pillows At HelixSleep.com
---
Casper Is The Right Mattress For You If:
More Casper Mattress Comparisons:
More Helix Mattress Comparisons:
---
Affiliate Disclosure
Affiliate Disclosure: I may earn a small commission (at no cost to you) if you purchase a mattress after clicking a referral link or using a coupon code on this site. That said, all content and opinions on this site are my own and are NOT affected by these payments.
This site participates in the Amazon Services LLC Associates Program, an affiliate advertising program designed to provide a means for sites to earn advertising fees by advertising and linking to Amazon.com.
*Amazon and the Amazon logo are trademarks of Amazon.com, Inc, or its affiliates.
---