Affiliate Disclosure: I may earn a small commission (at no cost to you) if you purchase a mattress after clicking a referral link or using a coupon code on this site. That said, all content and opinions on this site are my own and are NOT affected by these payments.
In our mattress comparisons and rankings, hybrid mattresses consistently rank as the best-sleeping beds we've tested.
Some of our favorite hybrid mattresses include the Alexander Hybrid, the Keetsa Pillow Plus and the Saatva.
And this is not just our opinion.
The same mattresses we rank highly here at SleepDelivered also enjoy the highest ratings and reviews from customers all over the web.
In this article, we'll explain why hybrids are usually better choices for most types of sleepers and briefly review some of our top picks in this category.
---
What Are Hybrid Mattresses – and Why Are They So Great?
Hybrid mattresses are mattresses that combine different types of materials and layers in an effort to improve the sleeping experience.
Traditionally, most mattresses are either memory foam or latex foam and use high-density polyfoam in the base layer.
But newer mattress brands have started experimenting with new construction designs.
The main advantage of a hybrid mattress is that it combines the best features of different materials.
For example, the Saatva mattress combines memory foam, pocketed coils and support steel coils to create a luxury sleeping experience.
Hybrids like Saatva are designed to provide the best features of innerspring coils (support and responsiveness) and memory foam (pressure relief). That's why the Saatva is rated as one of the best online mattresses we've reviewed.
Some all-foam mattresses are considered hybrids, too.  For example, a latex plus memory foam mattress combines the bounciness and temperature control of latex with the comfort and plushness of memory foam.
As a result, hybrid foam mattresses often have better support, comfort, cooling and pressure relief than non-hybrid foam mattresses.
---
Top-Rated Hybrid Mattresses
Here are five great spring + foam and foam-only hybrid mattresses to consider, in no particular order of quality.
These selections are based on our own reviews and customer ratings and feedback.
1. Alexander Signature Hybrid
The Alexander Signature Hybrid is a luxury foam and coil mattress made and sold by Nest Bedding. The 14-inch mattress consists of four layers. The top layer is gel infused memory foam with a thermic phase change cooling cover on top.
The second layer consists of Energex foam, which is a type of foam with both latex-like and memory foam-like qualities. It feels bouncy yet soft and plush.
Convoluted support foam and pocketed support coils make up the third and base layer of the mattress respectively.
The Signature Hybrid is what I'd call a super-hybrid mattress. It not only combines foam and coils, it uses at least two different types of foam.
The result is a mattress that feels incredibly comfortable and luxurious.
A Queen Alexander Hybrid sells for $1,999.
2. Saatva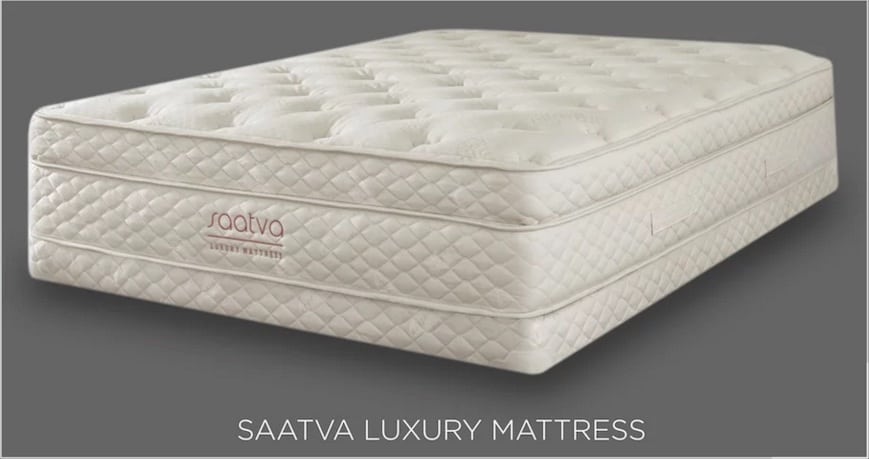 Saatva is another luxury hybrid mattress consisting of both coils and foam. I'd also call it a super-hybrid mattress because it has two types of coils.
The first layer is actually a pillow top. The pillow top is sewn under an organic cotton cover. The second layer is a slice of memory foam that provides enhanced lumbar support. It ensures your spine is properly aligned so you don't wake up with back pain.
The third layer consists of individually wrapped coils that move with your body and contour around your joints and curves. There is also a foam edge support system that boosts edge support especially for couples.
A tempered steel coil base provides exceptional durability and sag-prevention.
The best part about Saatva is that despite all these great features, a Queen Saatva size only costs $999 compared to the $2,000+ price tag of similar quality mattresses in stores.
3. Leesa Hybrid (Sapira)
Like Saatva, the Leesa Hybrid is a spring + foam hybrid mattress.
The top layer consists of Leesa's proprietary foam, the same used in Leesa's Original mattress. Leesa's proprietary foam has the bounce and cooling capabilities of latex foam.
The second layer is pressure-relieving memory foam. It provides body contouring and pressure relief. The final layer is where you'll find pocketed steel coils. This layer provides both support and contouring. They move along with your body and contour to your curves while also providing compression support.
A Queen Leesa Hybrid mattress costs $1,440 after taking the 15% SleepDelivered discount (no code required, just click to claim).
4. Purple

Purple is a foam hybrid mattress. The top layer is a special material they call hyper-elastic polymer. This layer is grid-like with columns holding up your weight. Purple's engineers designed these columns to collapse at a certain pressure threshold.
So when you lie on the mattress, the columns under your shoulders and hips may collapse while the rest stay upright. This provides pressure relief and support exactly where it's needed.
The polymer layer also gives the mattress a bit of a bounce.
The second layer is transition polyfoam for added support while the final layer is high-density polyfoam to provide overall support and durability.
The Purple mattress costs $999 for a Queen size.
Conclusion
You may have noticed that these hybrid mattresses are not the cheapest. The cheapest one is the Leesa at $940 for a Queen. The Alexander Signature caps the price range at $2,000.
But although you'll spend more on a hybrid mattress, the payoff is sweet and comfortable. You get a more luxurious sleeping experience with better support, improved cooling, minimal motion transfer and incredible comfort.
These mattresses also tend to have longer warranties; hence you can expect it to last longer.
---
Save BIG On Your Next Mattress Purchase
Join our mailing list and get my LATEST COUPONS delivered immediately!
Send Me The Coupons
---
Learn More
Compare Mattresses Side-by-Side
---
Affiliate Disclosure
Affiliate Disclosure: I may earn a small commission (at no cost to you) if you purchase a mattress after clicking a referral link or using a coupon code on this site. That said, all content and opinions on this site are my own and are NOT affected by these payments.
This site participates in the Amazon Services LLC Associates Program, an affiliate advertising program designed to provide a means for sites to earn advertising fees by advertising and linking to Amazon.com.
*Amazon and the Amazon logo are trademarks of Amazon.com, Inc, or its affiliates.
---
SHARE THIS PAGE