NOTE: We earn from qualifying purchases made via Amazon Associates and other affiliate programs. Learn more.
Pitting Leesa against Dromma is not an easy task.
Both are high-quality mattresses with the latest features and plenty of great reviews from customers.
They are also both extremely affordable.
That said, there are some notable differences between them.
For example, Dromma Bed provides a few more features and more customization options than Leesa.
What's In This Comparison
In this new mattress showdown, you will learn how the Leesa and Dromma foam mattresses compare in a number of areas, including price, warranty, comfort, construction and sleeping experience.
My aim is not to tell you which mattress is the best, but to give you the details you need to make a confident choice between these two mattresses.
So, let's get started!
---
Leesa vs. Dromma: Which One Should You Buy?
Here's my bottom line on which mattress you should buy, based upon your preferences and budget – keep reading this page, to learn more:
I gave the Leesa mattress a 4.6 overall rating (out of 5.0).
Buy Leesa if:
You like a medium-firm bed, like 80% of other people do.
You sleep with a fidgety partner. Leesa better insulates you from their movement.
I gave the Dromma mattress a 4.7 overall rating (out of 5.0).
Buy Dromma if:
You prefer the feel of natural latex.
You need a slightly firmer or softer mattress (they offer more comfort choices).
You want a little more bounce in your mattress.
Keep reading to learn more about the differences between these two popular foam mattresses.
---
The Brands Behind The Beds
Leesa
Established in 2015, Leesa was started on the premise of creating high quality mattresses and selling them at a fair price.
This was unlike traditional mattress companies that 'stuff' their mattresses and supply chains with costs, to justify sky-high prices.
In the few years that Leesa has been around, they have become one of the most popular foam mattresses sold online.
But they are not all about selling mattresses. The company is also involved in charity efforts. They have committed themselves to donating one mattress to a shelter for every 10 sold and planting a tree for every mattress sold.
Dromma
Dromma launched in the same year as Leesa and has grown very quickly, thanks to a great mattress and their super-affordable price point.
The company puts its focus squarely on creating the best customer experience possible. Their customer service is superb.
They also make a point of doing all their manufacturing in the United States, which helps in maintaining product quality as well as providing much needed jobs to local families.
---
Mattress Construction
Leesa Construction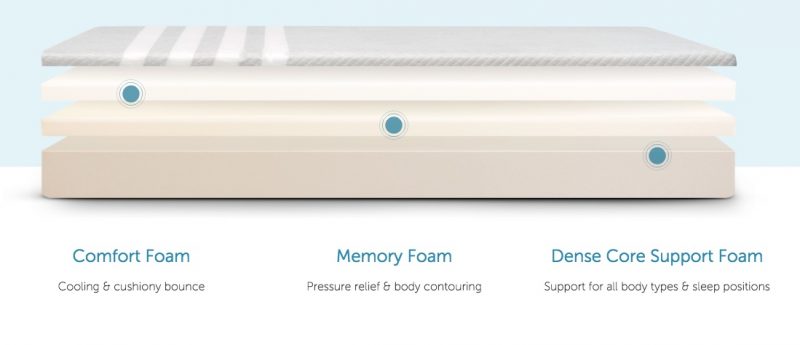 The Leesa is a one-size-fits-all mattress consists of three foam layers designed to work together to create the perfect sleeping experience.
The three layers work together to create a comfortable sleeping experience.
The top layer consists of 2 inches of a special type of foam called LSA200.  LSA200 foam has the comfort and cooling power of latex foam, but with increased durability.
The middle layer is focused on support and body contouring. This is achieved by using 2 inches of memory foam. No matter your body shape or size, this layer easily contours around your body providing the best sleeping comfort.
In the bottom layer, 6 inches of dense foam provides overall support to the mattress. This layer is important in preventing a 'bottoming out' feeling.
It also ensures that the mattress lasts for years, without sagging.
Dromma Bed Construction
The Dromma Bed is also constructed using three foam layers, but the materials used are arguably more advanced & higher quality than those used in Leesa's mattress.
The top layer is designed for maximum comfort. It uses 1.5 inches of natural latex foam. Using natural latex offers the advantage of superior temperature control (sleep cool), breathability (sleep dry and fresh) and increased responsiveness (a great bounce).
The middle layer is focused on support and temperature control. It is made of 2.5 inches of Preserve VG Visco Elastic Gel foam. This specialized material achieves two main goals. One, it contours around the body, which eliminates pressure points and provides premium support especially around the hips, back and neck. Second, it achieves superior temperature and moisture control using the cooling gel infused into it.
The bottom layer consists of 8 inches of foundational support foam, which is 2 inches more than Leesa. This layer has extra firmness to keep the whole mattress well supported and prevent sagging. It can easily last over a decade while still retaining its shape and structure.
While neither of these mattresses uses 100% organic foams, there are no harmful substances contained within either one.
Both mattresses are manufactured fully in the United States, which helps ensure safety and quality.
---
Comfort/Firmness
Leesa Firmness
Leesa is one of the most comfortable foam mattresses you can sleep on, for the price.
That said, Leesa only offers one comfort choice: medium-firm.
Leesa's firmness level was designed to be ideal for about 80% of sleepers. On a scale of increasing firmness, it ranks a 6 out of 10.
This medium firmness is soft enough allow supportive body contouring and also firm enough to prevent too much sinkage.
If you like sleeping on an extra firm or extra soft mattress, then you should consider buying the Dromma, instead.
Dromma Firmness
Unlike Leesa, Dromma offers two different firmness levels: medium soft and medium firm.
The medium soft Dromma ranks a 3 to 4 on a 10-point scale of increasing firmness. As you would expect, it has a little bit more sinkage and a more pronounced 'hug' around the body than the Leesa. This firmness level is ideal for slimmer individuals and side-sleepers.
The medium firm Dromma has a firmness of about 7 out of 10, and is the better choice for stomach sleepers, back sleepers and heavier individuals.  The medium-firm Dromma definitely has less sinkage than the Leesa, too.
---
Sleeping Experience
Overall, the Dromma Bed is about the same as the Leesa in terms of overall sleeping experience. They both have great temperature control, offer adequate support and are very comfortable to sleep on.
The main differences between these two mattresses include their bounce, their thickness and their firmness options.
Leesa Sleep Experience
Leesa ticks all the right boxes when it comes to sleeping experience. It has excellent temperature control thanks to its top LSA200 foam layer. You do not have to worry about the mattress getting overheated at night or retaining cold pockets of air.
Being a medium firm mattress, the Leesa mattress has just the right amount of sinkage and support for most people.
In terms of support, Leesa performs very well, too. The middle layer does an excellent job supporting hips, head, neck, shoulders and back. This eliminates pressure points and provides the best sleeping support.
For couples who are worried about being woken by your fidgety partner, you will be happy to know that the Leesa has minimal motion transfer.
Overall, Leesa provides a great sleeping experience with maximum comfort and support.
It's an easy choice and my favorite single-fit foam mattress at anywhere near this price.
Dromma Sleep Experience
Dromma uses higher0quality materials to create an aweseom sleeping experience, and it shows.
Their specialized middle layer keeps the mattress surprisingly cool. In fact, the Dromma Bed compares with many more expensive foam mattresses on the market, when it comes to keeping cool.
When it comes to body support, Dromma is as good as the Leesa, which is to say: excellent.
Dromma Bed's top latex layer adds a little more bounce than the Leesa, which is great for sexually active couples.
Additionally, we experienced no pressure points, and body weight was evenly distributed across the mattress surface.
As for sinkage, the sleeping experience will depend on which firmness level you get.
The medium soft Dromma has more pronounced sinkage than the Leesa, which is great for side sleepers and slimmer people.
The medium firm Dromma has slightly less sinkage than the Leesa. Barely noticeable, though.
In both firmness levels, motion transfer is minimal.
---
Warranty and Returns
Dromma Bed wins on returns and on warranty: their try-before-you-buy period is a massive 200 nights vs. Leesa's 100-night policy.
And, Dromma offers a 12-year warranty vs. Leesa's 10-year coverage.
Leesa's Warranty & Return Policy
Leesa requires customers to try out the mattress for 30 nights before they make a decision on whether it is right for them.
If they are still not satisfied with the sleeping experience, they have up to a 100 nights to make a free return.
The return will be processed promptly and a full refund made.
Returned mattresses are not restocked, but given away to charities or recycled, depending on local laws and regulations.
As for the warranty, Leesa provides a standard 10-year cover for the mattress. Like most other mattress warranties in its class, Leesa covers workmanship and structural defects that occur within the stipulated amount of time.
Defects due to improper use will not be covered. Transfer of ownership also voids the warranty.
Read Leesa's warranty & return policy to learn more.
Dromma's Warranty & Return Policy
Dromma is extremely generous in both its warranty and return policy.
After buying the mattress, customers have 200 nights to decide whether the mattress is perfect for them.
If you do decide to make a return, Dromma will pick up the mattress at no cost and refund the full amount paid for the mattress.
Like Leesa, Dromma recommends that you use the mattress for a minimum of 30 days before deciding to make a return. This gives your body time to adjust to the mattress and get a true picture of the sleeping experience.
The warranty covers 12 years, during which the company guarantees to cover material defects and workmanship issues that may arise.
Damage resulting from abuse or improper use of the mattress are not covered by the warranty.
Read Dromma Bed's warranty & return policy to learn more.
---
Shipping and Delivery
Leesa Shipping and Delivery

Leesa offers free ground shipping through UPS.
Whether you live in continental United States or in Alaska or Hawaii, shipping is free.
After placing the order, you will be notified via email when your mattress ships. The email will include a tracking number for your shipment.
You can expect your new Leesa to show up at your doorway in about 3 to 5 working days.
The mattress is delivered compressed in a box.
The company does not offer in-home setup, so you have to do everything yourself – but it's no big deal. Once you roll out the mattress, it immediately starts to expand to its full size. Takes a few minutes to reach full size.
If you have trouble, the mattress comes with an easy-to-follow setup guide. You can also get help from Leesa's website.
Dromma Shipping and Delivery
Dromma offers free shipping within continental United States only.
Once you place your order, the mattress will ship in 24 hours, depending on stock availability. Before your order ships, Dromma lets you cancel at no extra charge.
Shipping takes 5 to 7 working days.
Like Leesa, Drooma offers no in-home setup service and the mattress comes compressed in a box. To set it up, simply cut away the packaging and unroll it on a flat surface.
---
Price
Both of these mattresses are extremely affordable, given their quality. Make sure you factor-in coupons before making your decision, though (see next section).
Store-bought mattresses of this quality can cost $2,000 or more.
In contrast, Dromma and Leesa queen beds both cost less than $1,100.
Listed below are the latest discounted prices for both:
Latest Coupons & Discounts
Leesa: Save Up To $750 Now + 2 Pillows + Microfiber Sheet Set →
Dromma Bed usually offers discounts on its main site. To view their offers, visit Dromma's website.
Sign up for our newsletter and we'll send you all of our latest coupons (all brands).
---
Leesa Is Right For You If…
In my overall rating, I give the Leesa mattress a rating of 4.6 out of 5.0.
With our coupon, the Leesa is the better buy, but the difference is really not that much.
I would buy the Leesa if:
You prefer a medium-firm comfort level
You sleep with a fidgety partner. The Leesa mattress has very little motion transfer, minimizing sleep interruptions from your significant other.
---
Dromma is Right For You If…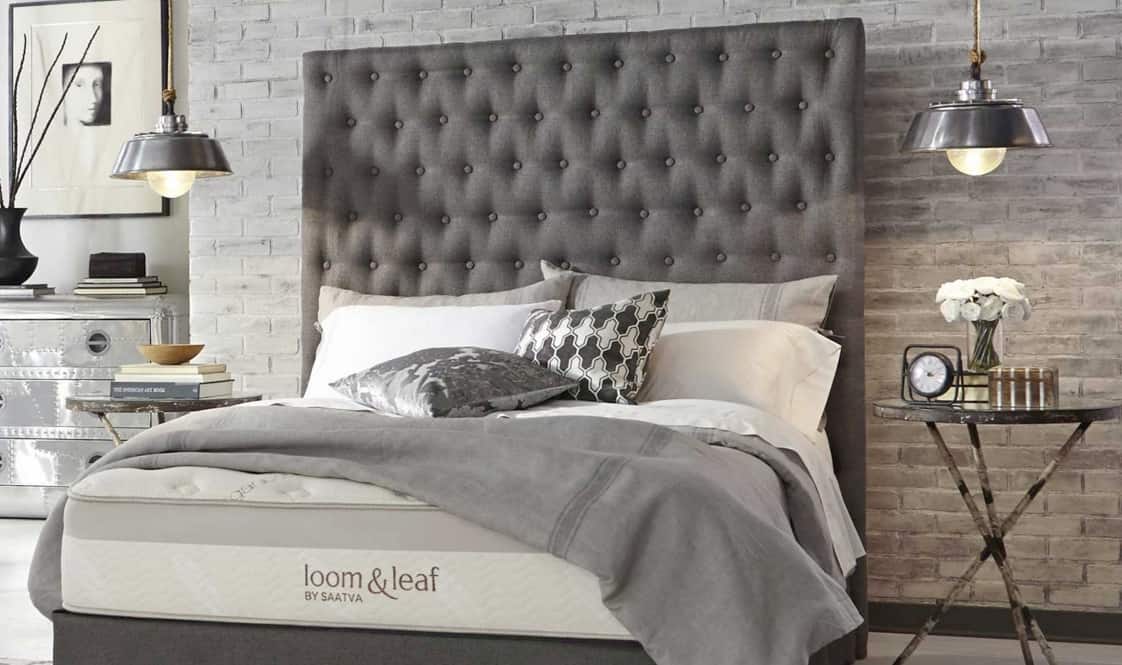 In my overall rating, I give the Dromma Bed a rating of 4.7 out of 5.0, slightly better than Leesa.
Considering the discounts available now, it is slightly more expensive than the Leesa.
But you're getting quite a bit more technology for the price, plus a natural latex top layer.
My recommendation is to choose the Dromma Bed if:
You prefer the feel of natural latex
You need a slightly firmer or softer mattress
You want a little more bounce in your mattress.
---
More Leesa Mattress Comparisons On This Site
---
Affiliate Disclosure
Affiliate Disclosure: I may earn a small commission (at no cost to you) if you purchase a mattress after clicking a referral link or using a coupon code on this site. That said, all content and opinions on this site are my own and are NOT affected by these payments.
This site participates in the Amazon Services LLC Associates Program, an affiliate advertising program designed to provide a means for sites to earn advertising fees by advertising and linking to Amazon.com.
*Amazon and the Amazon logo are trademarks of Amazon.com, Inc, or its affiliates.
---