NOTE: We earn from qualifying purchases made via Amazon Associates and other affiliate programs. Learn more.
In this head-to-head mattress comparison, we are going to pit the extremely popular Leesa mattress against a younger, trendier brand, Purple Mattress.
Purple made waves in 2015 when they raised over a hundred thousand dollars on Kickstarter to launch their mattress. But what makes them unique is what they use in their mattress.
Unlike most foam and spring mattresses, the Purple mattress uses hyper-elastic polymer to provide high-level support and responsiveness.
I find it a bit challenging to describe how Purple's unique feel differs from Leesa, but I give it my best shot in this comparison.
Suffice it to say: these mattresses offer very differently sleeping experiences.
---
What's In This Comparison
In this new mattress showdown, you will learn how the Leesa and the new Purple mattress compare in a number of areas, including price, warranty, comfort, construction and sleeping experience.
My aim is not to tell you which mattress is the best, but to give you the details you need to make a confident choice between these two mattresses.
So, let's dive in!
---
Leesa vs. Purple: Which One Should You Buy?
We think Leesa is the best mattress choice if you sleep on your side or stomach and prefer a softer or more conforming mattress.  Leesa sleeps a bit warmer than the Purple does, however.
The Purple original mattress is more expensive, but remains our top choice for back sleepers and for people who weigh over 200 lbs.  The feel of the Purple is like no other mattress we've tried.  Some don't like it, but Eric and I love it.
Keep reading this page to learn more about these differences.
I gave the Leesa mattress a 4.6 overall rating (out of 5.0).
Buy the Leesa if:
You need a Full or Twin size (Purple doesn't offer those, yet)
You prefer the feel of memory foam.
You want to save a little money.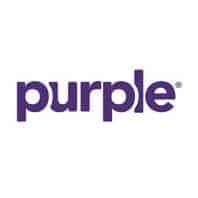 I gave the Purple mattress a 4.7 overall rating (out of 5.0).
Buy the Purple Mattress if:
You need exceptional support and pressure relief (back pain, etc.).
You and your partner have different sleeping preferences.
You're willing to try a new type of mattress: the feel is truly unique – and very nice.
Keep reading to learn more about these differences.
---
Mattress Construction
Leesa
The Leesa mattress uses a standard foam construction consisting of three layers of foam adding up to a thickness of 10 inches.
The three layers are carefully designed to provide temperature control, back support, contouring, and durability.
LSA200 foam – the top 2-inch layer uses patented foam that carries the best qualities of both latex and memory foam. It's more responsive than memory foam while also having better pressure relief than latex foam. Additionally, it keeps the mattress cool and dry through its breathable structure.
Memory foam – the second 2-inch layer is designed for pressure relief. It contours around your hips, shoulders and back to prevent the formation of pressure points. This layer also balances the firmness of LSA200 foam, making the Leesa mattress firm enough for support but also soft enough for comfort.
Support foam – as with most mattresses, the bottom 6-inch layer consists of dense support foam. Its role is to hold up the other layers of the mattress while also providing robust support to the sleeper.
Purple
Purple replaces the traditional foam with a unique material in the top layer: Hyper-Elastic polymer. This gives it a slight edge over the Leesa mattress regarding responsiveness and contouring.
The other two layers (there are three in total) use normal foam, as follows:
Hyper-Elastic Polymer – originally used in cushioning products like chairs, hospital beds, and even toy balls, Hyper-Elastic Polymer has a special grid-like design with walls that react to the amount of pressure on them. The individual walls collapse around areas like your hips and shoulders (for contouring) but stay upright in low-pressure areas like your back and lower body (for support and alignment).
Transitional Polyurethane Foam – the 3.5-inch foam provides compression support ensuring you don't sink in too far.
Foundational Polyurethane Foam – 4 inches of high-density foam form the bottom layer of the mattress. This layer provides enhanced support, especially for those with heavier bodies, and keeps the mattress in shape for years.
Construction-wise, the purple vs. Leesa battle is roughly a draw. Purple has its specially-designed polymer to boast about. On the downside, the mattress uses polyurethane foam (the cheapest and lowest quality type of foam) in the other two layers.
Leesa, on the other hand, lacks any unique super-elastic polymer but it uses high-quality foam in all layers.
---
Comfort and Firmness
Leesa
The Leesa mattress is a medium-firm mattress, the sweet spot for most people. I would rate it at around 6 out of 10 on a scale of increasing firmness.
The top layer of LSA200 foam feels quite firm especially when you first lie on it. It gives the mattress a sturdy and supportive surface.
After a few minutes, the softer pressure relieving nature of the memory foam layer underneath becomes apparent firm especially when you first lie on it.
The firm top layer is balanced out by a softer second layer, creating the perfect balance for quality sleep. Whether you sleep on your stomach, back or side, the mattress feels comfortable and supportive.
The bottom foundational layer prevents the mattress from bottoming out after just a couple of years. It also provides extra support heavier bodied sleepers.
Purple
Purple's Hyper-Elastic polymer layer is its saving grace. It is a multi-functional layer that provides support, pressure relief, and temperature control all using a single material.
Also, it is highly versatile thanks to its ability to adapt to your specific sleeping position and body weight. So it will feel comfortable regardless of your sleeping position or physique.
The two poly foam layers below are mostly for support. They ensure that the top layer does not crater in the middle and that the mattress can last for years while still in excellent shape.
Overall, the Purple mattress has a medium-firm feel with a firmness rating of 6-7 out of 10. But because of the adaptive nature of the top layer, different people will have varying experiences.
If you are light and lean-bodied, the mattress may feel slightly firm because there isn't enough pressure to collapse the grid walls (except around pressure points like your hips).
For heavier individuals, the increased pressure results in more walls collapsing to adapt. The mattress feels a bit softer.
---
Sleeping Experience
Leesa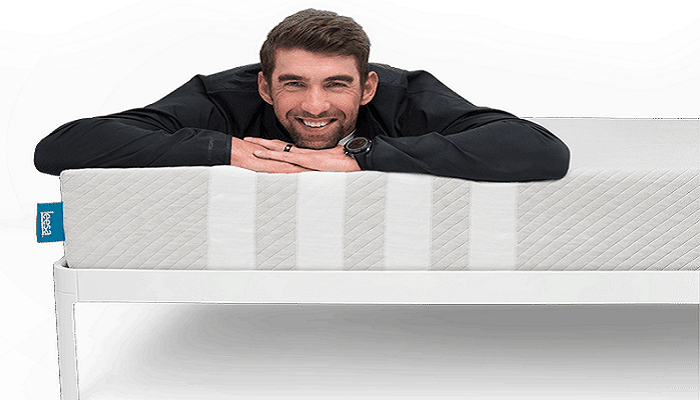 Leesa is one of the highest rated mattresses on the market. Users rate their sleeping experience highly saying that the mattress is supportive, comfortable and cool.
The top layer does a great job distributing your weight evenly across the mattress while the second memory foam layer is exceptional at pressure relief. What may surprise you most, however, is just how bouncy Leesa is for an all-foam mattress.
Regarding temperature control, Leesa thought well to use memory foam as the second layer. If it were the top layer, the mattress would get too hot at night.
LSA200 foam is much better than traditional memory foam at temperature control. Leesa has designed the foam with more air spaces, thus improving its heat dispersion ability.
Overall I rate Leesa's sleeping experience at an 8/10. It has great support, even at the edges, stays cool throughout the night and is just as comfortable as luxury mattresses that cost thousands more.
Purple
As I mentioned, Purple's sleeping experience will vary from one person to the other. For instance, I love soft mattresses while my partner loves firm ones. But we are both satisfied with the Purple mattress. Its capability to adapt to different situations is the best thing about it.
It's like it knows what you like and what your body needs and responds to it. The top Hyper-Elastic polymer layer is good enough to make up for the low-quality foam used in the other layers.
The grid-like structure of the top layer keeps things cool even on warm nights. Anybody heat released is quickly carried away by circulating air. If you tend to get perspiring at night, don't worry, the mattress stays dry and fresh.
I also rate purple 8/10 regarding sleeping experience, same as Leesa. Both have their issues, but they impressed me enough that it's really difficult to choose the best between them.
I will say this, however: if you are a couple with different comfort preferences, the Purple mattress is better for you since it adapts to every person's sleeping needs better than the Leesa can.
---
Warranty and Returns
Leesa
Leesa offers a 10-year warranty for its mattress. This is the standard period for most mattresses.
The limited warranty covers manufacturing defects and workmanship issues as specified in the warranty statement.
When claiming the warranty, Leesa will either replace or repair the mattress, but you'll bear the transport costs. If you get a replacement mattress, it will not be covered under any warranty.
These and many other specifics are explained in the full warranty statement. So make sure you read it before buying the mattress.
As for returns, Leesa allows a 100-day trial period. If after thirty days you are not satisfied with the mattress, just contact customer support to initiate the return process. The company will refund you in full.
Learn more about Leesa's warranty and return policy on their website.
Purple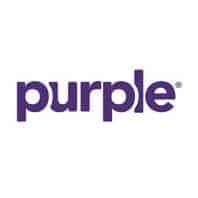 Purple's warranty is almost similar to Leesa's with just a few differences.
For one, it also extends over ten years from the date of purchase. Secondly, while Purple will not charge you for repair or replacement, you are responsible for any additional costs associated with transport and inspection.
Purple, however, provides different coverage for the mattress cover, which is covered under a 2-year warranty. As with the mattress, they can either repair or replace the cover, but transport costs are on you.
Both warranties are very strict on what kind of damage is covered. They specifically warn that the warranty will not be respected if the mattress was improperly used such as using it on the wrong foundation. Check the care instructions that come with the mattress or on their websites for directions on how to properly use each mattress.
Purple also gives customers 100 days to test the mattress and decide if it is ideal for them. They recommend sleeping on the mattress for at least 30 nights before initiating a return. If you decide to return the mattress make sure it is clean and undamaged but don't try to get it back into the box undamaged but don't try to get it back into the box.
Learn more about Purple's warranty and return policy on their website.
---
Shipping and Delivery Options
Leesa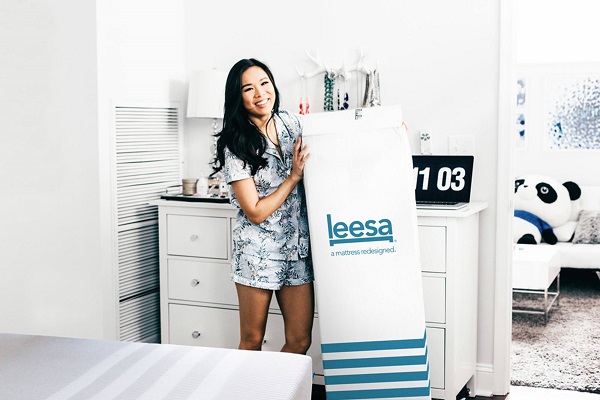 Leesa provides free shipping to all states, including Alaska and Hawaii. They also don't charge any shipping or import costs if you are purchasing from Canada.
As for the delivery period, it will vary depending on your location and order volume. It takes 3-5 business days to build a new mattress after an order has been placed. Delivery via UPS then takes 1-5 business days. So the mattress could be at your doorstep in 4-10 business.
But you can keep an eye on the delivery through a tracking code that will be emailed to you as soon as your order ships.
Leesa does not provide any additional delivery services such as white glove delivery or expedited shipping. For additional help with your shipping, Leesa recommends communicating with UPS directly.
Purple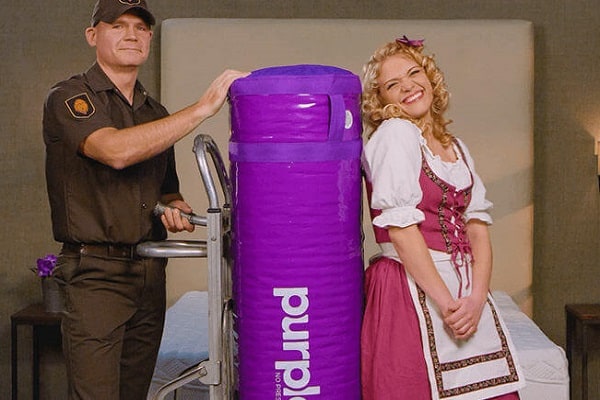 Purple also provides free shipping, but their generosity does not extend to Alaska, Hawaii or Canada. If you are in one of these three locations, you'll pay an extra shipping fee which will be calculated at checkout.
They also don't have expedited shipping, white glove delivery or any special shipping and delivery services.
---
Price
Purple is very slightly more expensive than Leesa on list price. That said, in the mattress industry what really matters is the price you pay after discounts and coupons.
Right now, SleepDelivered readers can save up to $400 on any Leesa mattress – click a price below to claim it.
We don't offer a discount on Purple right now, unfortunately.
Financing
Purple & Leesa both offer an Affirm financing option that gives customers the opportunity to pay in smaller monthly chunks rather than a single payment.
---
Latest Coupons & Discounts
Plan to keep shopping?
Sign up for our newsletter and we'll send you all of our coupons, right away.
---
Leesa Is The Right Mattress For You If:
You are looking for a high quality, affordable foam mattress that will support your back and provide a comfortable sleeping experience.
---
Purple Is The Right Mattress For You If:
You need a mattress with exceptional support and pressure relief.
You have existing back and joint problems – I recommend the Purple mattress over the Leesa.
You and your partner have different comfort needs.
---
More Purple Mattress Comparisons On This Site
More Leesa Mattress Comparisons On This Site
---
Affiliate Disclosure
Affiliate Disclosure: I may earn a small commission (at no cost to you) if you purchase a mattress after clicking a referral link or using a coupon code on this site. That said, all content and opinions on this site are my own and are NOT affected by these payments.
This site participates in the Amazon Services LLC Associates Program, an affiliate advertising program designed to provide a means for sites to earn advertising fees by advertising and linking to Amazon.com.
*Amazon and the Amazon logo are trademarks of Amazon.com, Inc, or its affiliates.
---