NOTE: We earn from qualifying purchases made via Amazon Associates and other affiliate programs. Learn more.
GhostBed is a subsidiary of Nature's Sleep a major bedding company that has been around for more than 15 years. It is a budget memory and latex foam mattress that comes with a 101-day trial period and a 20-year warranty. Prices start at 
.
Tuft & Needle is an extremely popular 2-layer mattress with a 100-night trial period and a 10-year warranty. It's a budget mattress with the smallest size starting at 
.
---
What's In This Comparison
I am going to compare these two mattresses on several features to help you decide which one is best for your needs.
If you don't want to go through the entire comparison, use the following table of contents to skip to specific feature comparisons.
If you want more options beyond GhostBed and Tuft & Needle, see all of my picks for the best online mattresses.
---
GhostBed Classic vs. Tuft & Needle: Which One Should You Buy?
Here is a quick summary of each mattress.
[one_half]
I gave the GhostBed an overall rating of 4.6 out of 5.0.
BUY THE GHOSTBED IF:
You share your bed with a fidgety partner
You are heavier than average
[/one_half] [one_half_last]
I gave the Tuft & Needle an overall rating of 4.5 out of 5.0.
BUY THE TUFT & NEEDLE IF:
You want to spent $100-200 less
[/one_half_last]
---
How do GhostBed and Tuft & Needle Compare?
Similarities
GhostBed and Tuft & Needle are both budget all-foam mattresses. The GhostBed mattress starts at 
 while a Tuft & Needle starts at a considerably lower 
.
Both use an all-foam construction though the actual type of foam used is different in each.
The trial periods are roughly the same at 100 days, and both offer a financing option through, different third parties.
The mattresses are also very similar regarding firmness. Neither of them feels like a luxury pillow top mattress. What you get with each is a supportive firmness balanced out with just a bit of plush for a comfortable medium-firm feel.
Key Differences
GhostBed is an inch taller than the 10-inch Tuft & Needle. The construction differences become even starker when you look inside.
While many mattress companies love to boast about their various layers that do this or that, Tuft & Needle has opted for utter simplicity. They only use two layers; 1 comfort/support layer and the base. GhostBed has a standard 3-layer construction.
There is also a difference in their price tags especially as you go up the mattress sizes.  Their twin sizes are only $170 apart. But if you want a queen size mattress, you have to pay $320 more for the GhostBed compared to Tuft & Needle.
While they are both low-cost mattress brands, GhostBed almost breaks out of that price category with its bigger sizes. In fact, their King and Cal King cross the $1,000 mark.
Another major difference is in their warranties. Tuft & Needle has a standard 10-year warranty. GhostBed has a 20-year warranty though only the first half of that coverage period is non-prorated.
Price
| | | |
| --- | --- | --- |
| Size | GhostBed | Tuft & Needle on Amazon.com |
| Twin | | |
| Twin XL | | |
| Full | | |
| Queen | | |
| King | | |
| CA King | | |

Financing
Tuft & Needle offers to finance through Affirm while GhostBed works with Klarna and Zibby.
Coupons
We currently don't have coupons for either mattress. But check out GhostBed's and Tuft & Needle's official website for current discounts and offers.
Specifications
Mattress

GhostBed




Tuft and Needle

Rating
4.6
4.5
Price
- on Amazon
 - on Amazon
Comfort Choices
Med. Firm
Med. Firm
Construction
Latex foam + gel-infused memory foam
Latex-like polyfoam
Heat Transfer
Excellent
Good
Motion Transfer
Medium
Medium
Sinkage
Moderate
Minimal
Off-Gassing?
Yes
Yes
Trial Period
101 nights
100 nights
Warranty
20 years (first 10 non-prorated)
10 years
non-prorated
Eco-friendliness
CertiPUR-US certified foam
CertiPUR-US foam
Delivery
3-5 days
1-5 days
Customer Service
Excellent
Good


---
Mattress Construction
They are both foam mattresses, GhostBed with three layers and Tuft & Needle with 2.
GhostBed
GhostBed uses latex and memory foam to achieve the perfect balance between soft and firm. But let's talk about the cover first.
It is a combination of polyester and viscose. This makes it soft yet stretchy. It is thin to ensure breathability but tough enough to avoid tears.
Here are the three foam layers.
1.5" aerated latex foam –Having latex on top gives the GhostBed a nice bounce and prevents heat buildup. The latex foam is aerated to boost cooling and airflow. This allows excess heat and moisture to dissipate away from the mattress.
2" gel memory foam –This layer provides instant pressure relief. It contours around your body, eliminating pressure points and settling you in for a snug sleeping experience. The gel works with the aerated structure of the top layer to further increase cooling.
7" polyfoam – The base consists of high-density foam to provide compression support and prevent cratering.
To know more, check out our in-depth Ghostbed mattress review.
Tuft & Needle
Tuft & Needle has only two layers. The original mattress had three but they were cut to two in later updates to improve cooling and pressure relief.
3" Tuft & Needle Adaptive Foam –This layer functions both as a support and comfort layer. Adaptive Foam is a proprietary foam that has the best properties of memory foam and latex foam. It feels soft and comfortable yet still firm and supportive. It contours well around your body for pressure relief stays cool, has latex-like bounciness and provides good lumbar alignment.
7" polyfoam –A high-density layer of foam provides further support while also ensuring the mattress lasts for years.
Tuft and Needle's cover is a blend of micro polyamide and polyester. Micro Polyamide is an alternative to cotton. It dissipates heat and moisture faster than cotton. Polyester gives the cover a soft, lush feel.
Also, the Tuft and Needle mattress contain a fire sock free of any fire retardant chemicals. The sock is made from naturally fire resistant fibers.
---
Comfort and Firmness
Both brands offer only one medium-firm mattress option. On the upside, this makes buying a mattress fairly straightforward.
On the downside, you are locked out if you prefer an extra-firm or an extra-soft mattress.
GhostBed
Because of the latex foam on top, the GhostBed mattress feels a bit firmer compared to a memory foam mattress. But the firmness is balanced by the pressure-relieving memory foam in the second comfort layer.
Out of 10, where ten is very firm, the GhostBed is around 6.5/10. Depending on your weight and sleeping position, you may experience it as a bit firmer or softer than this.
Tuft & Needle
Tuft & Needle also lacks that soft plush feel of a memory foam mattress. The Adaptive Foam used in the top layer is almost like latex regarding firmness. But it still has some memory foam qualities, which counters the firmness.
So you get a mattress that swings somewhere in the middle, around 6.5/10.
Both mattresses are ideal for most kinds of sleepers. Whether you sleep on your back, stomach, side or you are a combination sleeper; I think you are going to love the feel of either mattress.
---
Sleeping Experience
GhostBed's and Tuft & Needle's sleeping experiences are roughly the same for many people. But if you are plus size, the GhostBed is a better choice.
GhostBed
At first, the GhostBed mattress might feel too firm. This is because of the top latex foam layer. But within a minute, you'll start feeling the soft memory foam beneath. The mattress feels fairly firm and supportive but without any painful pressure points.
Under areas where you are pressing harder into the mattress such as your shoulders, it's going to feel softer.
The breathable cover and the aerated latex do a good job of keeping the mattress cool and fresh.There won't be any heating regardless of the weather outside.
Motion control is minimum, edge support is good and any smell you feel when you open the mattress will be gone in a couple of days.
Tuft & Needle
Tuft & Needle also tends to feel firm at first. In fact, a lot of customers say they regretted their purchase for a moment before the mattress settled in and got more comfortable.
Within a few minutes, you'll start experiencing the softer side of the mattress. But if you have been sleeping on an old worn mattress, it may take several days to get used to the Tuft & Needle.
So don't return it immediately if at first, it makes your back and shoulders hurt a bit. Give your body at least 30 days to acclimate to it.
I've seen several bigger bodied customers (around 280 pounds) say the mattress still felt a little bit too firm under some spots like the shoulders and lower back. For heavier sleepers, I recommend the GhostBed. If you still want to buy Tuft & Needle, you may also have to get a soft topper.
The mattress keeps cool thanks to the breathable cover, the latex-like foam and the fact that it has only two layers which increases airflow.
There is no motion transfer (unless you are jumping up and down the bed)and I like how bouncy it feels. It's perfect for couples looking for an affordable mattress that is good for sex.
Edge support is good, and any off-gassing quickly dissipates within 1 to 2 days.
---
Warranty and Returns
GhostBed
GhostBed gives customers 101 nights to test their new mattress. If you don't like the mattress, you can return it free of charge. But you'll need to sleep on it for at least 30 days.
If you keep it, you'll be covered by a 20-year warranty. The warranty is full in the first ten years and prorated in the final ten years. In year 11, you pay 50%of the original purchase price if you want a new mattress. This increases by 5% for every subsequent year.
Tuft & Needle
Tuft & Needle offers a 100-night trial period but only if you buy on their official website. If you buy on Amazon, you only get 30 days to make a return.
Returns are free of charge. They will coordinate with you to donate the mattress to charity or send a third party to pick it up. Most returned mattresses find their way to charity organizations. Those that don't are recycled instead of being thrown into landfills.
The warranty is a standard ten years and is non-prorated.
---
Shipping & Delivery
GhostBed
You get free shipping but only if you live in the contiguous United States. For Alaska and Hawaii residents, the shipping charge is a whopping $600. Even worse, all sales are final. You cannot return a mattress.
GhostBed does not offer white glove delivery, but they do have expedited shipping upon request.
Tuft & Needle
You get free shipping but only if you live in the contiguous United States. Shipping fees to Alaska and Hawaii are considerably less than GhostBed's ($120-$190 based on size).You can make a return, but only the cost of the mattress will be refunded.
The Tuft & Needle mattress arrives in 2-5 days via FedEx. For Alaska and Hawaii, it takes 7-10 days.
---
Foundation and Frame
GhostBed
GhostBed can be placed on any sturdy frame that is in good condition. This includes a non-flexing box spring, slatted foundation, solid frame, adjustable base or even directly on the floor.
Tuft & Needle
Tuft & Needle also works with any frame as long as it provides good support. You can use a box spring, adjustable base or slatted frame.
---
Care and Cleaning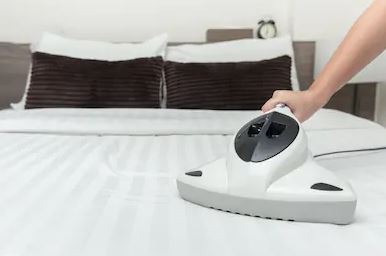 GhostBed
The GhostBed cover is removable but do not machine wash it. If it gets stained, spot clean it using a mild detergent. Even better, get a mattress protector.
You should rotate the mattress every six months to avoid uneven wearing.
Tuft & Needle
Tuft & Needle also has a zippered cover, but they strongly recommend against removing it. Spot cleaning should get rid of any stains. Ideally, you should cover it with a mattress protector from the day you get it.
You don't have to rotate the mattress.
Where To Buy
More Ghostbed Mattress Comparisons:
More Tuft and Needle
 Mattress Comparisons:
---
Affiliate Disclosure
Affiliate Disclosure: I may earn a small commission (at no cost to you) if you purchase a mattress after clicking a referral link or using a coupon code on this site. That said, all content and opinions on this site are my own and are NOT affected by these payments.
This site participates in the Amazon Services LLC Associates Program, an affiliate advertising program designed to provide a means for sites to earn advertising fees by advertising and linking to Amazon.com.
*Amazon and the Amazon logo are trademarks of Amazon.com, Inc, or its affiliates.
---