NOTE: We earn from qualifying purchases made via Amazon Associates and other affiliate programs. Learn more.
GhostBed Classic is a bed-in-a-box launched in 2015 by Nature's Sleep, a major bedding company that's been around for more than a decade. It is a budget all-foam mattress that starts at
.
Purple Original is a unique type of mattress that features a revolutionary new material that provides a truly unique feel. The startup launched in 2015 on Kickstarter and has quickly become one of the best-known online mattress brands. 
What's In This Comparison
In this comparison, we are going to compare the GhostBed Classic and the Purple Original mattresses on a number of features.
My goal is to help you understand how they really differ, so you can choose the best mattress for your needs.
If you are short on time, then use this table of contents to jump to specific feature comparisons you want to know about.
If you'd like to learn about other mattresses or see how either of these great choices compare with others, then check out my mattress buying guide.
---
GhostBed Classic vs Purple Original : Which Should You Buy?
We think the Ghostbed Classic is the best mattress choice if you sleep on your back or on your stomach and prefer a firmer feel.  The Purple Original is the better choice if you are heavier, prefer a softer mattress or sleep on your side.
When it comes to price, the Ghostbed Classic is far less expensive than the Purple Original, but the Purple offers a unique body-adaptable feel that is worth the extra price, in our opinion.
---
How Do GhostBed and Purple Compare?
Similarities
Both of these are technically foam mattresses and lack springs. Both use three layers in their construction.
Both mattresses are also available in just one comfort level; medium firm.
Buyers of both also get a 100-day return period (101 days for GhostBed).
Key Differences
GhostBed and Purple are actually quite different in terms of their materials in their layers.
GhostBed uses latex and memory foam, while Purple uses a special type of material called Hyper-Elastic Polymer plus foam.
GhostBed is the thicker of the two with a height of 11 inches. Purple is 9.5 inches thick.
There is also a big difference in their price tags.
The most expensive GhostBed size, the Cal King, costs just a smidge above . Purple starts at $699 and goes all the way up to $1,300.
GhostBed also has the longer warranty at 20 years, non-prorated for the first 10 years. Purple offers a non-prorated 10 year warranty.
Price
Financing
Purple offers 6, 12 and 18-month financing through Affirm (credit approval required).
GhostBed offers financing through Klarna or Zibby.
Coupons
We currently don't offer coupons for either mattress. But check out GhostBed and Purple's official website for the latest discounts and offers.
Specifications
| Mattress | GhostBed | Purple |
| --- | --- | --- |
| Rating | 4.6 | 4.7 |
| Price | - on Amazon | $599 - $1,398 |
| Comfort Choices | Med. Firm | Soft+Firm Combination |
| Construction | Latex foam + gel-infused memory foam | Hyper-Elastic Polymer top + polyester foam base |
| Heat Transfer | Excellent | Excellent |
| Motion Transfer | Medium | Low |
| Sinkage | Moderate | Moderate |
| Off-Gassing? | Yes | Yes |
| Trial Period | 101 nights | 100 nights |
| Warranty | 20 years (first 10 non-prorated) | 10 years |
| Eco-friendliness | CertiPUR-US certified foam | CertiPUR-US foam |
| Delivery | 3-5 days | 7-14 days |
| Customer Service | Excellent | Excellent |
| | | |
---
Mattress Construction
GhostBed Construction
GhostBed has a 3-layer foam design with a soft plush cover on top.
The cover is made from a blend of polyester and viscose. This gives it a snug stretchy fit, makes it soft and ensures it is breathable.
The first layer is 1.5 inches of aerated latex foam. It responds instantly when you lie on the mattress, distributing your weight and contouring to your body angles and curves.
It feels plush, like a soft hug all over your body. The aerated design helps dissipate heat and moisture away from the mattress.
The second layer is 2 inches of gel memory foam. Unlike traditional memory foam, this one has a special large-cell design that improves pressure relief and cooling. The gel infused into the foam helps with heat dissipation.
The base layer is 7.5 inches of high-density polyfoam. It provides overall support, stability, and longevity.
To know more, check out our in-depth Ghostbed mattress review.
Purple Construction
Purple also has three layers plus a soft cover on top.
The cover is made of viscose, polyester, and Lycra (commonly used in sports clothing). It feels soft, breathable and stretchy.
The first and most important layer in the Purple original mattress is its 2 inches of Hyper-Elastic Polymer.
The first layer is arranged in a grid structure where the walls collapse or remain upright depending on the amount of pressure on them. This creates a unique contouring effect: the material relieves pressure on high-pressure areas like the hips and provides support for low-pressure sections like the back.  But it also yields easily under light pressure, making it feel really plush on top.
The second layer is 3.5 inches of poly foam with a density of 1.8lbs. It distributes your weight evenly, ensuring proper alignment especially for your lumbar area.
The base layer is 4 inches of poly foam. It is denser than the middle layer and provides added compression support especially for couples and heavier sleepers. It also ensures the mattress lasts long without cratering or going flat.
---
Comfort and Firmness
You only get one comfort choice with either mattress. Both are medium firm, designed to offer universal comfort and support to different types of sleepers.
GhostBed
GhostBed is a medium-firm mattress with a firmness rating of around 6.5/10.
This is the ideal comfort level for most people. It is especially good for stomach and back sleepers who need a balance between plush and firm.
Purple
Purple is also a medium firm mattress, though slightly firmer than GhostBed. It has a firmness rating of 6/10 where ten is the firmest.
Purple is great most types of sleepers, but I recommend it more for back and stomach sleepers than the Ghostbed.
Heavier side-sleepers may prefer the feel of GhostBed's latex and memory foam layers, as the Purple's top layer does bottom-out more under heavy weight.
---
Sleeping Experience
Both mattresses perform well on factors that contribute to a great sleeping experience, namely: cooling, overall support, pressure relief, smell and motion transfer.
GhostBed
GhostBed uses latex and memory foam to achieve a nice blend of the two.
Latex is naturally firm and responsive.
Memory foam is naturally softer and pressure-relieving.
Combined, you get a mattress that is adequately firm and supportive and also soft and easy on your bones and joints.
Several customers reported an initial extra-firm feeling immediately when they lay on the mattress. But within a few minutes, the pressure relief from the memory foam underneath comes through, and the mattress feels softer.
There are very few reports of heating issues from customers. The aerated latex foam on top and gel memory foam in the middle do a great job of keeping heat away from the mattress.
Thanks to the latex foam layer on top, motion transfer is minimal. This is a plus for couples especially if your partner gets fidgety at night.
There might be a bit of smell when the mattress is new, but it fades away within a few hours. After that, the mattress smells fresh.
Purple
Purple also give you that Goldilocks magic, but it achieves it differently.
The grid-shaped Hyper-Elastic Polymer top layer responds differently to each person's weight and sleeping position.
When your butt, hips, and shoulders press down on the mattress, it feels soft because the grid walls collapse easily. Where there is less pressure (your lower back, legs, and stomach), it feels firmer because the grid walls stay intact.
Heating is not an issue. The grids maintain free airflow in and out of the mattress, keeping the mattress cool and fresh.
The grid design also dramatically reduces motion transfer from your partner (or a large pet).
Off-gassing from the Purple mattress is less noticeable than for the Ghostbed. It fades away quickly as the foam airs out.
---
Warranty and Returns
Both mattresses have the same return period (OK, there's a 1-day difference), but different warranty policies. In both cases, you enjoy a no-risk shopping experience. If you don't like the mattress, you can return it for free within the return period.
GhostBed
Starting from the day the GhostBed mattress is delivered to your home; you have 101 days to test out the mattress. Give yourself at least 30 days to acclimate to the new mattress.
If you don't like it, they will pick it up from your home for free and give you a full refund. Returned mattresses are donated to charity or recycled.
If you decide to keep it, the mattress will be covered by a 20-year warranty. During the first ten years, GhostBed will handle repair/replacement costs. You'll only be responsible for shipping and handling costs.
In the 11th year, you'll pay 50% of the original mattress price to get a new mattress. After that, the prorated charge increases by 5% (from 50%) of the original price for each year.
Purple
Purple offers a 100-day trial period. If you decide to return it (after at least 30 days), they'll pick up the mattress from your home at no charge and give you a full refund. Returned mattresses are either recycled or donated to charity.
The warranty is ten years long and non-prorated. Purple will not charge you to replace or repair the mattress.
---
Shipping and Delivery
Both companies offer free shipping but only in the continental US. If you order from Alaska or Hawaii, you have to pay extra for freight.
The shipping charges can be quite hefty, so I recommend just finding another company that ships free to Alaska and Hawaii. Two good examples are Leesa and Casper.
GhostBed
GhostBed offers free shipping in the 48 states in the continental US. Shipping to Alaska or Hawaii costs $600, and no returns are allowed.
The mattress is delivered in a compact box to your front door. There is no White Glove delivery, so you have to set up the mattress yourself.
You can also request expedited 24-hour delivery. Visit GhostBed's official site to check whether the expedited option is available in your location and at what cost.
Purple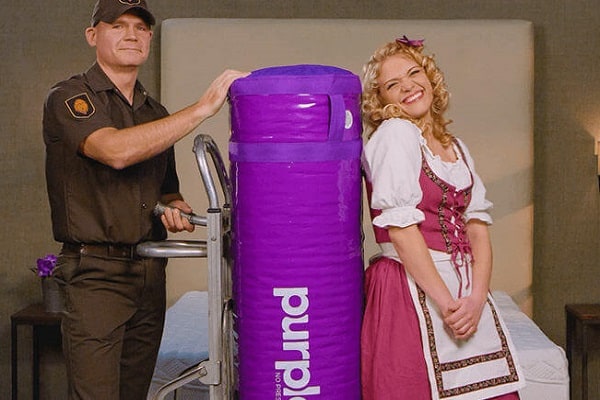 Purple also offers free shipping only to the continental US. Shipping fees for Alaska, Hawaii, and Canada are calculated at checkout.
Purple offers no help with setup or disposing of your old mattress. The mattress will be delivered in a compact box to your door. The rest is on you.
---
Foundation & Frame
GhostBed
GhostBed can be used on a wide variety of foundations as long as they are in good condition and offer non-flexing support.
You can place it on a box spring, a platform bed or slatted foundation with the slats a maximum of 4 inches apart.
You can also place it on the floor but beware mold-causing humidity.
The GhostBed mattress can be used with an adjustable base.
Purple
The Purple mattress is quite heavy – check your foundation's weight limit before placing the mattress on it. You can use a solid platform, slatted platform (slats no more than 3 inches apart) or even the floor.
Purple does not recommend placing it on a box spring, because they wear out quickly.
The Purple mattress can also be used with an adjustable base.
---
Care and Cleaning
GhostBed
GhostBed strongly recommends using a mattress protector to protect the cover and the mattress. But in case the cover gets stained, remove it and spot clean using a mild detergent. Do not bleach or tumble dry it. It cannot be removed for machine cleaning.
You cannot flip the GhostBed, but they recommend you rotate it every six months.
Purple
You can buy a mattress protector from Purple or use any other good quality protector. If the cover gets stained, remove it and spot clean it using an upholstery cleaner or mild detergent.
Because the comfort level is on one side only, you cannot flip the mattress. You can rotate it, but Purple says it is not a must.
Where To Buy
More Ghostbed Mattress Comparisons:
More Purple Mattress Comparisons:
---
See My Favorite Products of 2021!
Select a list >
Mattresses
Toppers & Pads
Cooling/Heating
Pillows
Sheets
Touch a tab above to reveal my top picks for that category.
---
Learn More
Compare Mattresses Side-by-Side
---
Affiliate Disclosure
Affiliate Disclosure: I may earn a small commission (at no cost to you) if you purchase a mattress after clicking a referral link or using a coupon code on this site. That said, all content and opinions on this site are my own and are NOT affected by these payments.
This site participates in the Amazon Services LLC Associates Program, an affiliate advertising program designed to provide a means for sites to earn advertising fees by advertising and linking to Amazon.com.
*Amazon and the Amazon logo are trademarks of Amazon.com, Inc, or its affiliates.
---