Affiliate Disclosure: I may earn a small commission (at no cost to you) if you purchase a mattress after clicking a referral link or using a coupon code on this site. That said, all content and opinions on this site are my own and are NOT affected by these payments.
Looking to save some money on a great-sleeping foam mattress? Then definitely check out Purple and Ghostbed.
Both are relatively new products that have become very popular in a very short time.
Purple is a startup that came out with a bang when they launched on Kickstarter. They offer a truly unique mattress with a very different top layer that my husband and I love.
Ghostbed's parent company, Nature's Sleep, has been around for a decade. But today's Ghostbed mattress was launched more recently. Their latex and memory foam mattress is gel-infused to aid in cooling.
Ghostbed is the more traditional and less expensive choice.
Purple is more expensive, and it promises better support and a unique comfort layer / feel.
So which is right one for you?
---
What's In This Comparison
In this detailed comparison, we will compare Ghostbed vs. Purple on areas including comfort, construction, support, cooling, warranty and, of course, price.
My goal here is to give you enough details to make your own decision.
If you want an in-depth look at each mattress, read our Purple mattress review and our full review of the Ghostbed mattress. 
---
Ghostbed vs. Purple: Which One Should You Buy?
Here's my bottom line on which one you should buy, based upon your preferences and budget – keep reading this page, to learn more:
I gave the Ghostbed mattress an overall rating of 4.6 out of 5.0.
Buy the Ghostbed if:
You prefer the cradling feel of a memory foam mattress.
You want to save a little money.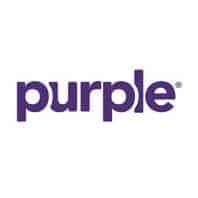 I gave the Purple mattress an overall rating of 4.7 out of 5.0.
Buy a Purple if:
You sleep with a restless partner – and don't want to feel their every move.
You prefer a bouncier mattress (better for love making).
You're willing to try something new.  (Trust me: it's worth trying.)
Mattress Construction
Ghostbed
The Ghostbed mattress doesn't win any awards for innovation or groundbreaking technology. This is of course not a bad thing, as long as the mattress is well priced and provides an excellent sleeping experience – which it does.
The 11-inch Ghostbed mattress is made of three foam layers:
1.5 inches aerated latex foam – the latex material gives the Ghostbed a nice level of responsiveness (bounce). The aerated design ensures that air still flows freely within the mattress, which prevents the buildup of heat, moisture, and odors.
2 inches memory foam – the second layer of memory foam is crucial in contouring support, especially on the back. It provides pressure relief for your lower back, shoulders, hips and any other vulnerable pressure points that tend to 'dig' into the mattress. This layer is also infused with gel to boost cooling.
7.5 inches foundational foam – This layer provides deep compression support, especially for heavier sleepers. In other words, it ensures the mattress doesn't sag. It also keeps the mattress in good form for years.
Purple
Purple takes the prize in this comparison for innovation, thanks to the unique material used in the top layer.
Their Hyper-Elastic polymer is designed with a grid-like structure that allows it to respond to every person's comfort and support needs.
The Purple mattress is also comprised of three layers:
2 inches of Hyper-Elastic Polymer – this is a material that has been in use for years in chairs and hospital beds. But it has never been used in mattresses before Purple. Its biggest property is the ability of its grid walls to collapse or stay upright depending on the sleeper's weight and sleeping position. For couples with different comfort preferences, I recommend Purple.
3.5 inches of transitional polyurethane foam – this is a cheaper type of foam very common in mattresses. It provides additional support to the user and ensures the mattress holds up when there is more weight on it such as couples sleeping together.
4 inches of foundational polyurethane foam – this is the base of the mattress that provides durability and additional compression support.
---
Comfort and Firmness
Ghostbed
Ghostbed's combination of latex and memory foam allows it to achieve a balanced comfort level. The latex foam on top feels firmer, which is necessary for back alignment. But this layer is only 1.5 inches thick, ensuring that you encounter the softer memory foam below immediately you lie on the mattress.
The memory foam is much softer, providing a nice plush experience. This is not only essential for comfort, but it also provides pressure relief around pressure points. The memory foam is 2 inches thick. This ensures that even if you have a heavier body, you will, not feel the firm foundation layer at the bottom.
One other point you will notice is that the mattress is quite bouncy thanks to the latex layer on top. If you are looking for a good mattress for sex, the Ghostbed is a good choice though Purple, being bouncier, is better.
Purple
Without its hyper-elastic polymer layer, the Purple mattress would likely have a subpar sleeping experience. This is because its second and third layers consist of a low-quality type of foam called polyurethane foam.
But the top layer is so good that it covers up for the other layers.
The hyper elastic polymer material is highly responsive, more than latex.
But what makes it amazing is the behavior of the grid walls intersecting its surface. The walls are designed to collapse, or give, when a specific level of pressure has been reached.
If you sleep on your side, for example, the area around your hips and shoulders may collapse. If you sleep on your back, the higher pressure exerted by your lower back and thighs will collapse the walls, which provides pressure relief and soft comfort.
But around areas like your stomach, legs or back, the walls stay upright, providing excellent support and alignment.
So whether you sleep on your side, back or stomach and whatever your body physique, the Purple mattress feels comfortable.
In terms of the bounciness of Purple vs. Ghostbed, Purple is better.
The top layer really is an all-in-one material. It is comfortably plush, supportive and quite bouncy.
I highly recommend it if you are looking for the best mattress for sex or if you just love bouncy mattresses.
---
Sleeping Experience
Ghostbed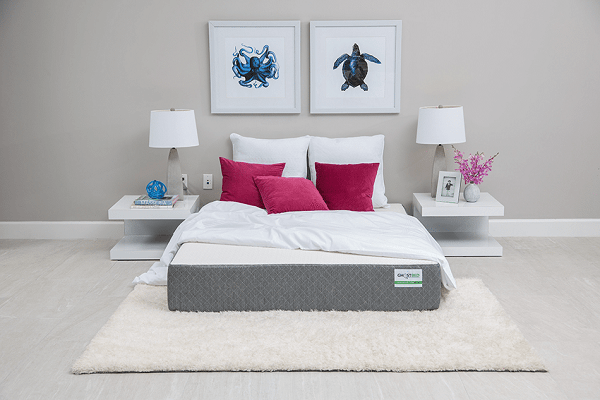 The Ghostbed mattress feels more luxurious than its price tag. The combination of latex and memory foam creates a perfectly balanced sleeping experience. It is neither too firm nor too soft. It doesn't feel like you are floating on a rock nor does it feel like you are lying in a swamp.
Ghostbed is a medium firm mattress, with a comfort rating of around 5-6 on a scale of increasing firmness. That makes it ideal for all kinds of sleepers. It is also reasonably bouncy which further ensures you don't feel like you are stuck in the mattress.
One area where the mattress performs really well is in temperature control. There are two mechanisms in place to banish excess heat. The first is the aerated top layer. The latex foam has an open-cell design that allows hot air to quickly move away from the mattress, ensuring you remain cool all night through.
Then there is the gel infused within the second layer. This improves memory foam's conductivity, helping to quickly push out any excess body heat trapped in the mattress.
Ghostbed's cover is made from 100% polyester. This makes it soft, adding to the overall luxury feeling of the mattress. It is also breathable, which keeps the mattress cool and fresh.
Purple
Purple does not have one specific sleeping experience that can be defined. Instead, it conforms to every user's needs and sleeping position. If you sleep on your side, the mattress will feel a bit firm because the walls do not collapse. Sleeping on your side collapses the walls, making the mattress feel a bit softer and plusher.
A heavier person will also experience a softer mattress because there is more pressure on the walls.
So the Purple mattress varies in sleeping experience depending on your weight, physique and sleeping position. This is mainly why we recommend it for couples. The mattress is able to adapt to each partner's sleeping needs.
So if you are not sure whether you should buy a firm, soft or medium-firm mattress, try Purple.
One thing to note: both mattresses, despite their bounciness, have little to no motion transfer. So you don't have to worry about bouncing your partner off the bed when you wake up to use the bathroom.
---
Warranty and Returns
Ghostbed
Ghostbed has a very generous 101-day trial period. This is more than enough time to test the mattress and decide whether it's right for you. However, the company recommends that you sleep on it for at least 30 days.
This is because it takes time to get used to a new mattress especially if you were sleeping on a low-quality one.
If after those 30 days you still feel that the mattress is not right for you – maybe it is too firm or too soft – you can contact customer support and request a return. They will arrange a free pickup and either donate the mattress to a local charity or get it recycled.
An important exception to this return policy is if you bought the mattress on Amazon. In that case, you have to abide by Amazon's 30-day return policy.
As for the warranty, Ghostbed has an extra-long 20-year warranty. But note that the warranty is prorated. They will cover all repair or replacement costs in the first ten years (except transport and handling costs). In the final ten years, you will pay a part of the replacement or repair costs based on how long you've had the mattress.
Read Ghostbed's warranty & return policy to learn more.
Purple
Purple provides a 100-day trial period. As with Ghostbed, they recommend trying the mattress out for 30 days before initiating a return. Returned mattresses are donated to charity or recycled depending on your location.
The warranty coverage is a standard 10 years but the cover is guaranteed separately with its own 2-year warranty. Unlike Ghostbed's warranty, Purple does not prorate its coverage. They will cover all repair or replacement costs in the event of a manufacturing defect or structural issues. However, you'll still have to cover the transport and handling costs of the mattress.
Comparing the warranty of Purple mattress vs. Ghostbed, I'd say that Ghostbed has an edge. They have a substantially longer warranty, giving me more confidence that their mattress is likely to last longer.
Read Purple's warranty & return policy to learn more.
---
Shipping and Delivery Options
Ghostbed
Ghostbed provides free shipping only within the continental United States. If you are buying from Alaska or Hawaii, your shipping costs could be as high as $600. It's really no use buying Ghostbed if you are from either location. There are many other online mattresses that ship free to all 50 states.
Ghostbed does not have any special shipping or delivery services such as expedited shipping or white glove delivery. But don't hesitate to contact them if you have a specific shipping or delivery request. They might just be able to help you out.
Purple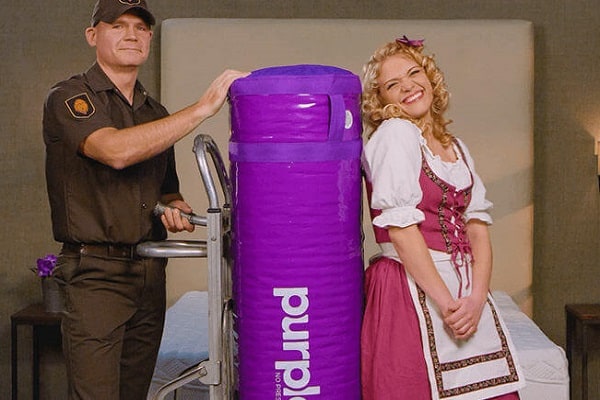 Purple also charges for shipping to Hawaii and Alaska. They also provide delivery to Canada though also at an extra cost.
But if you are from any of the 48 states in the continental US, you can enjoy free shipping. There are however no special delivery services. The mattress will simply be delivered to your door, and then, it's up to you from there.
---
Price
Both are mid-range mattresses that are priced much lower than similar-quality mattress in stores. Ghostbed is the cheaper of the two with none of their sizes breaking past the $1,000 mark. Here are the full Ghostbed vs. Purple mattress price lists. Note that Purple has four sizes only.
| | | |
| --- | --- | --- |
| Bed Size | Ghostbed | Purple |
| Twin | $495 | – |
| Twin XL | $650 | $699 |
| Full | $775 | – |
| Queen | $795 | $999 |
| King | $975 | $1,299 |
| CA King | $995 | $1,299 |
Purple lets their customers spread their payments out over time, using Affirm.
---
Coupons
We currently don't have any coupons for either mattress. We will be sure to add them to our coupons page when they are available.
As always, I highly recommend that you check Purple's website and GhostBed's listings on Amazon for current deals and discounts. They frequently offer discounted prices or bonus items.
---
Ghostbed Is The Right Mattress For You If:
You want to spend less.
You prefer the feel of a foam mattress.
---
Purple Is The Right Mattress For You If:
You're not sure what comfort level works best for you. Purple's unique top layer gives in a unique way that really does work for most people.
You sleep with a restless partner.  Purple's motion transfer is almost non-existent, so you won't feel your partner's movement at night.
You prefer a bouncier mattress (which is better for love making).
You're willing to try something new.  Don't worry, you can always return it if you don't like the feel.  I love it.
---
Save BIG On Your Next Mattress Purchase
Join our mailing list and get our LATEST COUPONS delivered immediately!
Send Me The Coupons
---
Learn More
Compare Mattresses Side-by-Side
---
Affiliate Disclosure
Affiliate Disclosure: I may earn a small commission (at no cost to you) if you purchase a mattress after clicking a referral link or using a coupon code on this site. That said, all content and opinions on this site are my own and are NOT affected by these payments.
This site participates in the Amazon Services LLC Associates Program, an affiliate advertising program designed to provide a means for sites to earn advertising fees by advertising and linking to Amazon.com.
*Amazon and the Amazon logo are trademarks of Amazon.com, Inc, or its affiliates.
---
SHARE THIS PAGE