Affiliate Disclosure: I may earn a small commission (at no cost to you) if you purchase a mattress after clicking a referral link or using a coupon code on this site. That said, all content and opinions on this site are my own and are NOT affected by these payments.
Nectar is a memory foam mattress that comes with a 1-year trial period and a forever warranty.
Purple uses a special material called Hyper-Elastic Polymer with a grid design to provided improved support and pressure relief. 
---
What's In This Comparison?
I am going to compare these two mattresses side by side, showing you how they compare regarding features, support, and comfort.
Both are great choices if you are looking for an affordable mattress that feels comfortable and has good support. But which one is right for your needs?
If you don't have time to go through all the areas below, use this table of contents to jump to the ones you care about most.
And if you want more choices beyond these two, read my mattress buying guide.
---
Nectar vs. Purple: Which One Should You Buy?
Here's a quick summary of each mattress.
---
How Do Nectar and Purple Compare?
Similarities
Both of these are technically all-foam mattresses. They contain no innersprings nor any pocketed coils.
For foam mattresses, they both do a great job keeping you cool at night. Purple's grid design provides free airflow, which effectively dissipates excess heat away from the mattress. Nectar uses a special cooling cover and gel memory foam to keep the mattress cool.
Each mattress comes in just one comfort level, so if you have more specific comfort/firmness needs, look elsewhere.
Key Differences
Despite both being all-foam, they are very different regarding the types of materials used.
Purple incorporates a unique Hyper-Elastic Polymer that responds to body weight and pressure points like no other mattress. Nectar, on the other hand, is made of more traditional memory foam.
The other main difference is their price. While I would describe both as affordable online mattresses, Purple definitely costs more than Nectar. Purple's queen costs $999, while Nectar sells theirs for $795.
They differ in their fine print too – sometimes by a lot. Purple offers a 100-night trial period and a 10-year non-pro-rated warranty. Nectar offers a whopping 365-day trial period and a forever warranty.
Price
Financing
Purple offers financing options through Affirm (subject to credit approval), where you can pay in 6, 12 or 18 months.
Nectar offers its own lease-to-own financing. You pay interest-free installments for six months. They don't do a credit check.
Coupons
Click here to buy the Nectar mattress at a $125 discount. You'll also get two free pillows.
Specifications
| Mattress | Nectar | Purple |
| --- | --- | --- |
| Rating | 4.6 | 4.7 |
| Price | $500-$900 | $699-$1299 |
| Comfort Choices | Med. Firm | Soft+Firm Combination |
| Construction | Gel-infused memory foam | Hyper-Elastic Polymer top + polyester foam base |
| Heat Transfer | Excellent | Excellent |
| Motion Transfer | Low | Low |
| Sinkage | Moderate | Moderate |
| Off-Gassing? | Yes | Yes |
| Trial Period | 365 nights | 100 nights |
| Warranty | Lifetime | 10 years |
| Eco-friendliness | CertiPUR-US foam | CertiPUR-US foam |
| Delivery | 3-5 days | 7-14 days |
| Customer Service | Good | Excellent |
| | | |
---
Mattress Construction
Both mattresses have a simple all-foam construction with a focus on cooling, pressure relief and weight distribution (support).
Nectar
The Nectar mattress uses a quilted cover made from Tencel, a soft and breathable fabric. Tencel performs better than cotton in cooling and comfort.
Below the cover, there are four foam layers.
1" Quilted gel memory foam – This layer instantly contours to your body when you lie on the mattress. The gel keeps the surface of the mattress cools all the time no matter the weather outside.
1" 1lb Gel memory foam – This layer contains more infused gel and an open-cell foam design to boost cooling and keep the mattress feeling fresh. It provides pressure relief, ensuring you don't wake up with any back pain or joint aches. Nectar calls this particular foam Lush Foam.
3" 3.5lbs Adaptive Hi Core memory foam – This is the main support layer. It prevents you from sinking in too much and ensures your back is naturally aligned.
Base layer – This is a layer of breathable high-density foam to provide compression support and longevity.
Purple
The mattress cover on Purple is a blend of viscose, polyester, and Lycra. This combo makes it soft, breathable and stretchy.
It has a simple triple layer construction.
2" Hyper-Elastic Polymer – This is a type of foam that feels soft yet responsive. It's like combining memory foam and latex foam into one material. Its surface consists of grids that react to the amount of pressure on them. If the pressure goes beyond a certain point, the grid walls collapse.
So around high-pressure areas like your hips, shoulders, and butt, the mattress feels softer. On areas like your stomach (for stomach sleepers), legs or back, the grid walls don't collapse thus providing support and alignment.
3.5" 1.8lbs polyfoam – This provides compression support and distributes weight evenly across the mattress.
4" 2lbs polyfoam – The high-density foam in the base holds up the other layers and ensures the mattress lasts for many years without cratering.
---
Comfort and Firmness
Both mattresses fall into the medium firm comfort category though there are some slight differences in their firmness.
Nectar
Nectar is a medium firm mattress, though slightly softer than Purple. Using a scale of 1-10 with ten being very firm, it falls between 5 and 6. It will feel softer for someone heavier and firmer for someone with a lighter body.
It balances very well between the plushness created by the top memory foam layers and the firmness from the higher-density core.
It's great for stomach, back, side and combination sleepers. I also recommend it if you have been experiencing back pain and other aches when you wake up in the morning.
Purple
Purple is also a medium firm mattress, but it's designed in such a way that different people will experience varying levels of comfort. The grids respond to your specific body weight and sleeping position.
If you are on the heavier side of the scale, it is going to feel softer while someone lighter will experience a firmer feel.
For most people of average body physique, the mattress is a bit on the firmer side; a 6-7 out of 10. This is great for stomach and back sleepers. But for side and combination sleepers, I'd recommend the Nectar mattress.
For plus size sleepers, Purple is the best choice. It provides better support and contouring.
---
Sleeping Experience
Nectar sleeps plush while the Purple mattress feels more 'solid' but is still comfortable.
Nectar
The signature memory foam softness is unmistakable in the Nectar mattress. Immediately you lie on it, it feels like falling into a soft hug. The soft Tencel cover and the two gel memory foam comfort layers are the first ones you encounter. They wrap around your joints and curves, letting you sink comfortably into the mattress.
But before you sink in too much, you feel the firmer and more supportive memory foam core beneath. It holds up your back and prevents that awful 'I'm in a swamp' feeling. The base provides further support to counter the plush top layers.
The gel in the memory foam starts working immediately, directly absorbing excess heat produced by your body and dissipating it away. The mattress doesn't feel stuffy or stifling.
Motion transfer is minimal, edge support is good, and any off-gassing you might experience fades away within a few hours.
Purple
Purple's comfort sets in more gradually. So it feels firm at first but then softens up after some time. But it still won't feel as soft as the Nectar mattress.
So if you prefer a mattress you can sink into, go for the Nectar. If you want to sleep 'on,' rather than 'in' the mattress, Purple is better.
Cooling is not an issue, motion transfer is practically nonexistent, and edge support is great. There is very little off-gassing. If you experience any smells, they'll fade away within a day or two.
---
Warranty and Returns
Here Nectar stands out for its extremely generous policies.
Nectar
I've not seen any other online mattress company offer anything close to what Nectar offers for its trial period. For most companies, 100 days is the norm. Some will extend it to 120 days.
Nectar allows you to test your mattress for 365 days.
If you still feel apprehensive about buying mattresses online, getting a Nectar mattress is a zero-risk experience. You have a whole year to test the mattress without any time pressure.
You can feel how cool it stays in summer and whether it's still comfortable in winter. You can feel whether it still holds up after months of use and you have time to determine how it has impacted your sleep quality.
If you don't like the mattress, just ring them up and ask them to come for it. Returns are completely free.
If you decide to keep the mattress, you are still well protected with a lifetime warranty. This is not a gimmick or marketing ploy. Here's what they promise.
In the first ten years, they will replace or repair the mattress at no cost to you. After that, you only have to pay $50 for shipping each way. And even then, you can still pay nothing if Nectar determines it is their fault the mattress is damaged.
They also have an optional prorated coverage which they call the Choice Option. It kicks in after ten years. With this warranty, you only pay 50% of the original purchase price and get a new mattress. You can keep your old mattress.
Purple
Purple offers the standard 100-night return period with a required minimum usage of 30 days. Returns are free.
Purple's warranty lasts ten years and is non-prorated.
---
Shipping and Delivery
Nectar
Nectar ships their mattresses free of charge within the continental US. There is a shipping charge for customers in Alaska, Hawaii and US territories like Puerto Rico.
During checkout, you can opt to add white glove delivery to your order ($149). If you opt for it, the mattress will not only be delivered your home; it will be unpacked and set up wherever you want. They can also take away your old mattress to donate to charity or for recycling.
Purple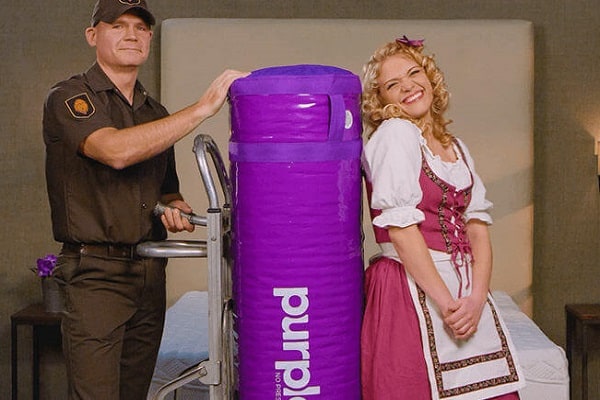 Purple has a similar shipping policy. Shipping is free only for the continental US. For Alaska and Hawaii, the shipping costs will be calculated at checkout.
Purple does not offer white glove delivery.
---
Foundation and Frame
Nectar
You can use the Nectar mattress with any sturdy frame. It can be a slatted platform, a box spring or even a flat floor (just beware of moisture on the floor).
You can also use it on an adjustable base.
Purple
Purple can be used on a slatted platform with the slats no more than 3 inches apart, an adjustable base or a solid foundation.
Purple advice against using a box spring because their mattresses are heavy and box spring would wear out quickly.
---
Care and Cleaning
Nectar
While the Nectar mattress cover is removable, do not dunk it in water or dry clean it. Instead, spot cleans the stained area with mild detergent.
Consider buying a waterproof mattress protector to prevent fluid stains and spills.
You don't have to rotate or flip the mattress.
Purple
Purple also has a removable cover, but you should only spot clean it. Buy a mattress protector to protect the cover and foam. Spills and stains will void the warranty.
You do not have to rotate or flip the mattress.
Where To Buy
---
Save BIG On Your Next Mattress Purchase
Join our mailing list and get my LATEST COUPONS delivered immediately!
Send Me The Coupons
---
Learn More
Compare Mattresses Side-by-Side
---
Affiliate Disclosure
Affiliate Disclosure: I may earn a small commission (at no cost to you) if you purchase a mattress after clicking a referral link or using a coupon code on this site. That said, all content and opinions on this site are my own and are NOT affected by these payments.
This site participates in the Amazon Services LLC Associates Program, an affiliate advertising program designed to provide a means for sites to earn advertising fees by advertising and linking to Amazon.com.
*Amazon and the Amazon logo are trademarks of Amazon.com, Inc, or its affiliates.
---
SHARE THIS PAGE