NOTE: We earn from qualifying purchases made via Amazon Associates and other affiliate programs. Learn more.
What's In This Mattress Comparison
In this budget mattress showdown you will learn how Casper's original mattress and Purple's original mattress compare in a number of areas including price, warranty, comfort, construction and sleeping experience.
My goal is not to tell you which mattress is the best, but to give you the details you need to make a confident choice between these two mattresses.
It'll take about 5 minutes to read everything.
After that, you'll know everything there is to know about how these two compare.
So, let's get to it!
---
Casper vs. Purple: Which One Should You Buy?
We think Casper, an all foam mattress, is the best choice if you sleep on your side or stomach and prefer a more cradling feel.
Purple's more supportive adaptive polymer+foam design is the better choice if you sleep on your back. Purple uniquely adaptive top layer also makes it the better choice for couples with different needs.
As far as price, the Casper Original is less expensive than the Purple Original, but the Purple offers a unique body-adaptable feel that is worth the extra price, in our opinion.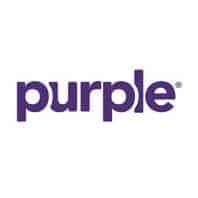 My Rating: 4.7 out of 5
Buy the Purple Original if…
Your partner prefers a firmer or softer mattress than you.
You're willing to try a new type of mattress: the feel is truly unique – and really nice.
Keep reading to learn more about the major differences between Casper and Purple.
---
Mattress Construction
Purple Mattress Construction


Instead of the traditional memory or latex foam in the top layer, the Purple mattress uses a special type of material it calls Hyper-Elastic Polymer.
This is a highly responsive foam that has applications in a wide variety of areas including hospital beds, chair cushions, and toy balls.
But the most interesting thing is not even the material but how it is designed. Instead of the usual blocky design, the polymer takes a grid-like structure with rising columns intersecting across the surface of the mattress.
When you lie on the mattress, you interact with these columns & walls, which collapse or stay upright depending on the amount of pressure on them.
This provides a really unique two-phase system of support.
For example, the polymer grid will collapse around a high-pressure point like your hips, which really helps if you are a side sleeper. This ensures your hips don't press painfully into the mattress.
On the other hand, the walls will stay firmer and more upright where the inside of your spine lies, providing more support and better aligning your back.
Only the top layer adapts to your specific body type and sleeping position.
Underneath there are 3.5 inches of transitional polyurethane foam and 4 inches of foundational foam to provide more support, ensuring you don't sink excessively into the mattress especially if you are heavy-bodied.
The cover is made of polyester, viscose, and lycra. Which makes it soft, breathable and stretchy.
Casper Mattress Construction

Casper also uses a proprietary foam at the top. It uses an open-cell structure, which boosts air circulation and ensures the mattress stays cool through the night.
The second layer consists of pressure-relieving memory foam. Its work is to contour around your pressure points and create a comfortable hug around your body. The third layer is a zoned-density foam Casper that supports your hips more firmly than your shoulders, making this mattress ideal for side sleepers.
The top of the cover is made from 100% polyester, making it both soft and breathable.
Overall, comparing Purple Mattress vs. Casper regarding design and construction, Purple has a slight edge. The Hyper-Elastic polymer at the top is one of a kind. It combines support, pressure relief and temperature control into one great sleeping experience.
To know more, check out our in-depth Casper wave review, Casper hybrid mattress review, and Casper essential mattress review.
---
Comfort and Firmness
Purple Firmness

Purple could have made two or three mattresses with different comfort levels to fit different sleeping needs. But there was no need.
The top polymer layer does a great job adapting to everyone's unique sleeping preferences and needs.
The walls of the grid-like structure respond to the specific pressure on them.
Depending on the weight applied, the grids actually collapse to provide pressure relief – or remain firm to provide support.
Regarding firmness, Purple falls into a medium-firm range (6-7/10) though slightly on the former side.
So if you like to sink into your mattress, Purple is not the right one for you.
On the other hand, if you need maximum support, I'd take the Purple over the Casper.
One other thing you'll love is how responsive (bouncy) the Purple mattress feels. It's better than the Casper for sex.
Casper Firmness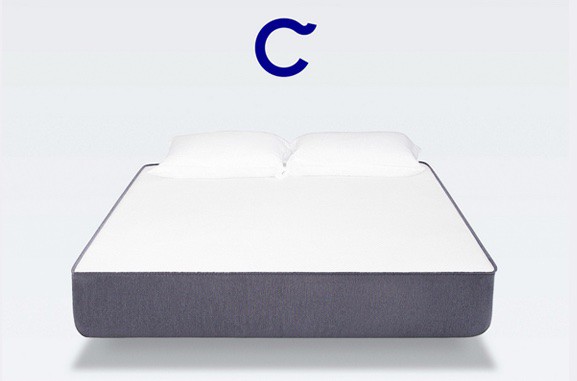 Casper feels slightly softer than Purple. This is probably because they used memory foam in the second layer provides, which envelopes your body in a comfy hug.
So if you want a mattress that feels softer and plusher, Casper is the right one for you.
On the downside, it does not feel as bouncy as the Purple mattress.
---
Sleeping Experience
Purple Sleeping Experience

There is only one phrase to describe Purple's sleeping experience: uniquely comfortable.
With its ability to adapt to any situation, the Purple mattress is a great all around mattress for most situations and people. It is especially great for couples with different sleeping needs.
The mattress may feel a bit firm when you first lie on it, but it softens up a bit as it adapts to your body and sleeping position.
As I mentioned, it also feels quite bouncy but with minimal motion transfer, thanks to the motion-isolating grids.
Temperature control is also stellar, as the cover and the grid structure of the top layer work well in keeping heat away from the surface of the mattress even on particularly warm nights.
Casper Sleeping Experience
The Casper mattress feels plusher than the Purple, so if you don't move around much at night you might prefer this one.
The memory foam layer produces more pronounced sinkage which creates a softer hug around your body.
Immediately when you lie on this bed, you'll feel the memory foam layer contouring around your hips, back and shoulders.
Temperature control is also very good. The top open-cell foam layer keeps the surface cool and dry while the foundation layers provide extra support to prevent the mattress from turning into a swamp.
Casper is probably not the right choice for people with heavier physiques. Because of the fairly thin and softer comfort layer (3 inches in total), the dense base layers will be more noticeable. This may create pressure points, making your sleep uncomfortable.
If you are a heavier person, I recommend the Purple mattress. It is better at adapting to different body types.
---
Warranty and Returns
Purple Warranty
Like most other online mattresses, Purple offers a 10-year warranty.
The warranty terms and conditions are standard in the industry – it covers the original buyer only, is voided if the mattress is used incorrectly and only material and workmanship defects are covered.
But there is one very important condition in the warranty you should note: you are responsible for transport and inspection costs should you decide to request a replacement or repair. Purple will only cover the repair/replacement costs.
The mattress cover is under a different warranty that only lasts for two years. Like the mattress, transport costs are on you, but the company takes responsibility for the replacement or repair.
As for returns, you have 100 nights to test the mattress at home and to decide whether you want to keep it. Purple recommends sleeping on it for at least 30 nights to allow your body to acclimate to the new feeling.
If you decide to return it, Purple will arrange how it will reach a charity organization or get recycled depending on the local code. But don't try to get it back into the box.
Just make sure it is clean and free from any damage.
Read Purple's Warranty and Return Policy on Purple.com
Casper Warranty

Casper also offers a standard 10-year warranty.
But they differ slightly when it comes to costs. If you decide to request a repair or replacement and Casper agrees, return shipping costs are split between the two of you.
More specifically, if there are any shipping costs involved in returning the mattress, Casper will pay them.
But you are responsible for shipping costs when the repaired or replaced mattress is sent back to you.
Check the full warranty at their official website for all other terms and conditions.
The return period is 100 days from the date of delivery. The returned mattress will be given to a church or charity organization with whom Casper will arrange a pickup. In some locations, however, the law requires that used mattresses be recycled.
Whatever happens, Casper will ensure the whole process goes smoothly and you get a full refund.
Read Casper's Warranty and Return Policy on Casper.com
---
Shipping and Delivery
Purple Shipping and Delivery

Purple provides free standard shipping to 48 continental states of the US.
For those ordering from Alaska, Hawaii or Canada, a shipping fee will be added at checkout.
Purple provides no special shipping or white-glove delivery services. So you might want to have a friend or family member nearby to help you set up the mattress, which is quite heavy. A queen mattress weighs approximately 141 pounds.
But if you have special delivery request or instructions, feel free to reach out to Purple's customer support and see if they can accommodate your needs and whether it will cost you extra.
Casper Shipping and Delivery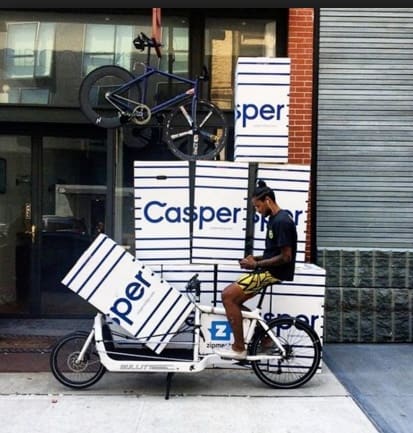 If you live outside of the continental US and want to save money on shipping, go for Casper.
They provide 100% free shipping to all 50 states including Alaska and Hawaii.
But delivery takes a bit longer because each mattress is made on order. You can expect the mattress to reach you within two to seven business days.
In selected cities, Casper also offers same-day shipping with white glove delivery. You can check during check out whether you are in one of those lucky cities.
In most locations, however, Casper offers standard delivery through UPS with no expedited shipping option and no white glove delivery. If this fits your situation, consider getting someone to help you get the mattress inside and set it up.
---
Price
Purple is slightly more expensive than Casper, but this makes sense given the difference in technology.
Here are the latest discounted prices for both mattresses:
Financing Options
Both companies use Affirm to provide customers with flexible payment options. So they are equally ideal for those on a tighter budget. Check to see if you qualify.
---
Purple Is The Right Mattress For You If:

You want a supportive, adaptable mattress at an affordable price.
You are part of a couple with different sleeping needs.
You are heavier or need more support.
---
Casper Is The Right Mattress For You If:

You want a softer mattress.
You want a classic memory foam feel
---
Learn More:
Other Casper Mattress Comparisons on This Site
Other Purple Mattress Comparisons On This Site
---
Affiliate Disclosure
Affiliate Disclosure: I may earn a small commission (at no cost to you) if you purchase a mattress after clicking a referral link or using a coupon code on this site. That said, all content and opinions on this site are my own and are NOT affected by these payments.
This site participates in the Amazon Services LLC Associates Program, an affiliate advertising program designed to provide a means for sites to earn advertising fees by advertising and linking to Amazon.com.
*Amazon and the Amazon logo are trademarks of Amazon.com, Inc, or its affiliates.
---