NOTE: We earn from qualifying purchases made via Amazon Associates and other affiliate programs. Learn more.
You finally took a plunge and ordered the Leesa mattress.
First of all, good choice; it really is a great mattress.
Now you need to take proper care of it to get the most out of your new mattress.
If you took the time to read the fine print (be honest), you'll know that the Leesa warranty is 10 years long. The warrant stipulates that you can make a claim if the mattress sags more than 1".
They are clearly confident that the Leesa mattress can last that long.
So how exactly do you make sure your new mattress goes the full decade without sagging or excessively wearing out. Here are some tips.
Unbox Mattress as Soon as Possible
Leesa asks that you unbox the mattress within 30 days of delivery. The sooner you set it up the better.
Why the hurry?
It's because of how the mattress is packed. A machine compresses it in the factory and rolls it up into a tight tube that can fit into a box the size of a mini refrigerator.
The mattress stays compressed as long as it is in the box. Once you unroll it on your bed, it will puff up to its normal size.
Leaving it compressed in the box beyond 30 days could damage it permanently and you'll void the Leesa warranty.
Set it Up on the Right Foundation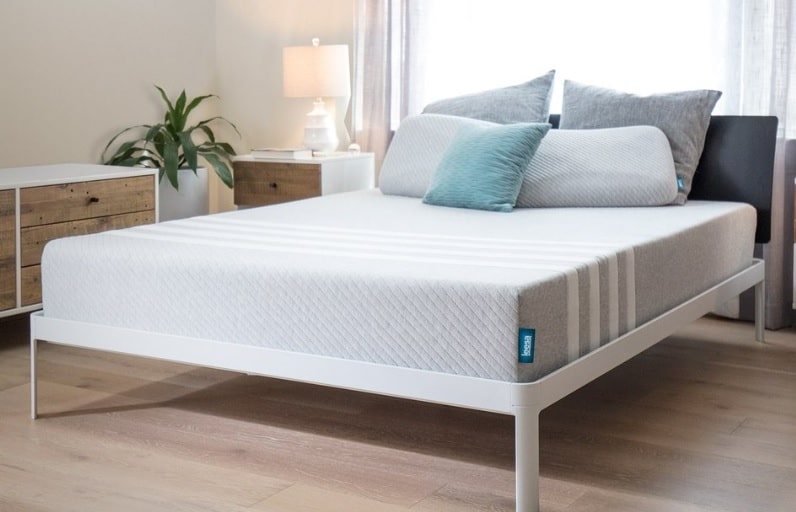 If you don't have an existing foundation, I strongly recommend you buy one of the ones Leesa sells on their website. Just add it to cart along with your mattress.
They have an adjustable base, a platform bed and a foundation + metal bed frame. All go perfectly with the Leesa mattress.
If you have your own foundation, make sure it is flat and sturdy. Leesa recommends either a solid base (a box foundation, a solid platform or a box spring with a Bunkie board placed on top) or a slatted base.
If you use a slatted foundation, make sure the slats are no more than 3" apart and that they are flat and rigid. Bent or flexing slats will cause the mattress to sag.
Also don't use a traditional box spring on its own. The flexing springs are bad for your mattress.
Either change to a solid foundation or place a Bunkie board on top.
Use a Mattress Protector
I highly recommend you use a waterproof mattress protector with your new Leesa mattress.
Leesa asks that you do not remove the cover for washing. That will permanently damage the fabric.
You can only spot clean stains with cold water and mild detergent.
But there's a lot beyond stains you should worry about. Your unprotected mattress gets incredibly dirty. In fact, it's probably the dirtiest object in the room.
A lot of stuff and bugs accumulate on your mattress over time – dust, pollen, dust mites, pet dander, dead skin cells and sweat.
There are also bacteria (even fecal bacteria) and fungi not to mention the risk of mold and mildew especially if you live in a humid area.
Without knowing, you could be sleeping on a heap of yucky stuff that causes a lot of health issues.
Even your skin is not safe from all the bugs and dirt on the mattress.
And since you cannot wash the cover, all this stuff keeps accumulating on your mattress. Spot cleaning won't do a thing.
A mattress protector keeps your mattress clean and ensures you sleep healthier. Get a waterproof one that doesn't let moisture through.
Since a mattress protector is washable, it's easy to wash all the dirt and grime out of it.
Other Tips
Do not exceed the total weight limit (300lbs for the smaller sizes, 600lbs for Queen and King).
Don't let your kids jump repeatedly on the mattress. Over time, it will lose support.
Do not set up the mattress on the floor. It increases the risk of mildew, mold and stains.
If you use a heating pad, use it on low or medium heat to avoid damaging the memory foam.
Leesa Mattress Comparisons:
---
Affiliate Disclosure
Affiliate Disclosure: I may earn a small commission (at no cost to you) if you purchase a mattress after clicking a referral link or using a coupon code on this site. That said, all content and opinions on this site are my own and are NOT affected by these payments.
This site participates in the Amazon Services LLC Associates Program, an affiliate advertising program designed to provide a means for sites to earn advertising fees by advertising and linking to Amazon.com.
*Amazon and the Amazon logo are trademarks of Amazon.com, Inc, or its affiliates.
---