NOTE: We earn from qualifying purchases made via Amazon Associates and other affiliate programs. Learn more.
---
Leesa and Ghostbed are two clear leaders in the new and fast-growing direct-to-customer mattress industry.
Both are premium foam mattresses sold for far less than they would cost in a store.
The Ghostbed mattress, an offshoot of the decades-old bedding company, Nature's Sleep, is all-foam product with three layers designed to provide support, comfort, and durability.
The Leesa mattress is also all-foam, but uses a proprietary type of foam (LSA200) on the top layer to improve responsiveness, cooling, and support. Leesa is a pure startup, too.
So how do these winning foam mattresses compare, exactly?
---
What's In This Comparison
In this detailed comparison, we will compare Ghostbed vs. Purple on areas including comfort, construction, support, cooling, warranty and, of course, price.
My goal here is to give you enough details to make your own decision.
For full details on each mattress, see my Ghostbed review and Leesa mattress review.
---
Leesa vs Ghostbed: Which One Should You Buy?
Here is my quick take on each mattress:
[one_half]
I gave the GhostBed an overall rating of 4.6 out of 5.0.
BUY THE GHOSTBED IF:
You prefer a firmer, bouncier feel.
You value a longer warranty
[/one_half] [one_half_last]

I gave the Leesa mattress an overall rating of 4.6 out of 5.0.
BUY THE LEESA IF:
You want a softer, memory-foam feel.
You want to save $$$
[/one_half_last]
---
Mattress Construction
Ghostbed
Ghostbed is as simple as they come.
It doesn't use any patented forms or innovative cooling technology.
That is not to mean that this mattress is bad or that it provides a less-comfortable sleeping experience. If anything, they use this simplicity to create a no-frills mattress that stays cool, supports the back and feels fairly plush.
The 11-inch Ghostbed uses the following three-layer foam structure:
1.5 inches of latex foam – aerated latex foam in the top layer gives the Ghostbed mattress enhanced responsiveness, good support, and great temperature control. The foam is made with an aerated (open cell) design to boost air flow and cooling further.
2 inches of memory foam – putting memory foam in the second layer prevents the surface of the mattress from getting uncomfortably warm. In this position, the memory foam is still able to contour around the body somewhat while providing essential pressure relief – especially around vulnerable areas such as the shoulders, hips and lower back.
7.5 inches of foundational foam – this is a layer of high-density poly foam designed to provide overall support to the mattress and prevent sagging. It's interesting to note that Ghostbed has a thicker foundational layer than in most mattresses, where the base often measures 6 inches. Perhaps this is why the Ghostbed is slightly cheaper (the foundational foam often costs less than the comfort foam in the upper layers) as well as why their warranty is extra-long (a thicker foundation = a longer life).
Leesa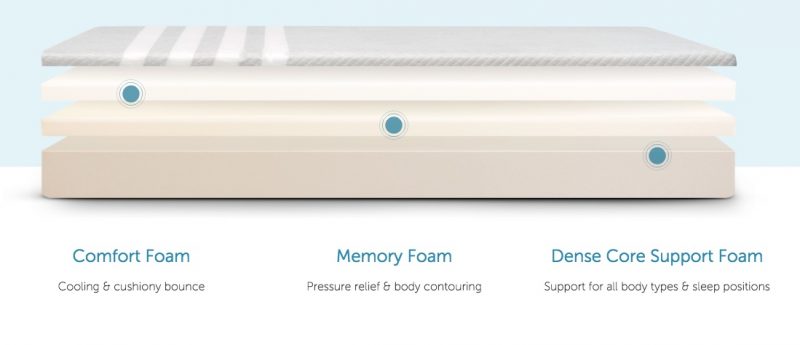 Leesa's main difference vs. Ghostbed is found in the top layer.
Rather than use a traditional memory or latex foam, Leesa uses a special type of patented foam that significantly boosts support and comfort. Let's have a look at the various layers:
2 inches of LSA200 foam – LSA200 foam is a proprietary type of foam that Leesa uses to improve the sleeping experience of their mattress. LSA200 incorporates the best features of both memory foam and latex foam. It is fairly firm and bouncy, yet still plush and pressure relieving. It also has the cooling capabilities of latex foam.
2 inches of memory foam – The second layer of memory foam complements the top layer, providing more body contouring and pressure relief. As with the Ghostbed, the location of the memory foam layer ensures it does not cause overheating.
6 inches of support foam – the base of the Leesa mattress responsible for compression support and mattress longevity.
Overall, Leesa has a thicker comfort area – 4 inches vs. 3.5 of Ghostbed and a thinner foundation.
The differences in the construction of both mattresses do impact the sleeping experience of each.
Thanks to the LSA200 foam and a thicker comfort height, Leesa feels a bit more luxurious than the Ghostbed.
---
Comfort and Firmness
Ghostbed
Ghostbed is a medium firm mattress. I would rate it at around 6 to 6.5 out of 10 on a scale of increasing firmness. This is a little bit on the firmer side because of the latex layer on top. In fact, many customers say the mattress feels uncomfortably firm on the first night.
In a few days, however, the mattress gets softer, and you can feel the pressure relieving power of the memory foam underneath.
While Ghostbed is a medium firm mattress and hence ideal for most people, I'd recommend it more for those who love a slightly firm feel on their mattress. It is especially ideal if you sleep on your stomach or have a heavier body.
Leesa
Leesa is also a medium firm mattress with a rating of around 6/10. It is also on the firmer side of the scale because of the top latex-like LSA200 foam.
But unlike Ghostbed's latex foam layer, the LSA200 foam in Leesa feels a bit softer and produces a more enhanced 'hug' around your body. 2 inches of memory foam underneath helps enhance this luxurious contouring.
Leesa is ideal for most types of sleepers regardless of your sleeping position of body physique. It is firm enough for stomach sleepers, soft enough to provide pressure relief for side sleepers and provides the perfect balance of firm support and soft contouring for back sleepers.
The Leesa felt a bit softer to me – but it's really close.
---
Sleeping Experience
Ghostbed
Ghostbed's sleeping experience is good, but it doesn't feel particularly unique or luxurious. It's simply…good. Nothing to complain about.
The only issue some customers complain about is the firmer-than-expected surface on the first night. But this goes away quickly, and the mattress feels more comfortable by the second day.
Because of the top latex layer, there are no overheating issues. The top layer's aerated design keeps air flowing in and out, ensuring that any excess heat is carried away quickly. This also helps keep the mattress smelling and feeling fresh since no odors are trapped within the foam.
You will also find that the mattress is quite bouncy thanks to the latex foam on top.
But I would still recommend the Leesa mattress over Ghostbed if you are looking for a mattress that is good for sex.
Regarding motion transfer, it is minimal. The bouncy latex foam layer is only 1.5 inches thick, so disturbance at one point does not travel very far.
Leesa
Leesa is not yet a Tempur-Pedic type of mattress, but it comes close. The LSA200 foam layer on top makes a huge difference in the feel of the mattress and sleeping experience.
The first thing you'll notice when you lie on the bed is how responsive it is. It's just as bouncy as the Ghostbed mattress.
But the LSA200 foam combines that responsiveness with a soft plush feeling that the Ghostbed doesn't have. It has a "soft and bouncy" feeling rather than the "firm and bouncy" feel of the Ghostbed mattress. That's why I recommended it as the better mattress for sex.
Leesa doesn't ever feel uncomfortably firm. Yes, it is slightly firmer than some medium-firm mattresses, but it still creates enough sinkage that you can feel a nice 'hug' around your body curves and angles. Over time it gets even softer and plusher.
It performs well in cooling thanks to the LSA200 foam which helps maintain free air flow.
And regarding motion transfer, Leesa is about as good as Ghostbed.
---
Warranty and Returns
Ghostbed
Ghostbed gives you 101 days to test your mattress. If it feels too firm, too soft or just not right, contact customer support to arrange a return. Ghostbed will pick up the mattress from your home and either recycle it or donate it to charity depending on your location.
Note that you should sleep on the mattress for at least 30 days to get a good idea of its quality and comfort level. This allows your body to get used to the new mattress. If after the thirty days you still don't like it, Ghostbed will give you a full refund.
As for the warranty, Ghostbed has one of the longest warranties in the market. It covers your new mattress for 20 years. The company puts a lot of faith into the quality and durability of their mattress. Unfortunately, no one has yet to own a Ghostbed mattress for that long or even half that long for us to judge its longevity.
The coverage is split into two. In the first ten years, Ghostbed caters for all repair or replacement costs. You only pay for transport and handling. In the final ten years, the warranty is prorated meaning you pay a certain percentage of the original cost to get a new replacement depending on how long you've had the mattress.
Leesa
Leesa's return process is similar to Ghostbed's. You get 100 days to try the mattress with a recommendation that you sleep on it for at least 30 days before deciding to return it. If you still want to make a return, Leesa will arrange a free pickup and then give you a full refund.
The warranty covers a standard period of 10 years, similar that most other online mattresses but one-half the length of Ghostbed's.
Leesa will repair or replace the mattress if there is a manufacturing or workmanship defect. Read the full warranty on their website to find out what exactly is covered.
Read Leesa's warranty & return policy to learn more.
---
Shipping and Delivery Options
Ghostbed
Ghostbed has a very friendly shipping policy but only if you live in the continental United States. They provide 100% free shipping to 48 states but charge a $600 delivery fee to customers in Alaska and Hawaii.
The fee is quite high and honestly not worth it if you live in one of the two states. Other mattress companies deliver free of charge to all 50 states. Leesa is one of them.
Ghostbed does not offer any special delivery or shipping services. It's a good idea to have a friend or family member nearby to help you set up the mattress when it is delivered.
Leesa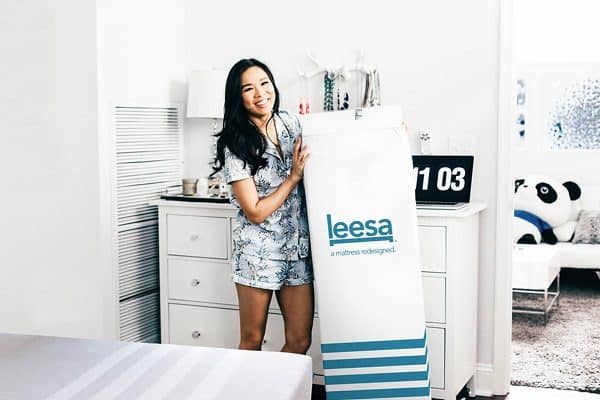 Leesa offers free shipping to all 50 states. There are no additional freight charges for customers in Alaska and Hawaii.
Each Leesa mattress is made on order hence delivery takes a bit longer than usual, around 4 to 10 business days.
Leesa ships through UPS ground so you should be able to track your shipment and prepare for delivery easily.
Note that you'll have to make arrangements directly with UPS if you have any special delivery or shipping requests.
---
Price
Listed below are the current discounted prices for both mattresses:
After discounts are applied, Leesa and Ghostbed are pretty evenly matched on price:
Financing Options
Both companies offer financing options if you don't want to make one lump payment. Ghostbed works with PayPal credit, Klarna and Zibby to allow flexible monthly payments. Leesa works with Affirm to provide zero-interest financing.
---
Latest Coupons & DIscounts
Currently, Leesa is offering Save Up To $700 Now + 2 Pillows
We don't have a similar discount on Ghostbed but check Amazon and its main website for the latest discounts and offers.
---
Ghostbed Is The Right Mattress For You If:
You prefer a slightly bouncier, latex foam feel.
You value the longer warranty (at 20 years, Ghostbed has one of the longest warranties in the business)
---
Leesa Is The Right Mattress For You If:
You want a more luxurious feeling and a slightly better-sleeping mattress.
You want to save a little money
---
More Ghostbed Mattress Comparisons On This Site:
More Leesa Mattress Comparisons On This Site:
---
Affiliate Disclosure
Affiliate Disclosure: I may earn a small commission (at no cost to you) if you purchase a mattress after clicking a referral link or using a coupon code on this site. That said, all content and opinions on this site are my own and are NOT affected by these payments.
This site participates in the Amazon Services LLC Associates Program, an affiliate advertising program designed to provide a means for sites to earn advertising fees by advertising and linking to Amazon.com.
*Amazon and the Amazon logo are trademarks of Amazon.com, Inc, or its affiliates.
---