NOTE: We earn from qualifying purchases made via Amazon Associates and other affiliate programs. Learn more.
---
Leesa and Loom & Leaf are two of the hottest brands of mattresses sold online today.
Both are high-quality mattresses sold at affordable prices, direct from the factory, with as little fuss as possible.
But how do the Leesa and Loom & Leaf mattresses compare, side by side?

---
What's In This Comparison
In this new mattress showdown, you will learn how the Leesa and Loom and Leaf mattress compare on price, warranty, comfort, construction and sleeping experience.
My aim is not to tell you which mattress is the best, but to give you the details you need to make a confident choice between these two mattresses.
So, let's dive in.
---
Leesa vs. Loom and Leaf: Which One Should You Buy?
Here's my bottom line on which mattress you should buy, based upon your preferences and budget – keep reading this page, to learn more:
[one_half]
I gave the Leesa mattress an overall rating of 4.6 out of 5.0.
BUY THE LEESA IF:
You are a side sleeper.
You prefer a slightly-soft foam mattress.
You sleep with a fidgety partner.
[/one_half] [one_half_last]
I gave the Loom and Leaf mattress an overall rating of 4.7 out of 5.0.
BUY THE LOOM AND LEAF IF:
You hate a hot mattress.
You want more back support.
You want Tempur-Pedic quality for far less $$.
[/one_half_last]
Keep reading to learn more about these differences.
---
The Brands Behind The Beds
Leesa
Founded by David Wolfe, Leesa started with the sole aim of helping people sleep better.
Their mission, as they put it, is to remove the unnecessary costs that manufacturers and retailers have been stuffing into the supply chain to justify sky-high prices.
Leesa is a really young company, only launched in 2015. Almost immediately, they found a loyal niche of customers who fell in love with their product. I did, too.
Leesa's one-size-fits-all foam mattress is 100% American-made and adheres to the highest manufacturing standards.
Leesa is a socially-minded company, too. They donate one mattress for every 10 sold to a charity organization to help someone less fortunate have a comfortable place to sleep.  So far, they've donated more than 30,000.
Loom & Leaf
Loom and Leaf is a subsidiary of Saatva, one of the largest and best-known online mattress companies.
They're basically a startup like Leesa, but with two big differences: they are owned by an established mattress company, and they build their mattresses in Saatva's manufacturing facilities. Other than that, however, Loom and Leaf operates independently from Saatva.
Loom and Leaf prides itself on selling a 100% American-made mattress of unparalleled quality.
In the short time they have been around, Loom and Leaf has risen to quickly become one of the most popular mattress-in-a-box brands. This is partly due to their reputation for stellar customer service.  They also offer a high-quality product.
Leesa's luxury foam mattress is made with consumer and environmental protection in mind. They use plant-based foams, a natural fire retardant and an organic cotton cover.
The company's commitment to reducing its carbon footprint is evident in its membership in the Sustainable Furnishings Council (SFC).
---
Mattress Construction
Leesa

The Leesa one-size-fits-all mattress consists of three foam layers designed to work together to create the perfect sleeping experience.
The top 2-inch layer uses a special type of patented foam called LSA200. It has the cooling power and comfort of latex foam, but is more durable. LSA200 also provides a unique soft bounce.
LSA200 foam also resists motion transfer (great for couples) and has excellent temperature control (no hot spots or cold pockets).
The middle layer consists of 2 inches of support memory foam. This memory foam contours around the body, providing excellent support and pressure relief.
The foundation layer is 6 inches of breathable high-density support foam, like the kind most other foam mattresses use.
Loom and Leaf
The Loom & Leaf uses four layers of foam in its construction.
While the foam in the Leaf and Loom is not certified organic – it is plant based – it is definitely more natural than the foams you find most foam mattresses. L&L's foams are also CentiPUR-US certified to guarantee quality and safety.
On top of the foam layers, Loom and Leaf adds a super-soft organic cotton cover with a plush comfortable feel.
Below the cover is conforming gel foam layer. This is memory foam with medical-grade gel that helps in cooling. In addition, there is a gel-only laminated panel within this layer to further improve cooling.
The second foam layer consists of 5-pound plant-based memory foam. This is the main support layer responsible for pressure relief and body contouring.
A 2″ transition pad provides lumbar support and keeps you from sinking in too far.
Finally, there is a foundation layer composed of 5.5 inches of high-density support foam.
---
Comfort/Firmness
Leesa
Leesa only offers one comfort choice: medium-firm.
On a scale of 1 to 10, with 1 being softest and 10 firmest, Leesa falls at around 6 or 7.
The company has worked hard to create a single mattress that fits many sleepers and they seem to have achieved it.
The Leesa's firmness level is ideal for 80% of people. It is neither too firm that you feel like you are sleeping on a rock nor so soft that you feel like you are sinking in a swamp.
The Leesa is especially ideal for back sleepers. Scientific studies show that a medium firm mattresses is the right choice for back pain relief, for most people.
Combined with its excellent cooling power, the Leesa is a really comfortable mattress that most sleepers will find perfect for their needs.
Loom and Leaf
Loom and Leaf offers two comfort level choices to cater to the various sleeping needs of their customers: Relaxed Firm and Firm.
Most people should choose the Relaxed Firm. This is L&L's medium firm option, with a firmness rating of 6 to 7 (1 very soft, 10 very firm). It's almost identical to the Leesa.
The Relaxed Firm is great for back sleepers and works well in providing pressure relief for people with back pain.
Side sleepers will find the Relaxed Firm great at contouring, which is important for side sleepers to find a comfortable sleeping position.
For stomach sleepers and others who prefer a firmer option, the Loom and Leaf Firm is a great choice. On the firmness scale, it falls around a 7 or 8, so it's not Japanese-level-firm. The Firm is also a good choice for heavier individuals who require more support.
---
Sleeping Experience
Leesa
Leesa offers an exceptional sleeping experience, better than other foam mattresses I have slept on.
One of things I liked most is the way the body sinks to create just the perfect amount of hug. It eliminates all pressure points, especially around the back, hips and joints. This is something back and side sleepers will appreciate.
I've slept on a lot of foam mattresses that produce hot or cold pockets on their surfaces, and this ruins the night, especially in my humid home town of New Orleans.
Leesa has no hot issues. All of the foam layers used in the mattress are highly breathable, which keeps air circulating & taking away excess heat and moisture. Great job here.
Loom and Leaf
Overall, Loom and Leaf has a sleeping experience comparable to (or even better than) luxury mattresses that cost thousands more.
Since there are two firmness levels, the sleeping experience will vary slightly based on which one you are sleeping on.
The Loom and Leaf Relaxed Firm feels a lot like the Leesa, but with a nicer, softer top. It provide a little more sinkage, too, which gives it a more cuddly hug.
Like the Leesa, the L&L Relaxed Firm provides plenty of support to keep your body weight properly distributed.
The Loom and Leaf Firm, on the other hand, makes you feel more like you're floating on top of the mattress, rather than sinking into it. It's not too much Firmer than the Relaxed Firm, though, to be honest.
Whichever firmness level you choose, you are assured of a great sleeping experience. The gel-infused foam dissipates heat, creating unparalleled cooling.
Both Loom and Leaf mattresses enable little to no motion transfer, so couples are assured a restful night's sleep.
---
Warranty and Returns
Leesa
Leesa offers customers up to 100 days to test the mattress, which is about the average these days.
A return can be made within the trial period at no charge (except for Hawaii and Alaska customers, who must pay $100 for returns).
Note that returned mattresses are not restocked but are given to various charities.
The warranty is also about average for the industry. The Leesa is covered for a period of 10 years.
During this time, the company takes responsibility for workmanship and structural defects. If the mattress is damaged due to improper use and placement, or if ownership is transferred to another person, the warranty is voided.
Learn more about Leesa's warranty and return policies on their website.
Loom and Leaf
The more expensive Loom and Leaf's trial period is 120 days long.
If a return is necessary, the company offers free pick up and provides you with a full refund, less the $99 shipping fee. Like Leesa, returned mattresses are given to charity.
Loom and Leaf offers a 15-year warranty. There are two versions of the warranty: prorated and non-prorated.
The standard version is non-prorated, meaning Loom & Leaf covers all repair or replacement costs throughout the warranty period. You only pay a $99 transportation cost each way after the first two years.
The prorated warranty is optional. It's a no-questions-asked warranty. If you need a new mattress from year three onwards, you can claim one from Loom & Leaf. They will not ask any questions but you'll have to pay a prorated fee depending on how long you've heard the mattress.
Learn more about Loom and Leaf's warranty and return policies on their website.
---
Shipping and Delivery
Leesa
Shipping is absolutely free within the United States, including customers in Alaska and Hawaii.
Leesa uses UPS Ground make mattress deliveries.
Since every mattress is built-to-order, it takes 3 to 5 business days before shipping can begin.
The mattress is delivered in a box, whose size will depend on the mattress size ordered.
Note that Leesa does not offer white glove delivery or in-home setup.
Unboxing is easy and quick.
Once rolled out, the mattress takes a few hours to a few days to get into its full form.
The Leesa mattress can be placed on a box spring, slatted platform or directly on the floor.
Loom and Leaf
Loom and Leaf charges extra for shipping. So you can expect to pay an extra fee for shipping based on your location. It's $99 for most locations. Additionally, they only ship within the contiguous United States. Shipping takes between 7 and 15 days.
To ensure everything goes smoothly, the company notifies the customer about a delivery a day earlier so that they can arrange a 4-hour delivery window.
Once the mattress has arrived, Loom and Leaf offers complimentary in-home setup for their customers. You can also have your old mattress taken away, at no cost.
---
Price
Both mattresses are far cheaper than similar-quality mattresses sold in stores.
Leesa is the less expensive brand, with most sizes costing less than $1,000. Leesa also offers free financing for customers who might want to spread out their payments.
Loom and Leaf costs a few hundred dollars more than Leesa.  L&L offers 3 sizes that cross the $1,000 mark.
These relatively low prices are made possible by a business model that eliminates the middleman and associated costs.
Listed below are the latest discounted prices at the time we published this comparison – click a link below to see the latest deal.
Coupons & Discounts
For Leesa, the best deal we know of is ours. Save Up To $700 Now + Mattress Protector Now by clicking this link or any price link above.
To get Free White Glove Delivery & Old Mattress Removal on a Loom and Leaf, visit their website now.
Get All of Our Coupons Now
On our Coupons page, you can get the latest coupons and discount codes for Leesa, Loom and Leaf, and other online mattresses.
Sign up for our newsletter and we'll mail you all of our coupons now – and any new coupons, as soon as we get them.
---
Leesa Is Right For You If…
In my overall rating, I give the Leesa mattress a rating of 4.6 out of 5.0.
Buy the Leesa if:
You are a side sleeper. Leesa is a medium-firm mattress, making it ideal for side sleepers.  It is also great for back sleepers.
You sleep with a fidgety partner. The Leesa mattress has very little motion transfer, eliminating sleep interruptions from a leg-shaker S.O.
---
Loom and Leaf Right For You If…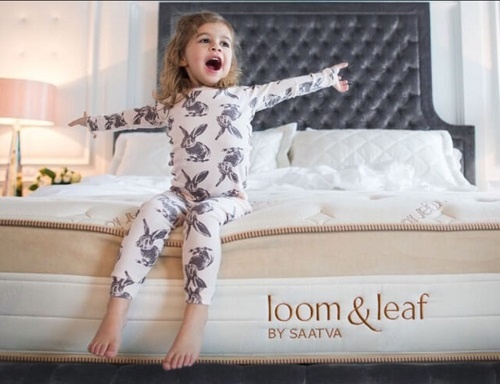 I rate the Loom and Leaf a bit higher than the Leesa, at 4.7.
My recommendation is to choose the Loom and Leaf if:
You are a stomach sleeper. Both Firm and Relaxed Firm work well for stomach sleepers.
You hate hot mattresses. The Loom and Leaf perform exceptionally well in temperature control, making it perfect for extra hot and humid areas.
You want Tempur-Pedic quality for a fraction of the price. This mattress really is comparable to a Tempur-Pedic mattress. It also looks the part. The main difference is that Loom and Leaf are far less expensive than Tempurpedic.
---
More Leesa Mattress Comparisons On This Site
More Loom and Leaf Mattress Comparisons On This Site
---
Affiliate Disclosure
Affiliate Disclosure: I may earn a small commission (at no cost to you) if you purchase a mattress after clicking a referral link or using a coupon code on this site. That said, all content and opinions on this site are my own and are NOT affected by these payments.
This site participates in the Amazon Services LLC Associates Program, an affiliate advertising program designed to provide a means for sites to earn advertising fees by advertising and linking to Amazon.com.
*Amazon and the Amazon logo are trademarks of Amazon.com, Inc, or its affiliates.
---