NOTE: We earn from qualifying purchases made via Amazon Associates and other affiliate programs. Learn more.
---
Puffy and Casper are popular online mattress brands best known for their high quality yet affordable offerings.
Casper is the older company, having started operations in 2014. The original Casper mattress quickly became one of the most popular bed-in-a-box mattresses.
Today, Casper has expanded its catalog to three mattresses having all-foam and hybrid variations. Other beddings such as sheets, pillows, and various bedding accessories, including a glowing light can help you in sleeping better.
Puffy launched more recently in 2016 and became popular after appearing on the Ellen Show in 2017.
They've also expanded their inventory to include another more luxurious mattresses and a range of bedding products.
Puffy's excellent foam mattress and their newer Puffy LUX mattress are generally cheaper than comparable brands including two of Casper's mattresses.
But Casper offers a wider range of price points to suit different budgets.
So which is the right one for you?
---
What's In This Comparison
In this matchup, we compare Casper's three mattress to Puffy's two on several important parameters including price, comfort, construction, and sleeping experience.
Hopefully, you'll find a mattress that will help you sleep better.
Let's get started.
If you want more choices beyond Puffy and Casper, see how these compare with Purple and T&N, two other highly rated online mattresses.
---
Puffy vs. Casper: Which One Should You Buy?
Here's my quick take on each mattress.
[one_half]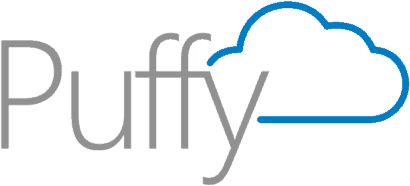 I rated Puffy 4.8 / 5
Buy a Puffy if:
You love a softer mattress.
You sleep on your side or on your back.
[/one_half] [one_half_last]

I rated Casper 4.5 / 5
Buy the Casper Mattress if:
You prefer a firmer mattress.
You need more back support.
You don't mind spending more.
[/one_half_last]
---
Puffy vs.
Casper Mattresses Compared
| Mattress | Rating | Price | Description | Our Take | Comfort Choices | Warranty | In-Home Trial | Delivery | Avoid If | Great Choice If | Shop Now |
| --- | --- | --- | --- | --- | --- | --- | --- | --- | --- | --- | --- |
| Puffy | 4.5 | $599 - $1,249 | Budget gel memory foam | A less expensive alternative to Casper or Leesa - with a lifetime warranty. | Med. Firm | Lifetime | 101-Nights | 2-5 days | you prefer a softer mattress. | you sleep on your back or prefer a firmer sleeping surface. | Puffy.com |
| Puffy Lux | 4.8 | $899 - $1,699 | Luxury memory foam | Best Luxury Foam | Medium Firm | Lifetime | 101-Nights | 2-5 days | you weigh more than 250 lbs. | you love the conforming feel of a softer memory foam mattress. Side sleepers will love this one. | Puffy.com |
| Casper Original Foam | 4.5 | $716-$1,356 | High-quality foam mattress | The original one-size-fits-all memory foam mattress updated w/ better support for your spine. | Med. Firm | 10 years | 100 nights | 2-5 days | you don't like all-synthetic foam or need choice in comfort level. | you want a simple medium-firm mattress from a company that's been around more than a few months. | Casper.com |
| Casper Element | 4.7 | $535.50-$1,255.50 | Comfortable mattress with good support for your back. | Best Foam Hybrid Mattress | Med. Firm | 10 years | 100 nights | 2-5 days | you need a mattress for plus-size customers. | you are looking for a good quality budget mattress. | Casper.com |
---
Mattress Construction
Puffy focuses on memory foam mattresses while Casper targets more customers with both all-foam and hybrid mattresses.
Puffy
Both Puffy and Puffy Lux are memory foam mattresses.
The original 10" Puffy has three layers with gel memory foam at the top, heat-resistant polyfoam in the middle and high-density poly foam at the base for overall support.
The gel-infused top layer helps keep things cool at night. It also enhances pressure relief and contouring.
The transition layer is mostly for support, distributing your weight across the mattress and ensuring you don't bottom out.
Puffy Lux has one more layer than Puffy and a couple more inches.
The main addition is a 1.5" transition layer that increases compression support, especially for heavier users and couples.
The top gel memory foam layer is also slightly thicker, which makes for a plusher more contouring mattress.
To know more, check out our in-depth puffy mattress review and Puffy lux mattress review.
Casper
For long, Casper only made all-foam mattresses. Now they sell a mixture of all-foam and hybrid mattresses. It seems they are trying to capture as wide a market as possible.
The 12" Casper mattress has an improved construction with four layers, one more than the previous three.
The comfort section consists of a pressure-relieving layer of memory foam sandwiched by two polyfoam layers.
The top poly foam layer has an open-cell design to improve breathability and keep the surface of the mattress cool. The bottom poly foam layer (the third layer overall) has a zoned design to provide variable support zones that conform to your body.
A 7" high-density polyfoam base provides overall support and ensures the mattress lasts long.
The hybrid version of the original Casper adds a layer of supportive and responsive pocket springs at the bottom.
The 13" Casper Wave mattress has five layers. The comfort section consists of breathable poly foam at the top, blended latex foam,pressure-relieving memory foam, and a transitional polyfoam layer.
At the bottom is a poly foam base that is replaced by pocketed coil base in the Wave Hybrid.
The 11" Casper Essential has a simpler design with just three layers: breathable poly foam at the top, pressure-reliving memory foam in the middle and a poly foam base.
Unlike the other two mattresses, the Essential is available only in an all-foam design. There's no Essential Hybrid.
---
Comfort and Firmness
Both Puffy mattresses fall within the universal comfort range. There's only a slight difference of firmness between them, with Puffy Lux being firmer.
In contrast, Casper mattresses range from medium-soft to firm, offering a wider range of options.
Puffy
The original Puffy mattress uses softer foams compared to Puffy Lux and Casper mattresses. Instead of the usual medium-firm feel, most foam mattresses like Puffy rank as a medium feel mattress.
Of course, this is just a general description. Sleeping experience is subjective. Heavier sleepers might experience a softer less-supportive feel while lighter sleepers will find it firmer.
The Puffy Lux mattress generally feels firmer for most sleepers. It ranks as a medium-firm mattress, similar to a majority of foam mattresses.
If you are heavier or prefer an 'on the mattress' feel, we recommend Puffy Lux. If you are lighter or prefer an 'in the mattress' feel, we recommend Puffy.
Casper
Casper offers a wide range of firmness options. We'll work our way from the firmest Casper to the softest one.
The Casper Essential is the firmest of them all. It ranks as a firm mattress, though heavier sleepers may describe it as a medium-firm mattress.
The firmer feel is because it has only two comfort layers compared to three in the original Casper and four in the Casper Wave.
The original Casper falls right into the sweet point for most people – medium. The Casper Hybrid is also a medium feel mattress though slightly firmer than the all-foam Casper owing to the addition of pocket coils.
The Casper Wave and Casper Wave Hybrid have a luxurious plush feel. They both rank as medium-soft mattresses.
To know more, check out our in-depth Casper wave review, Casper hybrid mattress review, and Casper essential mattress review.
---
Sleeping Experience
As with firmness and feel, the sleeping experience is highly subjective. The following descriptions are just to give you an idea of what to expect and help you choose the best mattress.
Only after sleeping on the mattress for at least a couple of weeks will you truly know how it feels.
Luckily, both Casper and Puffy offer generous no-hassle and zero-cost return policies. So don't be afraid that you'll be stuck with a mattress you don't like.
Puffy
If you love the feel of memory foam mattresses, Puffy is the mattress for you.
The two mattresses provide instant pressure relief and settle into a comforting hug after a few minutes. This eliminates pressure points from your back, hips, and shoulders.
The mattresses do a great job adapting to your sleeping position. When you turn, the mattress conforms to your new position.
Motion transfer is virtually absent. It doesn't matter how fidgety your partner gets at night; you'll sleep through it all.
Cooling is also not so bad though it doesn't match the comfortably frosty feel of Casper's hybrid mattresses.
Two things you'll miss in the Puffy mattresses are edge support (not surprising considering they are all-foam) and responsiveness. If you are looking for a bouncy mattress, we recommend Casper's Hybrid options.
Casper
If you are looking for a traditional memory foam sleeping experience, get the original Casper mattress. It has undergone a few changes over the years, but it still offers that sweet point between firm support and soft pressure relief.
If you want that memory foam feel but with a bit more support and bounciness, get the Casper Hybrid. The pocket coils make the mattress more responsive and improve compression support.
If you prefer a firm mattress, you'll find the Casper Essential more to your liking. But it still has that cushy hug you get from a memory foam mattress (the middle layer is memory foam).
We recommend the Essential for light and average weight sleepers as well as stomach sleepers.
The Casper Wave is a full-on luxury mattress.
The Wave Hybrid combines plush foams at the top with a bouncy base of pocketed coils. The all-foam Wave just has the soft foams plus a high-density polyfoam base.
It still feels plush but lacks some of the bounciness of the Wave Hybrid.
In terms of cooling, all the Casper mattresses are pretty good. The hybrid versions are the coolest thanks to the ventilation-boosting pocketed coil base.
The all-foam Wave, with its blended latex foam, is also great for those who want an extra-cool mattress.
---
Warranty and Returns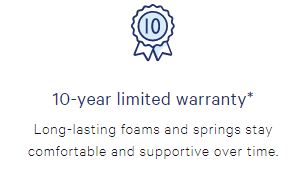 Like most online mattress companies, Puffy and Casper offer very friendly warranty and return policies. They are both no-risk purchases.
Here's what the fine print says for each brand.
Puffy
Puffy's return policy stipulates a 101-night in-home trial period with free returns if you don't like the mattress.
But you have to sleep on the mattress for a minimum of 30 nights before initiating a return. See the full details here.
Puffy is one of the few online mattress companies to offer a lifetime non-prorated warranty. Read the full Puffy Warranty statement to see how it works. 
Casper
Casper's in-home trial is for 100 nights with free returns.
The warranty on all Casper mattresses is for ten years and is non-prorated.
---
Shipping and Delivery Options
Here's the low down on shipping and delivery for each mattress.
Puffy ships to all 50 states but free shipping only applies to the 48 states in the continental US. There's no white glove delivery or mattress removal.
Casper ships to all 50 states but free shipping is only within the continental US, similar to Puffy. Casper offers white glove delivery and old mattress removal in the 48 continental states for $149.
---
Price
Here are the latest rates with discounts applied.
Size
Puffy

Puffy Lux

Casper

The Casper 

Casper Wave Hybrid

Original
Original Hybrid
Twin
$599
$899
$716
$876
$535.50
n/a
Twin XL
$749
$1,049
$796
$956
$625.50
$1,916
Full
$899
$1,299
$956
$1,116
$805.50
$2,196
Queen
$1,049
$1,499
$1,036
$1,196
$895.50
$2,316
King
$1,249
$1,699
$1,356
$1,516
$1,255.50
$2,796
CA King
$1,249
$1,699
$1,356
$1,516
$1,255.50
$2,796
Both companies offer easy financing options.
For Puffy, you can apply for Klarna financing while Casper works with Affirm to provide easy monthly payment options.
---
Coupons
Save 20% Now On CAPSER MATTRESS
More Casper Mattress Comparisons:
---
Affiliate Disclosure
Affiliate Disclosure: I may earn a small commission (at no cost to you) if you purchase a mattress after clicking a referral link or using a coupon code on this site. That said, all content and opinions on this site are my own and are NOT affected by these payments.
This site participates in the Amazon Services LLC Associates Program, an affiliate advertising program designed to provide a means for sites to earn advertising fees by advertising and linking to Amazon.com.
*Amazon and the Amazon logo are trademarks of Amazon.com, Inc, or its affiliates.
---